Stuttgart's 5 champs lead team to fifth straight title
---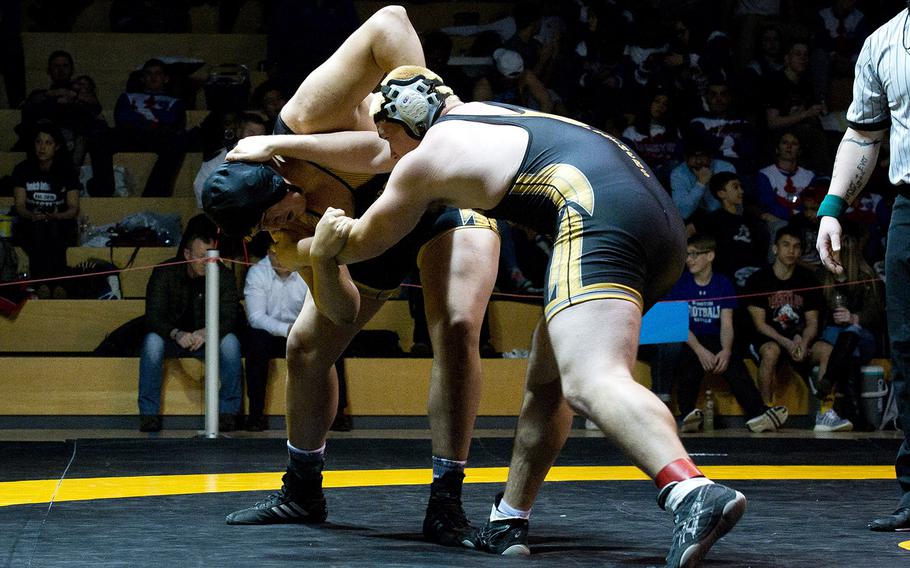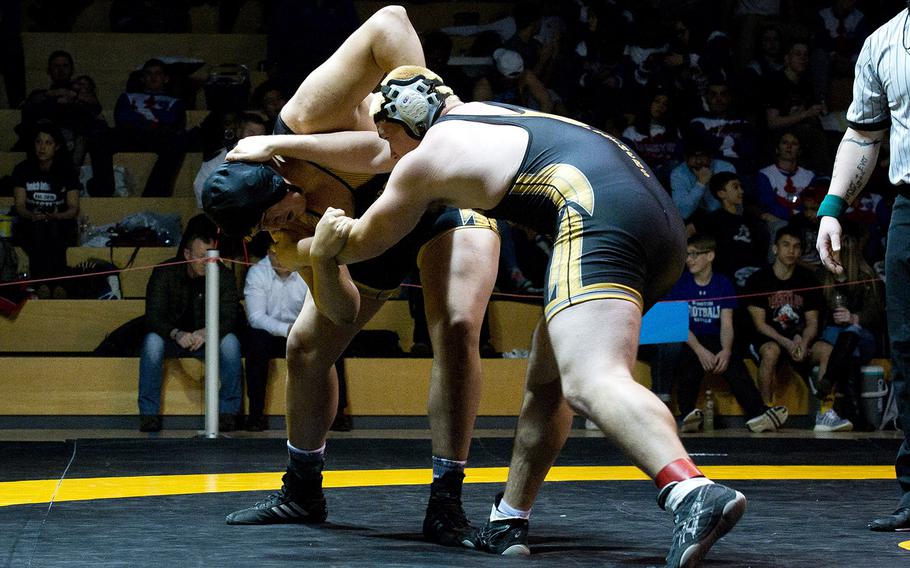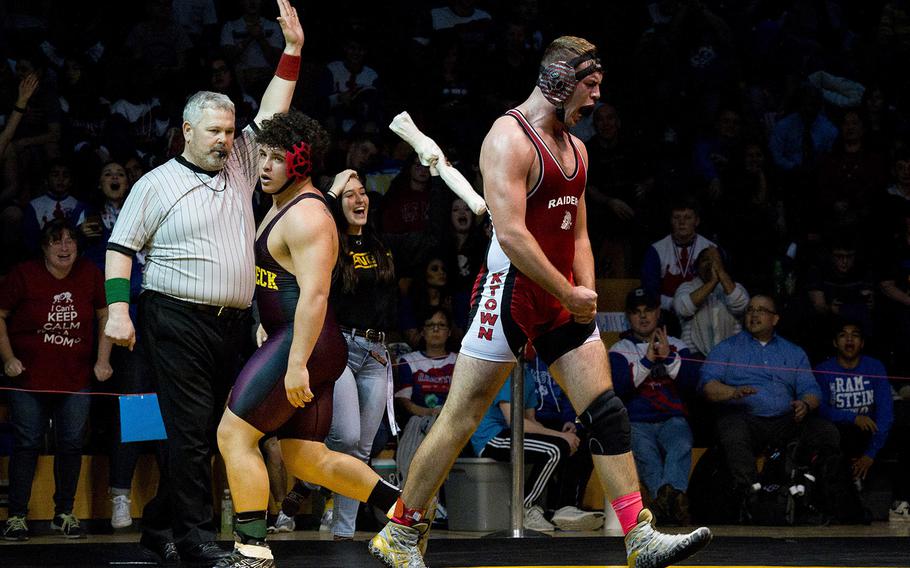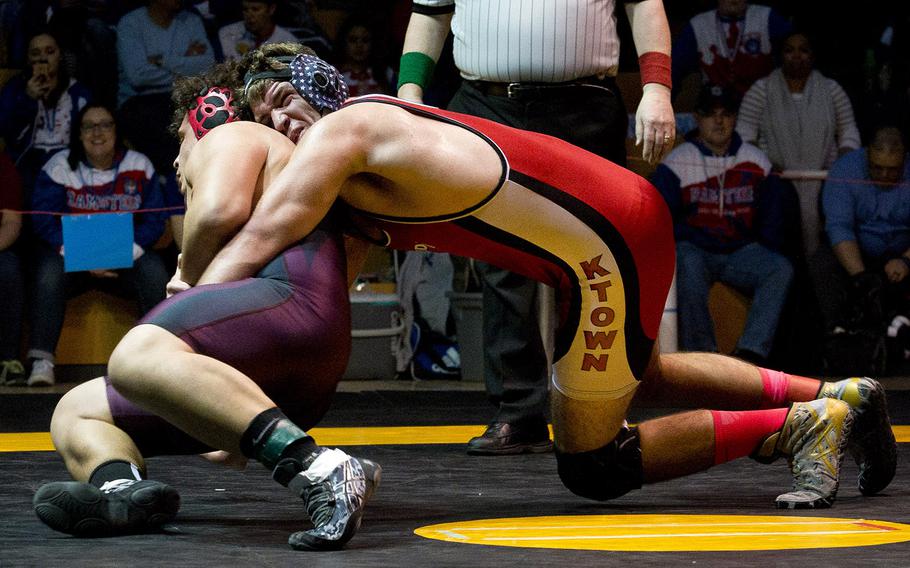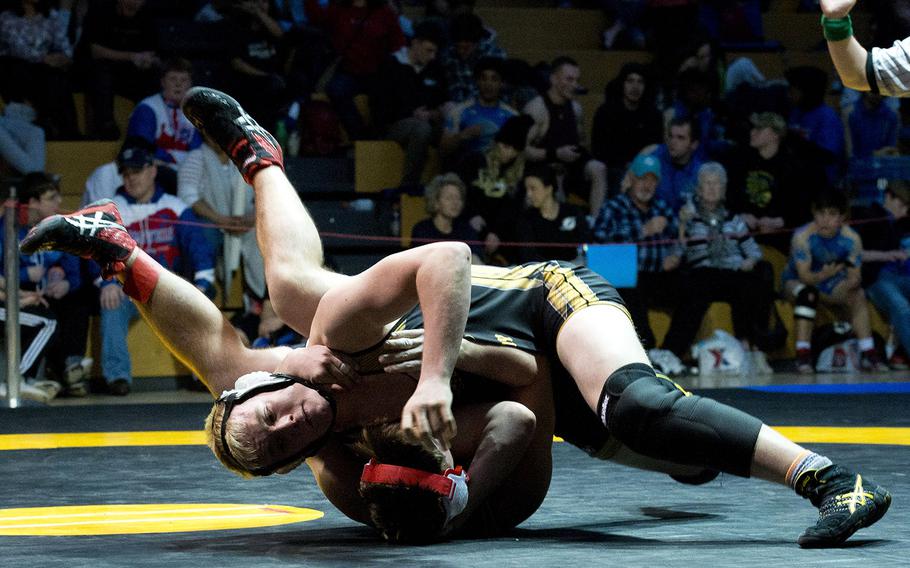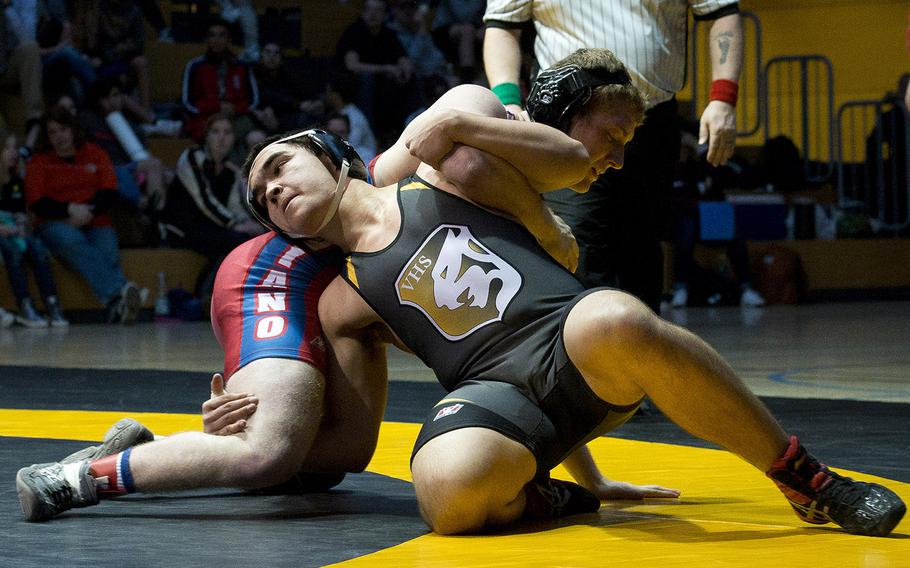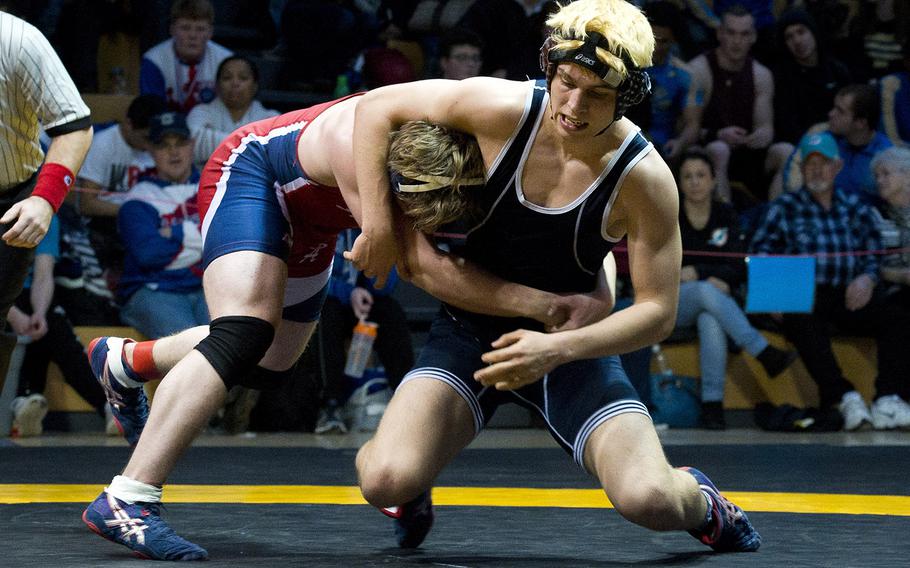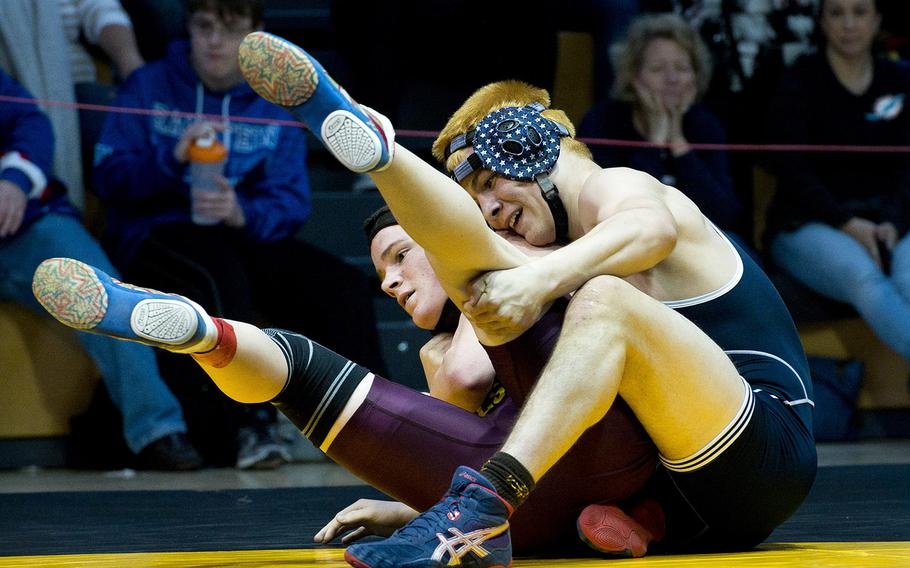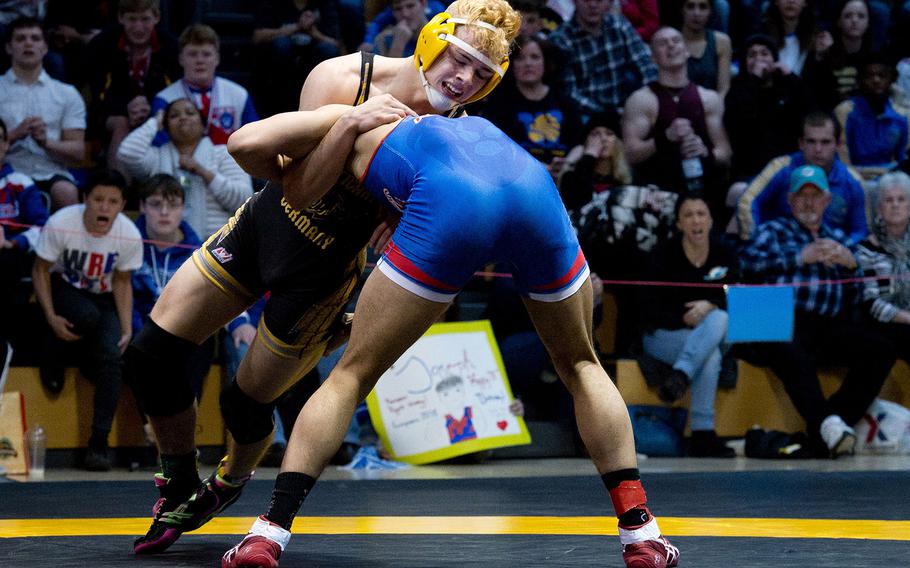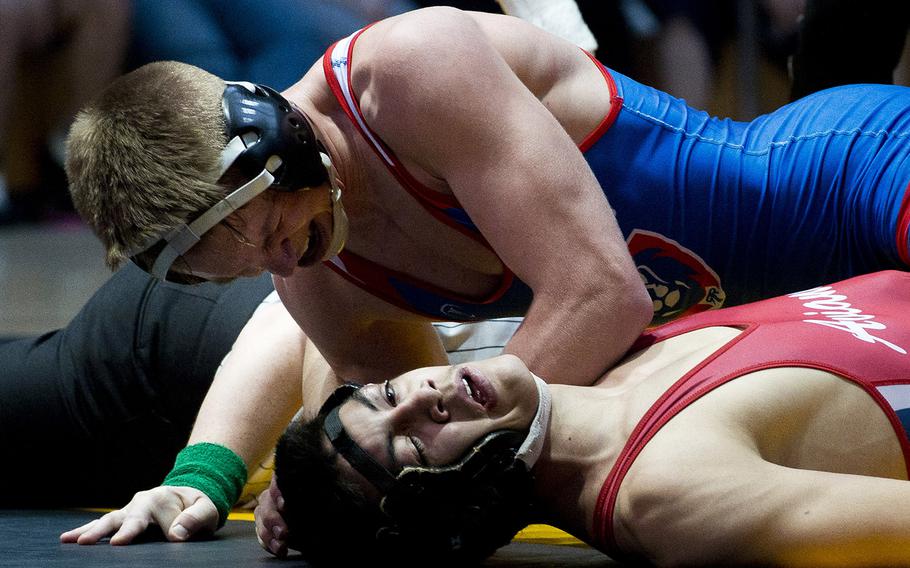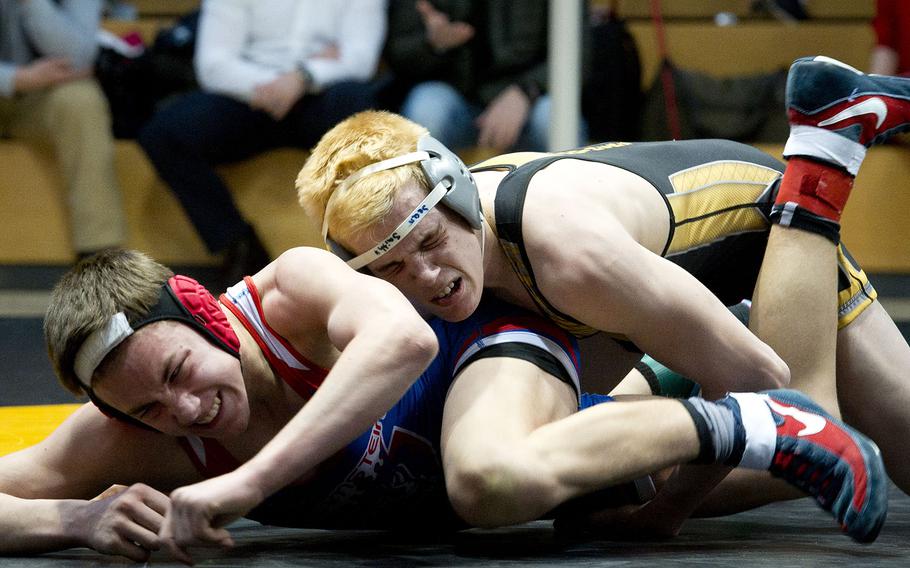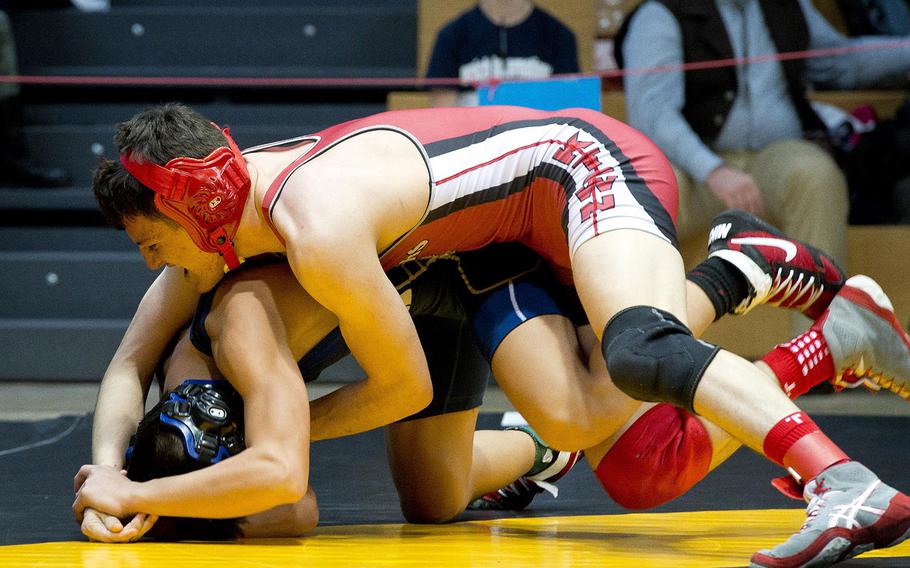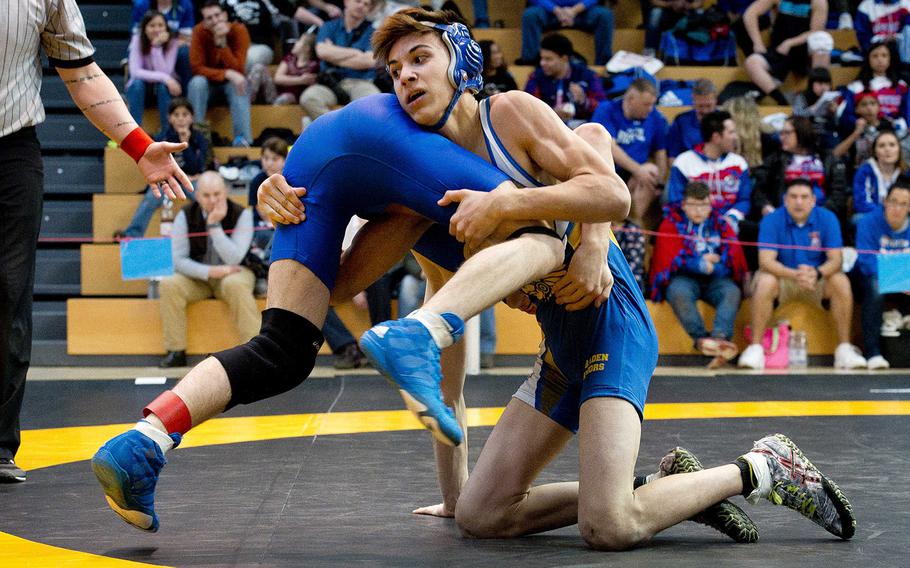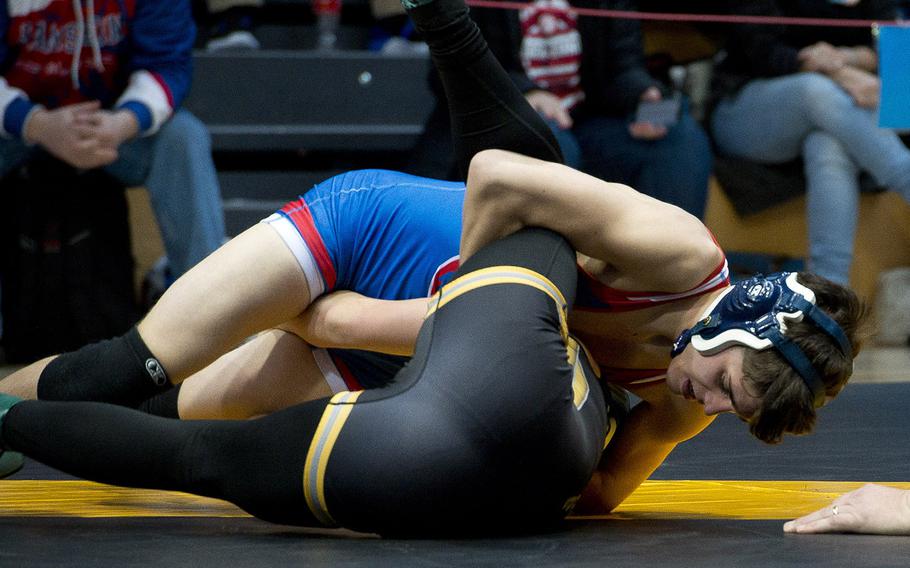 WIESBADEN, Germany – The Stuttgart Panthers won their fifth straight DODEA-Europe Division I wrestling championship Saturday at Clay Kaserne Fitness Center, withstanding a challenge from a deep Ramstein Royals roster that threatened all winter to end their reign.
"We build as we go through the season," Stuttgart coach Norm Matzke said. "Our goal is always to peak at the right time. Not peak too early, but peak when we need to peak."
Stuttgart's Gold squad amassed 301.5 points, besting the 267 points accrued by Ramstein Blue. Aviano cruised to a second straight Division II crown, while Munich International's pair of European champions was plenty for a Division III title.
106 pounds: Ramstein's Andres Hart took the first European championship of the day with an aggressive pin of Stuttgart's McKinley Fielding.
Fielding bruised her ribs in a sectional qualifying match against Hart on Feb. 10, and felt the effects on Saturday as Hart locked in a pin at one minute, nine seconds. Each had earned wins over the course of the winter.
While she fell short in the finals, Fielding made history just by competing in the match. DODEA-Europe officials said she is the first female competitor to ever reach a European championship wrestling match.
"I'm just happy I made it to the finals," Fielding said, though she added that she "really wanted to win."
Fielding might make history again in the near future. The Panther freshman plans to return to the 106-pound bracket next season and attempt to become DODEA-Europe's first female wrestling champion.
113: Atreyu Allen thrilled his hometown Wiesbaden fans with a steady 11-3 major decision over Sigonella's Munro Manning.
The outcome was similar to the Allen-Manning meeting of a year ago, when Allen took an 8-0 decision for third-place honors at 106 pounds.
Though they finished well behind in the points race, the Warriors delivered two championships in as many opportunities in Saturday's finals. Manning's finals berth, meanwhile, helped Sigonella to strong second-place showing in Division III.
120: Kaiserslautern sophomore Conner Mackie secured the championship that eluded him as a freshman, beating Rota's Phillip Rivera in a 3-1 decision a year after falling short in the 113-pound title match.
Mackie said he's watched film of his 2017 finals loss repeatedly in anticipation of a better outcome in 2018.
"I just used that to drive me," Mackie said.
Mackie needed everything he could summon to subdue Rivera. Neither wrestler made any inroads over the course of the first two scoreless rounds; Mackie broke through late in the match with an escape and a takedown for the win.
"If I just stayed flawless and waited for him to make a mistake, that's how I was going to capitalize," Mackie said.
126: The second of four head-to-head Royal-Panther finals went in favor of Stuttgart's Sean Smith, who pinned Ramstein's Christian Griffin in two minutes and 54 seconds for the first Panther title of the day.
Stuttgart and Ramstein, by far DODEA-Europe's two largest programs, were divided into two teams each for the postseason. Though Ramstein's combined total of 397 points was better than Stuttgart's combined 380.5 points, Stuttgart's primary squad outscored Ramstein's for the crown.
132: Stuttgart junior Benjamin Fielding captured his third European title in as many years with a 6-2 decision over of Ramstein's Dante Lapitan. The reigning Stars and Stripes wrestling Athlete of the Year adds the 132-pound trophy to the 126-pound title he won a year ago and the 120-pound championship he claimed as a freshman.
The Panther junior cruised into the finals. His four preliminary victories all came by pinfall, and all within two minutes. Fielding pinned Aviano's Liam Knowles in 97 seconds in the semifinals in a rematch of Fielding's 46-second pin of Knowles in last year's 126-pound title match.
But Lapitan gave Fielding all he could handle in forcing Fielding into his only regulation-length match of the tournament.
138: Ramstein's Russell Bodily defeated Aviano's Jacob Gamboa twice on Saturday, the second time securing an individual European championship.
Bodily called the title-bout rematch, a 10-4 decision, "definitely the hardest match I've had all year" as he attempted to record a second victory over a previously unbeaten opponent in the span of a few hours. After a quick morning pinfall, Gamboa took Bodily the distance in the title match.
"I think he was ready a little bit more, and I was ready too," Bodily said.
Bodily was the Royals' breakout star in this tournament with a run of five preliminary pins and a semifinal pin of Gamboa's Saints teammate Michael Hauser.
In addition to recording some valuable points in support of the Saints' successful Division II title efforts, Gamboa recorded his second consecutive European runner-up finish after reaching the 120-pound finals in 2017.
145: This season's final direct Stuttgart-Ramstein clash went in favor of the Panthers as Abraham Engelke edged Joseph Medina 7-6 for a key Panther victory.
Matzke identified Engelke among the wrestlers that exceeded expectations at the tournament and helped Stuttgart successfully defend its vulnerable dynasty.
"He just stepped up his game," Matzke said.
152: Wiesbaden senior Joshua Theodore seized the title that eluded him a year ago, edging Ramstein's Patrick Odom 7-6 to win the championship a year after falling short in the same bracket's 2017 title bout.
While returning runner-up Theodore entered the tournament as the obvious favorite, the class wound up among the deepest and most competitive of the event's 14 weight classes. Aviano upstart Ethan Laws stunned the bracket with an undefeated preliminary round, including defeats of Theodore and northern sectional champion Zak Kappenman of SHAPE, before dropping a narrow 11-9 decision to Odom in the semifinals. And Theodore survived a stiff semifinal challenge from Naples' Jackson Blivin, returning to the championship round on a close 11-10 decision.
160: Munich International's tandem of brothers have been champions in waiting for a year. Now the wait is over.
Blaise Ronnau capped an undefeated season with a hard-fought 8-7 decision over Vilseck's Matthew Johnston, dodging a last-second pin attempt by the persistent Falcon fighter.
170: Drake Ronnau completed the Munich sweep with a 7-3 defeat of Aviano's Mitchel Schaul, rounding out his own undefeated season with a title.
The Ronnau brothers were untouchable on the way to their matching championships. Each went 5-0 in preliminary bouts, including four pinfalls apiece, in the preliminary round, and recorded semifinal pins to advance to the finals.
Though the school didn't field any other wrestlers, the Ronnaus delivered Munich the Division III team championship a year after falling four points behind Baumholder for that crown. A title defense next year should prove difficult for Munich, however, as the Ronnau family is due to move to the U.S. this year.
182: Italy took center stage in this matchup of familiar foes as Vicenza senior Ethan Johnston pinned Aviano rival Ayden Capps in five minutes, nine seconds.
After facing off repeatedly during the regular season, neither Johnston nor Capps had much fresh material to try out on each other Saturday. Still, their championship match was a far different animal than their earlier encounters.
"The difference about this one is a lot more pressure and a lot more people watching," Johnston said.
That was evident early as the two grappled to a stalemate.
"It makes you more nervous at the beginning," Johnston said. "But once you start actually wrestling, you just forget about everyone else."
195: Stuttgart senior William Green has seen Kaiserslautern rival Hunter Wiles a few times over the course of the season. In Green's mind, their rivalry has been far more extensive.
"He was the one opponent that, every single match, I would visualize it was him because I knew he was my greatest opponent," Green said.
Green made that vision a reality Saturday, pinning Wiles in five minutes, 18 seconds. The Panther senior wrenched Wiles into near falls at the end of the first period and the start of the second before another attempt in the third round finally stuck.
Green credited Stuttgart's rigorous conditioning and strength program for the victory.
"When it got down to the wire, I just had a little bit more in me," Green said.
220: The epic struggle between stalwart seniors Royce Staley of Kaiserslautern and Juan Oestreich of Vilseck met a fitting end Saturday.
Staley again took a narrow win over his rival, taking a 4-1 decision that, for a while, was stylistically similar to his 2-1 win in last year's 220-pound semifinal and his 3-2 decision in a Saturday morning preliminary bout.
But Staley said that "something clicked" in this final matchup. After Staley edged ahead, an Oestreich shot allowed Staley to close out the match "playing to my advantage with my defense" and frustrating the Falcon's efforts.
The win ends Staley's impressive Raider wrestling career with a long-sought championship.
"I've been looking forward to this for the last four years," Staley said. "I'm glad I finally got it."
285: The slate of 14 title matches ended with a victory lap of sorts for the Panthers.
Stuttgart's John Carroll edged teammate Christopher Frye 4-2 to take the season's final championship and confirm the Panthers' continued Division I dominance.
The Stuttgart pair outmuscled opponents from rival Ramstein to earn their finals matchup, this year's only championship bout between wrestlers from the same school.
Twitter: @broomestripes
---
---
---
---