D-I volleyball
Stuttgart caps perfect season with championship
---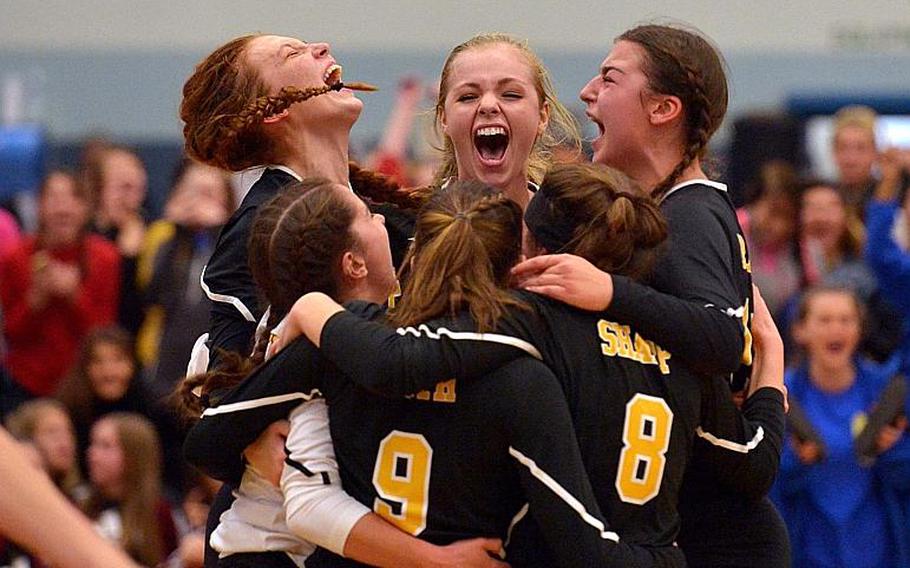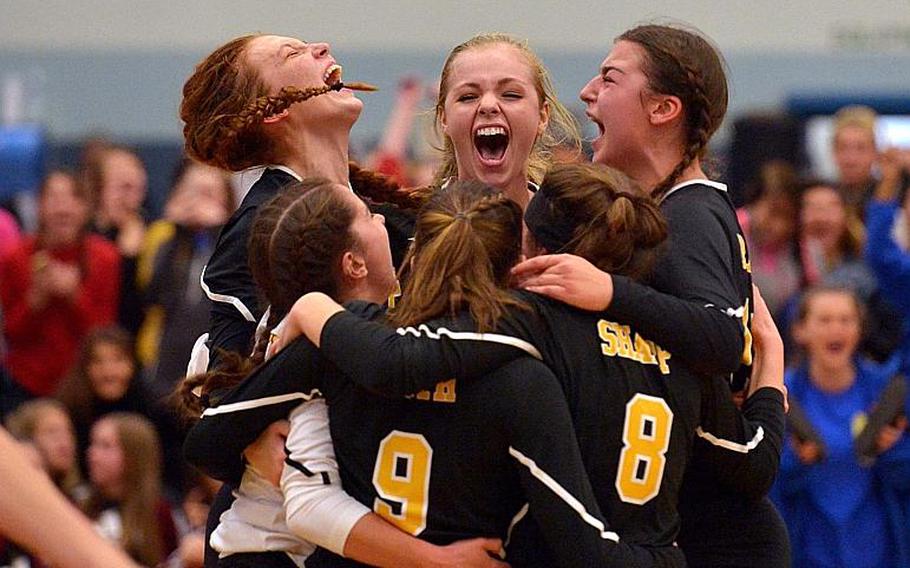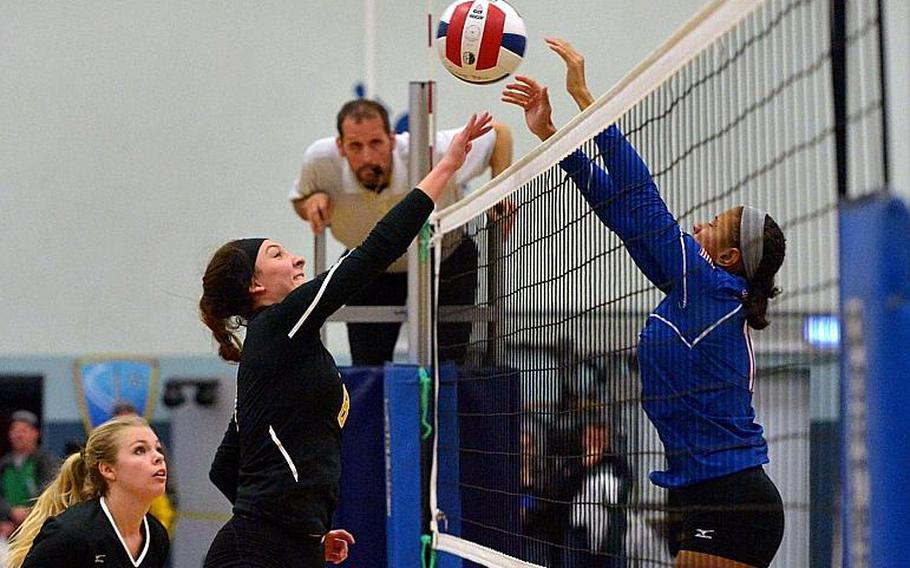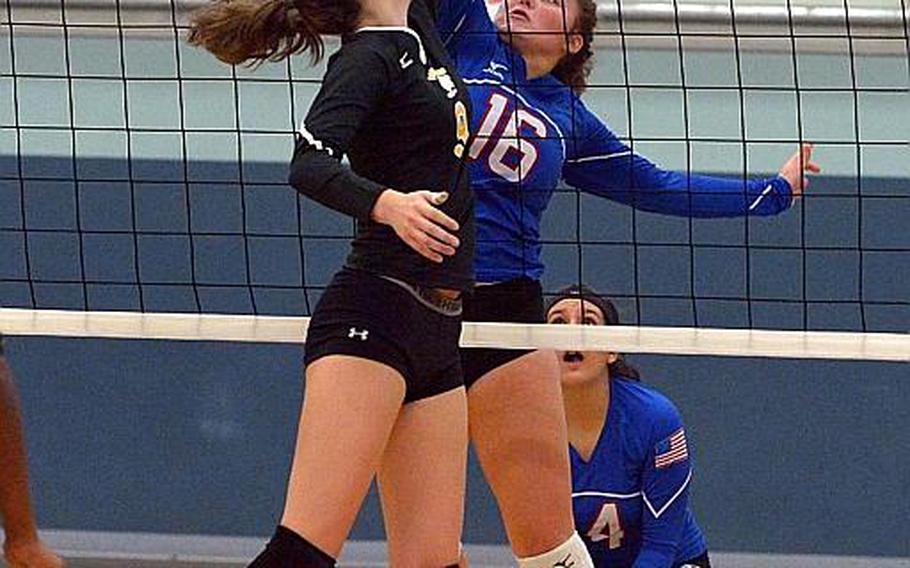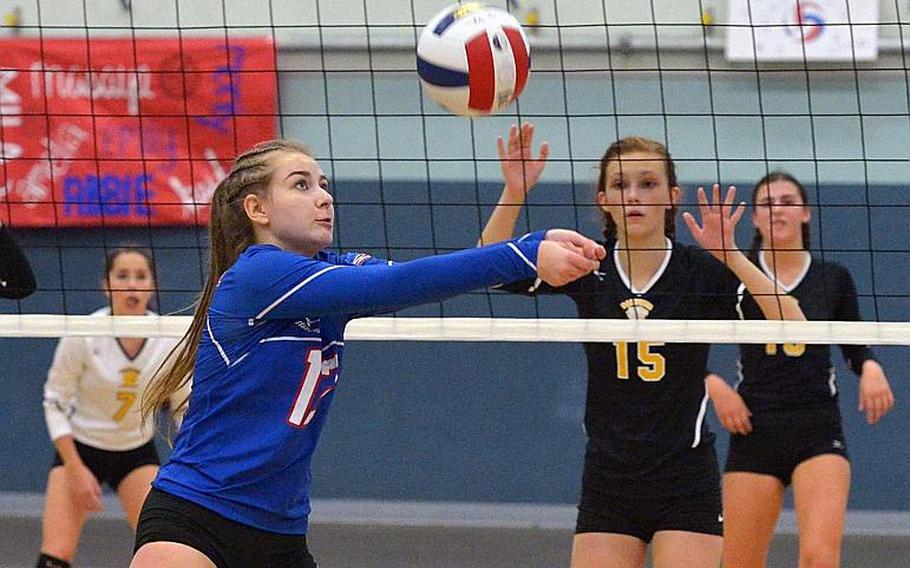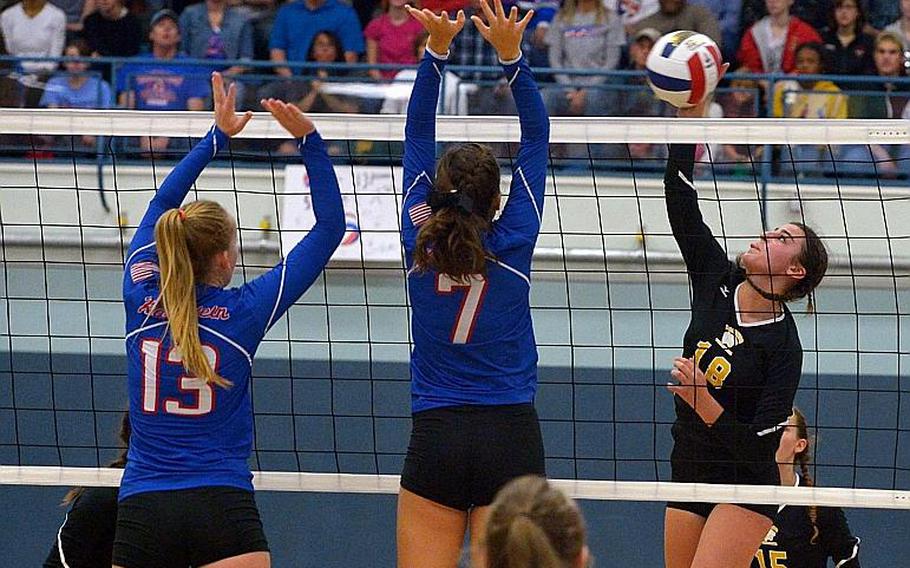 KAISERSLAUTERN, Germany – The highly-anticipated rematch of Stuttgart and Ramstein in this year's European Division I girls' volleyball tournament Saturday lived up to its billing, even if didn't go the distance it did last year.
In 2015, the two archrivals played in the semifinals that ended with a dramatic five-set Stuttgart victory.
This time, in the title match before a very vocal Royals' home crowd in Vogelweh gym, the defending champion Panthers beat Ramstein in three straight sets, 25-18, 25-19, 25-23.
Ramstein kept things interesting with a late, third-set surge but in the end, couldn't counter Stuttgart's powerful outside hitters Peyton Burnett and Bella Brandt, who had plenty of help from middle hitter Meadau Cunningham and setter Alexa Smith. Rounding out Stuttgart's many weapons was senior Janey Greenberg, who was tireless on defense and just about everywhere on the court as the team's libero.
Greenberg, who was named the tournament's Division I Most Valuable Player, had 34 digs, including a few diving saves to keep the ball in play.
"This team was the best team I've ever played on by far," said Greenberg, who's played at Stuttgart for four years.
Defeating Ramstein in the finals capped a spectacular season that saw the Panthers go undefeated.
"Beating them in three (sets) was just completely unexpected for us," Greenberg said. "We really were expecting a really, really tough, long match."
Ramstein might have hung in there longer if not for errors that ranged from serves in the net to returns that landed out of bounds.
Despite being down two sets and behind in the third, the Royals didn't give up easily, digging themselves out of several holes, even as the Panthers closed in on the victory.
Behind 11-4, Ramstein chipped away to nearly even the score at 15-14, before falling behind again, 21-15.
The Royals closed in again and looked as if they might wrest the game away when Ramstein's Kaitlyn Daniels blocked a Stuttgart spike, making the score 24-22. The home crowd went wild when Ramstein's Emily DeRosa nailed an ace on the next play. But Stuttgart's Burnett silenced the crowd and ended the game with a kill in an open lane in the Royals' court.
Burnett, named All-Tournament while playing for her first European volleyball championship after transferring from Alabama, said the team tried to drown out the home crowd.
"Coach (Michael Rubino) said to put blinders on, to focus only on the game," she said.
Rubino called a time out after it looked like Ramstein might steal the momentum and said he simply told his team: "It's your season. Go get it, go finish it up."
Rubino said this year's squad was "the most well-balanced team" he's ever had.
"Having hitters all over, middles that were really strong and a libero come back and dig up all the balls that she did," he said.
Others contributions from the Panthers included four aces, two kills, 16 assists and six digs from senior setter Alexa Smith.
"Stuttgart was tough," Ramstein coach Erin Markus said. "They put up a big block and they've got big hitters. They've got the height factor a little bit on us; that's where they overpower us, in the front row."
Markus said she wanted the match to last longer.
"We started playing smart and figuring out how to put the ball so they couldn't get those big hitters up," she said. "We tried to minimize our errors. It was a little bit too late. We tried."
But Markus said the Royals were happy to make it to the finals, to get a chance to play Stuttgart for the title.
"This was a phenomenal group of girls; we were such a tight knit team," she said. "Our only losses all season were against Stuttgart. All of our matches are exciting with them."
For the Royals, junior outside hitter Amelia Jones had 11 kills; senior setter Emily DeRosa had 28 assists; and sophomore libero Cristeana Reyes recorded 36 digs.
DeRosa and Reyes were also named All-Tournament.
DeRosa said the Royals left it all on the court.
"I think that this is the hardest that we have every played," she said. "We wanted it, but, it is what it is."
---
---
---
---