Girls soccer preview
Stuttgart, Alconbury look to continue reigns
by
Gregory Broome
March 16, 2017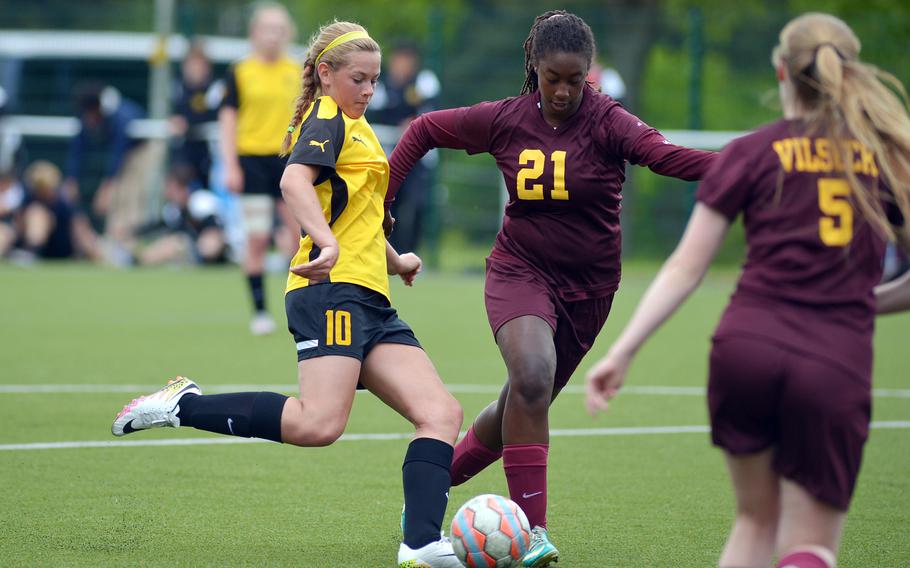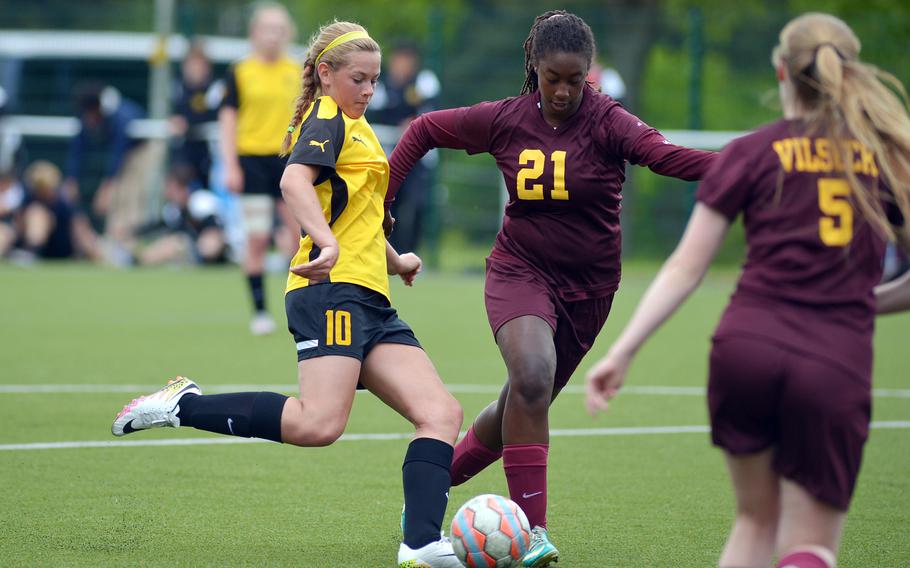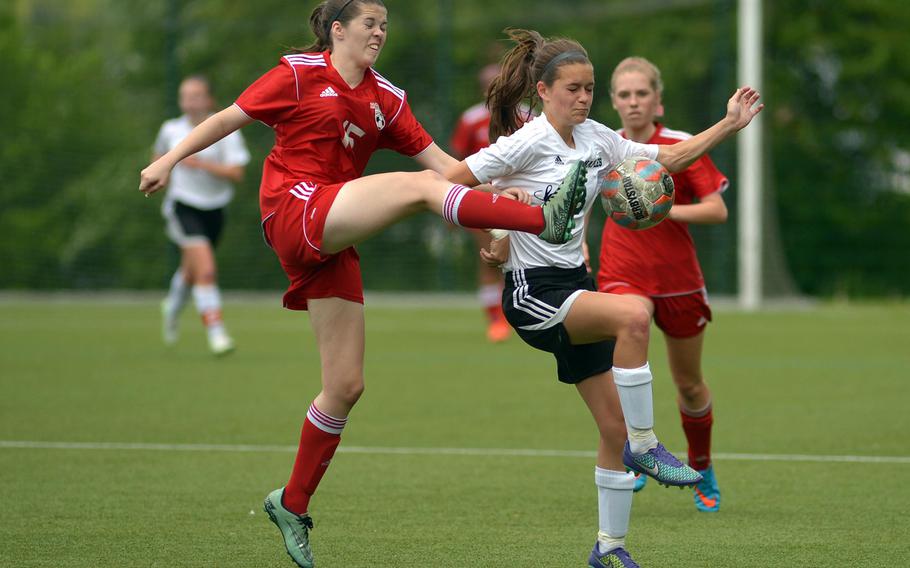 Two-time defending champions Stuttgart and Alconbury are among the major players in the 2016-17 DODEA-Europe girls soccer season, which opens on Saturday with a light four-game slate.
The early-season schedule expands the following Friday and Saturday before easing into spring break. It picks up again in earnest on April 15, just over a month removed from the European tournament set for May 17-20 in the Kaiserslautern Military Community.
Division I The two teams that have long loomed over the large-school field have squeezed over to allow room for a third.
The Naples Wildcats interloped on the annual title-match meeting between the Stuttgart Panthers and Ramstein Royals last spring, the first time this decade that the Panthers and Royals didn't square off in the last game of the season. But that was as far as the disruption went. Stuttgart handled Naples 4-0 in the championship match, winning its second consecutive European title and its fifth since 2010. Ramstein interrupted the Panthers' reigns with title wins in 2012 and 2014, but slipped in pool play to set up a semifinal matchup with the Panthers in 2016.
Naples spent the bulk of that era building a Division II dynasty before a divisional realignment bumped it upwards. Now, having graduated from the semifinals in 2015 to the title game in 2016, the Wildcats are ready to make their next leap.
Naples welcomes 11 players back from its runner-up squad, including six starters. Micayla Feltner, an All-Europe revelation as a freshman striker last season, headlines the offense, while stalwart senior Shiloh Houseworth anchors the defense.
Stuttgart stands as a very formidable obstacle to Naples' plans. The Panthers, too, have six starters back among a returning varsity contingent of 12, and this Stuttgart squad appears as loaded as any in recent memory.
Reigning Stars and Stripes girls soccer Athlete of the Year Alexa Smith is perhaps the most dangerous offensive weapon in DODEA-Europe. Lexi Mclellan is among the organization's most skilled midfield playmakers. Four-year varsity mainstay Meaghan Ambelang is the centerpiece of a defense that routinely snuffs out some of the continent's most potent attacks. All three are seniors, All-Europeans and champions, and the Panthers are unlikely to falter under their leadership.
While Naples prepares its assault and Stuttgart digs in to defend, Ramstein will look to remain relevant behind a squad of eight returning players. Royal archrival Kaiserslautern might have the pieces to figure into the elimination round, with seniors Bethany Salas and Christa Becherer and junior Cece McKenzie and Kalin Olsen providing a solid foundation.
Division II The multi-sport standoff between the Black Forest Academy Falcons and Bitburg Barons is fast becoming one of DODEA-Europe's most competitive and entertaining rivalries. While the feud has proven most intense on the basketball court, the soccer pitch isn't far behind.
BFA beat Bitburg 2-0 in last year's championship match, and both schools return teams capable of meeting again at the end of this spring's bracket. The Falcons return five seniors, including striker Chloe Moorlag; the Barons boast eight returning starters led by standout midfielder Baileigh McFall.
But Division II is reliably unpredictable. Its tournament has produced four different finalists in the two seasons since Naples and Vicenza forcibly released their grip on the division due to realignment; Hohenfels and AFNORTH met for the crown in 2015 before the Falcons and Barons took center stage in 2016.
In that spirit, it might be time for another new entry in the championship match. Aviano, last year's fourth-place finisher, is a candidate, having assembled a young but promising group around senior captain Kaila Lusson.
AFNORTH, however, shouldn't be overlooked. The Lions have been on the edge of a breakthrough for years; they lost the 2014 and 2015 title matches and finished third a year ago. This year's team welcomes a dose of incoming freshman talent in front of senior goalkeeper Abigail Stanley.
Division III Like the Panthers in Division I, the Alconbury Dragons are a two-time defending Division III champ. And like the Panthers, this year's version of the Dragons appears at least as strong as the title-winning groups that preceded it.
Seniors Roni Teti and Mariah Taylor form an elite duo in the midfield; juniors Isabel Black and Laela Evans comprise an equally formidable front line. All told, Alconbury's mix of experience, chemistry and talent will make it difficult to deny the Dragons a third straight title.
Perennial contenders Sigonella and Brussels are foremost on the list of teams with a chance to do just that. Sigonella lost to the Dragons 1-0 in last year's final; Brussels fell 2-1 in 2015 after winning the title in 2014.
Twitter: @broomestripes