Girls basketball AOY
Sterling-led Zama backed up confidence on the court
---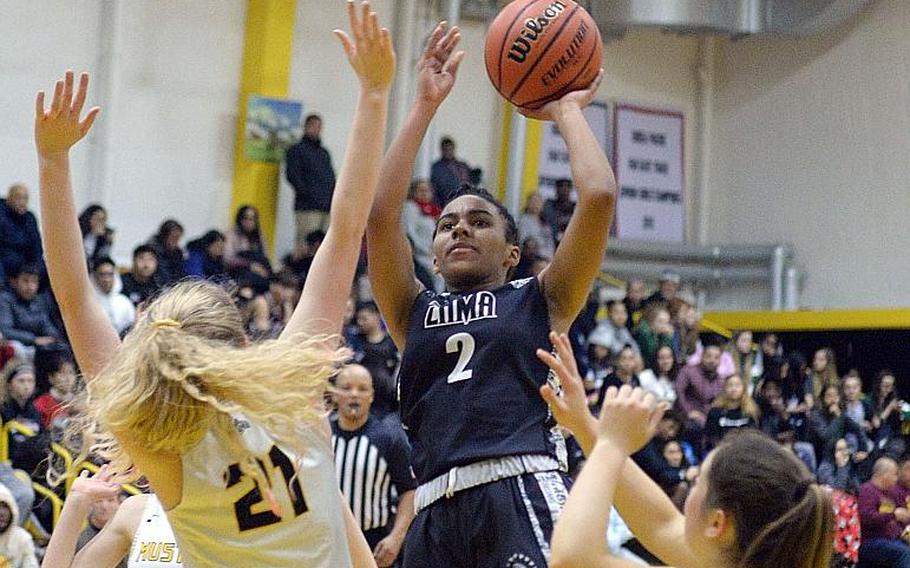 CAMP ZAMA, Japan – It wasn't that Zama had any less talent last year than during the just-concluded season, Chloe Sterling and her coach Daisy Hayes said.
The main difference was the confidence they gained by winning the last two tournaments they entered in the 2018-19 season, the DODEA-Japan and Far East Division II tournaments – the first time the Trojans had won either tournament.
It was the main reason, Sterling said, that the Trojans went unbeaten in 23 games on the court, won two tournament titles and the first two games of the truncated Far East Division II Tournament on Okinawa. They've won 30 of 31 games on the court dating back to last season.
"We had already done it," said Sterling, Zama's sophomore point guard, of the confidence the Trojans brought with them to the court each game.
"Everybody had a job. We all held each other accountable. We knew what we were supposed to do. We worked on those things in practice and executed in during the games."
The result – a 23-1 record (the only loss a forfeit to Nile C. Kinnick for not having the required 10 practices), Zama's second straight DODEA-Japan tournament title and the first American School In Japan Kanto Classic title in school history.
Through it all, Sterling averaged 24.5 points per game, 4.2 assists and 5.2 steals, and has earned Stars and Stripes Pacific girls basketball Athlete of the Year honors for the second straight season.
Besides her ability on the court, Sterling has exhibited a "tremendous amount of growth" from last season to this season, Hayes said.
"Determination, hustle, heart and passion and love for the game," Hayes said of Sterling, adding that she would push her teammates in practice to "pay attention" so they would execute better during games, and would involve her teammates more in games.
"She would rally her teammates, give them their moment to shine, pass the ball to them, getting her teammates more involved," Hayes said.
Zama lost five games a season ago, and with each of those defeats, the team would become stronger and more motivated to do better in the next, Hayes and Sterling said.
The same held true of the season-opening forfeit loss, which Sterling said she and her teammates simply flicked aside.
"Everybody knew" that it wasn't an on-court loss, Sterling said. "That just fueled our fire. The fact that it didn't get rescheduled made us more motivated."
Though they didn't get a chance to finish the Far East tournament and get their shot at repeating that title, Sterling said she and her teammates exited the season believing they were still champions.
It was also her last time in Zama uniform; she and her family leave for Atlanta later this month.
"A banner is materialistic," Sterling said. "It would have been nice to have, but we didn't need it. We left those courts and the season with no regrets."
Stripes Pacific girls basketball All-Far East teams
Division I Nile C. Kinnick: Ernestina Roberts, Madelyn Gallo; Kadena: Kyleigh Wright, Lydia Rice; Humphreys: Acacia May, Jalynn Knight; Kubasaki: Ari Gieseck; Seisen: Sarah Atanacio; American School Bangkok: Keisharna Lucas, Bua Rojanasoonthon.
Division II Zama: Chloe Sterling (Player of the Year), Jessica Atkinson, Kirari Smith; Daegu: Bethani Newbold, Jya Van; E.J. King: Avanni Gardner; Robert D. Edgren: Shakayla Ray; Osan: Kennedy Liddell; Matthew C. Perry: Jia Asprer; Christian Academy Japan: Anna Stoesz, Yokota: Emily Taynton.
ornauer.dave@stripes.com Twitter: @daveornauer
---
---
---
---