Boys basketball athlete of year
Staten's decision-making, shot-making propelled Wildcats
by
Gregory Broome
March 5, 2017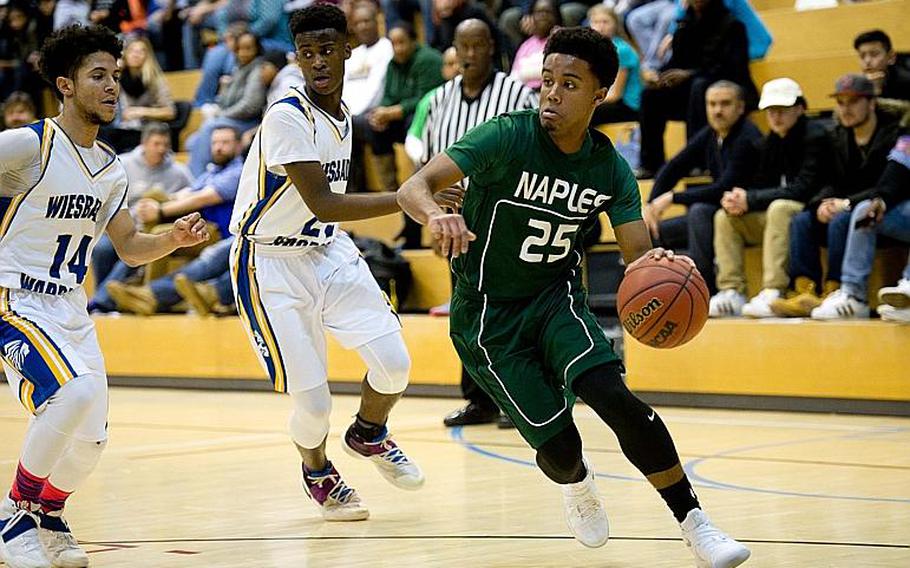 In basketball, the pick and roll is all about creating options and making good decisions. That's why Naples senior Terrell Staten is so good at running it.
Staten, the 2016-17 Stars and Stripes boys basketball Athlete of the Year, has mastered the process on the court and off. He works hard to give himself options, decisively chooses the best among them and executes the selected plan.
It started four years ago, when Staten joined the Wildcats as a nervous freshman. One game, Naples coach Craig Lord assigned Staten to guard a tough opposing senior. Where some young players would dodge or complain about the responsibility, Lord said Staten "looked me straight back in the eyes" and eagerly accepted the job.
"He was always ready for a challenge," Lord said.
That decision set the tone for Staten's impressive career, which culminated in 2016-17 with a brilliant senior season. The guard averaged 17 points a game in the regular season, dominated the early days of the European tournament and poured in a game-high 26 points, including a dramatic buzzer-beating three-pointer to extend an already classic game, in the Wildcats' 63-62 double-overtime loss to Wiesbaden in the Division I semifinals.
That memorable individual performance, ironically, was the product of Staten's daily decisions to prioritize his team's success over his own. His prodigious offensive talents meant the right choice was often for Staten to shoot, and he did so to great effect. But despite his gifts, Staten was always open to better alternatives.
"Our team was very close-knit. We trust each other with every shot. We didn't get on each other for mistakes," Staten said. "I think that confidence in each other is what helped us make it to the semifinals."
That Wildcat dynamic was built around Staten and fellow senior KC Evans, a 6-foot-4 center who has played sports at Naples with Staten since middle school. One high school offseason, Staten said, the pair focused on developing the pick and roll, a deceptively complex offensive set that requires advanced court awareness, good decision-making and instinctive communication between the two directly involved teammates. In short, it was a perfect fit for Staten and Evans, and became the centerpiece of an increasingly dangerous Naples attack.
"On and off the court, he's almost like a brother," Staten said of Evans. "As leaders on the team, since we had that connection, it helped bring other players up to our level."
Staten's hard work led to immense success on the high school basketball court. But his hard work in the classroom has given him a shot at an even brighter future. It should come as no surprise that he's making another wise decision.
Staten will attend Harvard University in the fall to study computer science. He'll focus on that instead of basketball, he said. But he's always open to the possibility of a return to the court.
"Unfortunately I don't plan to keep playing basketball," Staten said. "I'll keep it as an option, just in case."
Twitter: @broomestripes