St. Paul Christian looking tough again in Class A
by
Dave Ornauer
February 28, 2004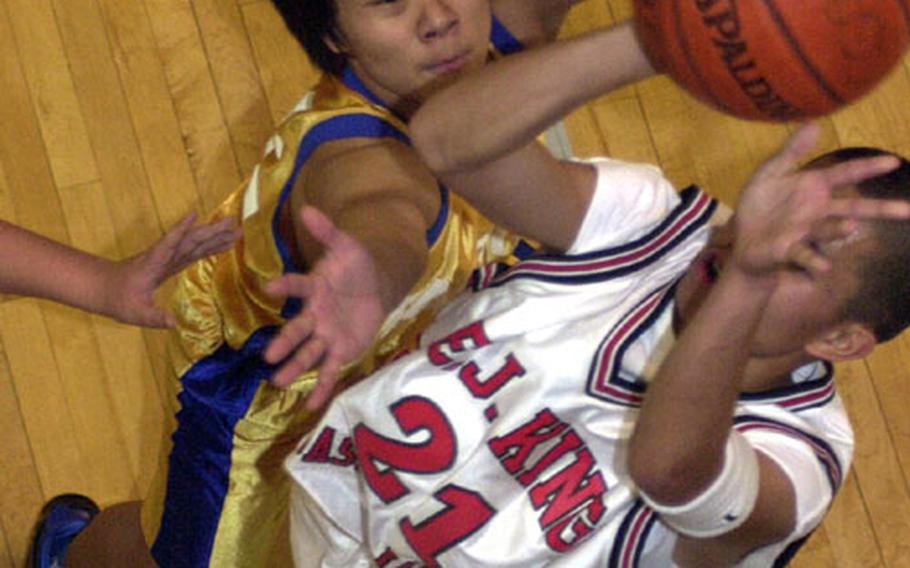 OSAN AIR BASE, South Korea — St. Paul Christian of Guam's pressure defense can give a guard the feeling he's trying to dribble through a wet blanket. And St. Paul runs the floor with an ease and quickness that leaves teams in its tracks.
St. Paul, which won the 2001 Far East boys Class A basketball tournament, appears primed for another title run. Opposing coaches are picking their brains trying to figure out how to stop the Warriors.
"They run well. They pass well. They hit the open man. They're very unselfish," said Mark Rozic, whose E.J. King Cobras (3-1 tournament, 17-11 overall) fell 77-52 on Thursday to the Warriors (4-0, 10-2) in a game that decided Pool B's top seed entering the double-elimination playoffs.
"They came to win. They contest everything," said coach David Leighninger of defending champion Osan American (4-0, 18-5).
The Cobras are used to playing Japan Basketball League games against bigger, faster, more physical teams with much larger enrollments.
The Cougars lost four regular-season games against two-time Class AA champion Seoul American, which runs a 2-2-1 zone press similar to St. Paul's.
"We run the press just enough to get the team running our tempo, but not enough to get exposed on the backside," St. Paul coach Neo Pineda said. "We pick our spots."
Rozic and Leighninger both said they'd not seen many teams with the seemingly bottomless pit of energy the Warriors have.
"St. Paul is the quickest team we've played all season," Rozic said of a team that led the Cobras 19-7 in the first quarter and 22-13 in the second, forcing repeated turnovers.
"The press didn't hurt us so much," Rozic insisted. "But we just turned it over too many times in the halfcourt. We must have yakked it up 20 times."
St. Paul, a small missionary school in Tamuning, entered Class A with an island-best 69.1 points-per-game average and a 72-71 victory over two-time defending island champion Father Duenas Memorial.
Two ID card holders, Andrew Borja and Ryan Itchon, play for a Warriors team that tore its way through its first four tournament opponents by an average of 34 points per game.
Although the island hasn't claimed any team championships during the current Far East tournament season, it has enjoyed comparative success in smaller areas.
Jocelyn Pardilla of John F. Kennedy became the first Guam player to win the Girls Class AA MVP award outright last week on Okinawa. Although the two-time runner-up Islanders lost the final 46-41 to Kubasaki of Okinawa, Pardilla and teammates Celine Cruz and Lili Baranda made the all-tournament team.
Willie Stinnett of Father Duenas Memorial, Brandon Cruz of Guam High and Stan Serisola of Simon Sanchez did the same in the Boys Class AA at Seoul, as did Mallary Duenas of St. Paul in the Girls Class A a week ago in Pusan, South Korea.
And so far, Guam teams have cleaned up the Team Sportsmanship awards, Guam High in the Boys Class AA, Academy of Our Lady in the Girls Class AA and St. Paul in the Girls Class A.
While hopeful, Pineda said it was too soon to consider the chance of St. Paul crowning the tournament season with a Boys Class A crown for Guam.
"I don't like to count my chickens before they hatch," he said.
---
---
---
---