Speed dominates first day of DODDS tournament
by
Rusty Bryan
February 17, 2007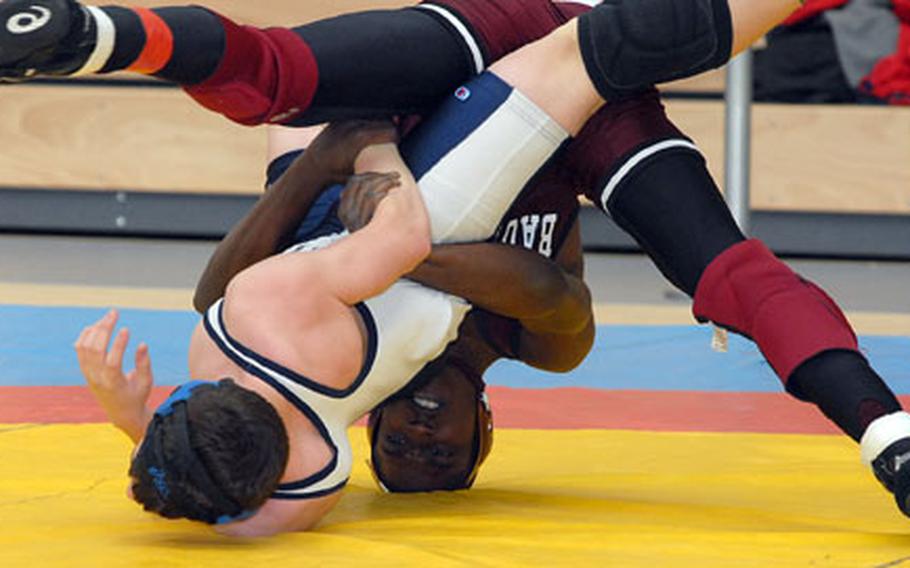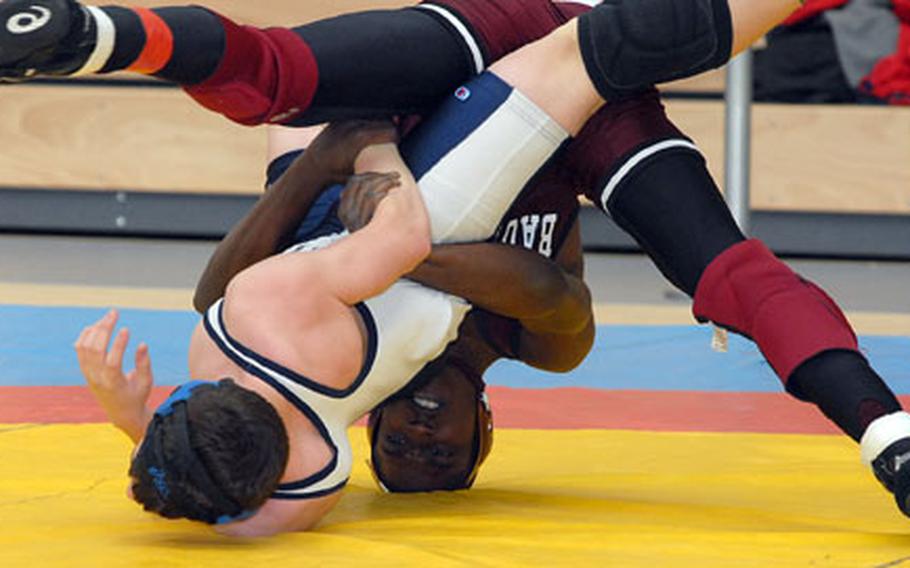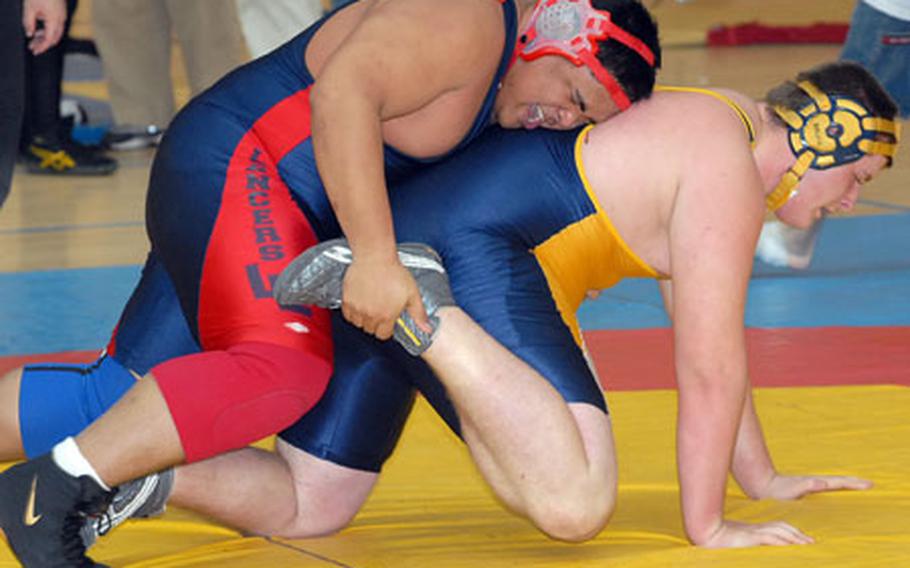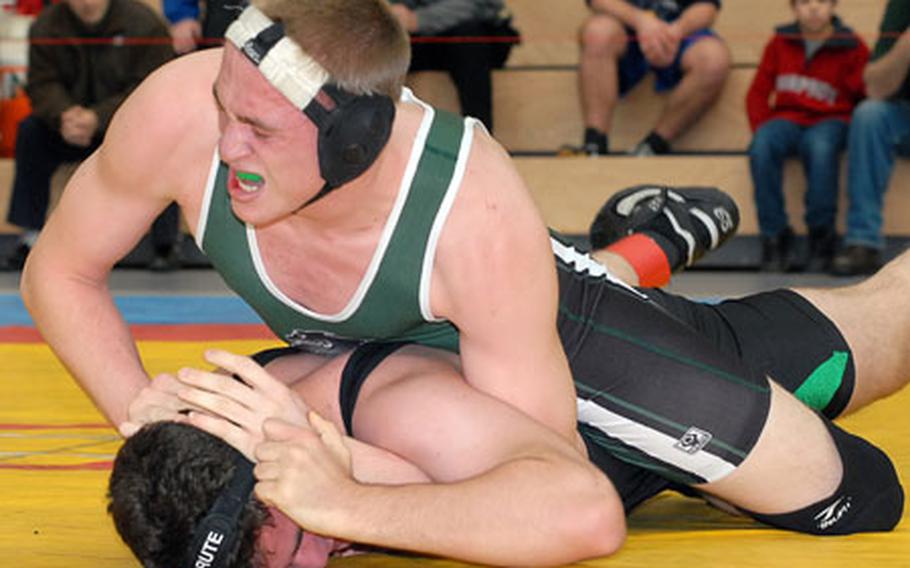 WIESBADEN AIR BASE, Germany — Wrestling may be classified as a winter sport, but a "fall" festival broke out Friday on Day 1 of the DODDS-Europe wrestling tournament.
Eleven wrestlers recorded four pins in their opening-round matches. Fifty-seven of the 73 matches that took place Friday were decided by falls.
Quickest of the bunch was Bitburg's Jerry Archuleta, who scored his fourth fall of the day in 14 seconds over Logan Porchie of Naples at 103 pounds. Hohenfels' Eric Vandal was next at 160 with a 22-second pin of Matt Olson of Naples, his first of two sub-60-second outings of the day.
"I take the same approach to every tournament," Vandal said of the event, which scheduled four round-robin matches on Friday and a fifth Saturday morning. "Conserve your energy and knock your man out as quickly as possible."
Vandal's strategy was also used by Ramstein 145-pounder Jon Peden, in his first European finals as a senior. He came to Germany this summer from Pennsylvania. Peden finished off his four foes in a combined 2 minutes, 56 seconds. Three of his falls came in under 60 seconds.
The round-robin format is intended to favor the best-conditioned contenders, and Heidelberg 215-pounder William Domko, who pinned all four of his opponents on Friday, felt his match against Ivan Linatoc of London Central proved the point.
"I didn't think I could win if I had gone against him at regular speed," he said after pinning Linatoc in 4:26. "I had to find an extra gear and get after him."
Other wrestlers posting four falls on Friday included AFNORTH's Brock Blackenship, Ramstein's Eric Ovan and Corey Targos, Kaiserslautern's Ty Yocum, Baumholder's Edward Acosta and David Crow, Wiesbaden's Keats Rowell and Giessen's K.C. Brown. Wiesbaden's Taji Peebles and Patch's Nick Rogers each scored three falls and a technical fall.
James Ricks of Patch, one of three defending champions here, said he felt the pressure both of being a champion and wrestling at a higher weight than last year's 103.
"They're all coming at me," he said after his 4-0 day at 119, which began with a 7-5 victory over previously unbeaten Chris Spenser of Wiesbaden. "It's a lot different at the higher weight. The competition's tougher."
If all goes according to expectations, Ricks will face a fellow defending champion in the championship bout. Chris Campos of Naples, who won at 112 last year, is the leader of the other pool at 119. He collected two falls, a technical fall and a forfeit on Friday.
Ricks admitted to scoreboard watching.
"I've been watching the other group," he said, "but that's tomorrow's business."
Trey Fortunato of Ramstein, the 119-pound champion wrestling at 135 this season, also enjoyed an unbeaten day. He posted three falls and a 7-2 victory over Nate Buckley of Patch.
A match worthy of the finals opened things Friday at 152, with Jeremiah Raveling of Ramstein pinning previously unbeaten Dameon Odum of Hohenfels in 2:22 of their group opener.
Today's final round-robin matches begin at 9 a.m., with the top two pool finishers crossing over to the semifinals at 11:30 a.m.
Consolation bouts begin at 1 p.m., and the finals are scheduled for 4 p.m. Admission is $5 for adults and $3 for students.
---
---
---
---