Some wrestlers don't just win - they win with style
by
Dave Ornauer
January 31, 2018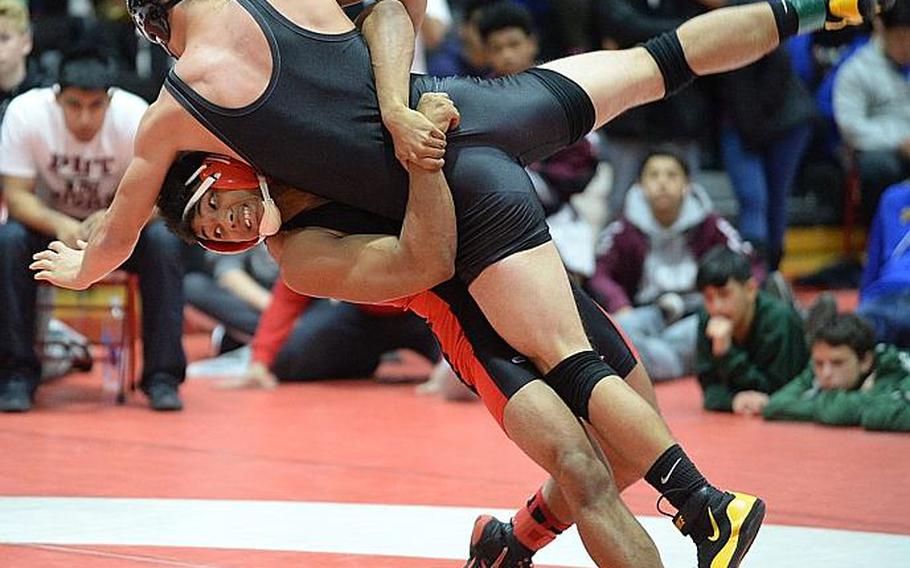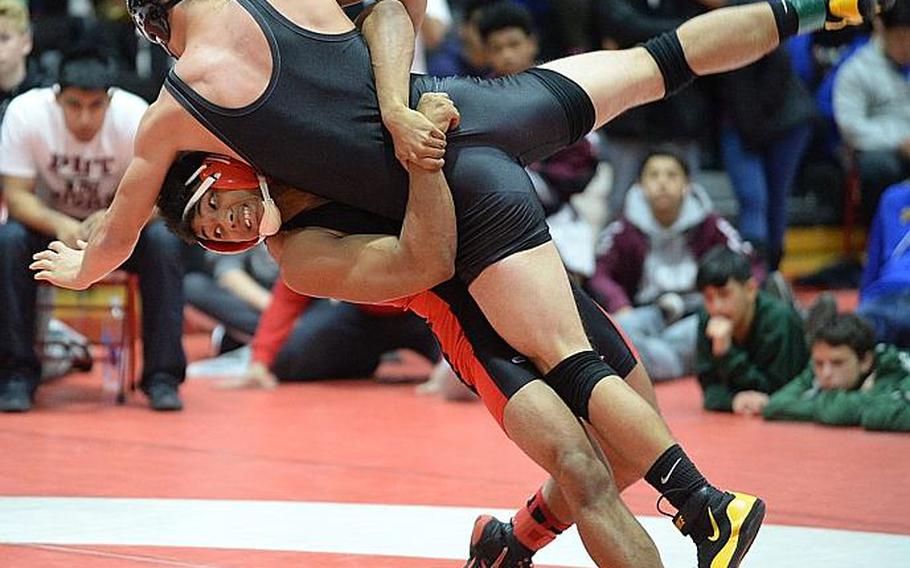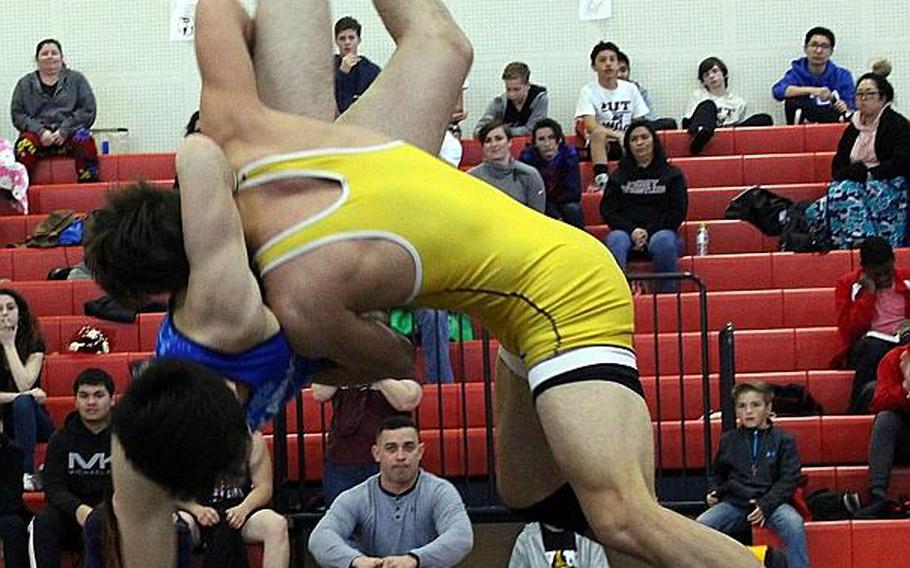 YOKOSUKA NAVAL BASE, Japan – It's that occasional huge throw, a wrestler lifting an opponent completely off the mat, over his head, then tossing him aside like flotsam into a harbor, that makes one elbow the guy standing next to him saying, "Omigosh! Did you see that?"
Only during this Pacific high school wrestling season, there have been so many of them – five alone in the one-day "Beast of the Far East" three weeks ago, two during the 158-pound final – that they've almost become old hat, and could make those same spectators simply shrug.
The current crop of throwers has several coaches suggesting they may overtake the chase for individual titles and team banners as the highlight of this week's Far East tournament.
Competition begins Thursday morning at Yokosuka's George I. Purdy Memorial Fitness & Sports Center. Most observers say the best athletes should come from the 129- and 158-pound weight classes.
Seoul American coach Ben Pak calls the 158-pound class, featuring reigning Far East Outstanding Wrestler Hunter Lane of Daegu, "the most exciting weight class." It also features Kinnick's Darius Swenson and Matthew C. Perry's Andrew Borrero, who are also throw-capable.
"Anybody can be thrown (at 129 pounds) if you're not careful," Pak said of a weight class including three returning Far East champions, Kadena's Demetrio Delarosa, Kinnick's Lucas Wirth and Rio Lemkuil of four-time defending Division I champion St. Mary's.
"It's been exciting this year," Kinnick coach Gary Wilson said.
He agrees with Pak that 158 and 129 could be the deepest, strongest, best-contended weights at Far East.
In addition to Borrero, Swenson and Lane, St. Mary's Ryo Sawa and Kubasaki's Jacob McConville, among others, could contend at 158. "We have some seriously good athletes there," Wilson said.
While brute strength reigns at 158, the 129-pound group features "lots of technical skill," Wilson said. In addition to Wirth, Lemkuil and Delarosa, Humphreys' Dylan Rix, Kubasaki's James Carpenter, ASIJ's Egan Sadler and Edgren's Raphael Gomez are considered title challengers.
"That Edgren kid is as tough as nails," Wilson said of Gomez.
"Pound-for-pound, he's the strongest kid out there," said Wilson's assistant coach, Dan Joley.
In addition to breathtaking throws, there is the matter of contending for the six placements in the 13 weight classes. Team points are awarded on a 12-9-7-5-3-1 basis for the individual freestyle tournament, which spans the first day and a half of the event.
While individual wrestlers compete with each other regardless of division, team champions are crowned in Divisions I and II. St. Mary's is trying for a tournament-record fifth straight D-I team title, and is currently second in total team titles with 16, trailing Kubasaki (25).
The dual-meet tournament follows, starting Friday afternoon and concluding Saturday at Kinnick High School's gym with the championship meets in Divisions I and II.
On paper, the Titans trail host Kinnick "by a few points," said St. Mary's coach Shu Yabui, a former three-time Far East champion. "It will come down to us and Kinnick, a few of those weight classes, a few of those bouts," he said.
"Every year, it always comes down to one match" and not necessarily involving a coach's own wrestler, Wilson said. "We'll be looking for a few upsets along the way."
Twitter: @ornauer_stripes