Softball roundup: Naples girls win big twice to go to 10-0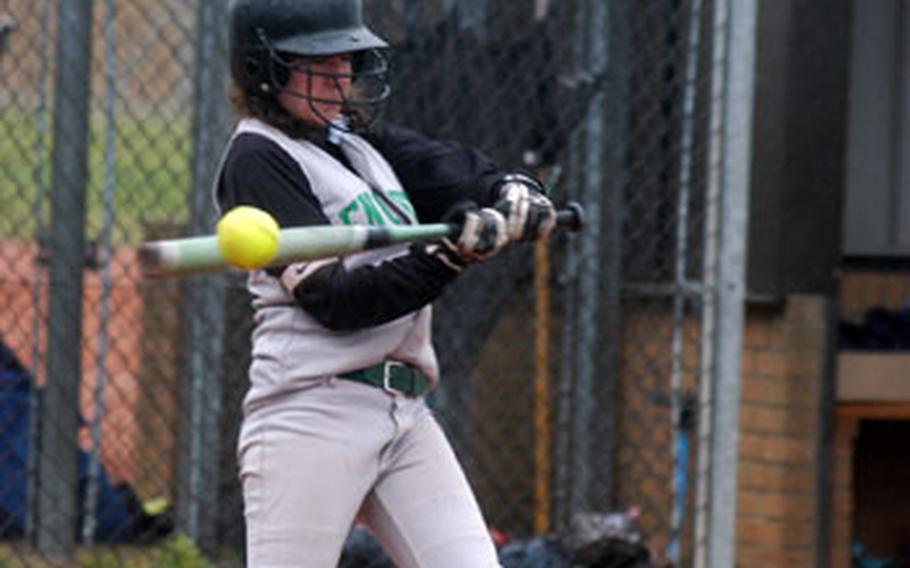 The defending European Division II champion Naples Lady Wildcats upped their season record to 10-0 in a big way Saturday by battering visiting Sigonella 15-0 and 20-2 and clinching the regular-season Southern Region softball title.
Caitlin Eckert pitched all three inning of the first game, scattering six hits and benefiting from two RBIs by Tori Ward and one from Clara Davis. Davis was just getting warmed up. She came back in the nightcap to one-hit the Lady Jaguars (6-4), striking out seven, and hammered them at the plate by going 3-for-4 with eight RBIs. Naples will close its season at Sigonella on May 22. All Southern Region teams are idle this coming weekend.
In other softball games of note:
Patch 6-13, Bamberg 3-3: Saturday at Bamberg, the Lady Panthers improved to 10-0 behind Vanessa Adderty's four-hit, route-going seven innings in Game 1 and Bianca Lopez's five-inning one-hitter in the nightcap. Miranda Garst and Emily Gush each drove in three runs in Game 2, and Jessie Rahn went 3-for-3. Bamberg fell to 4-6 overall and in the Eastern Region.
Hohenfels 18-16, Ansbach 3-1: Saturday at Ansbach, the reigning European D-III champ raised its overall and Eastern Region records to 8-2 behind the pitching of All-European Mandy LaVanway and her team's hitting. Caroline Bourgeois led Hohenfels in Game 1, going 4-for-4. Jasmine Calhoun drove in three runs with a 2-for-3 effort, LaVanway was 2-for-3 with an RBI triple and Tasia Hall was 2-for-4. In Game 2, LaVanway was 3-for-3 and Casey Leon 2-for-2 as the Lady Tigers dropped their hosts to 1-9.
Vilseck 10-6, Wiesbaden 0-10: Saturday at Vilseck, Taylor Dore went 3-for-4 in the nightcap to help the Lady Warriors split. Wanda Jerry, who backed her pitching with a 3-for-3 effort at the plate, got the victory for the Lady Warriors (4-6). Deraj' McClinton tossed a five-inning no-hitter and struck out nine to win the opener, then homered in Game 2 for the Falcons (7-3).
Lakenheath 21-13, AFNORTH 0-0: Saturday at Lakenheath, the Lancers improved their season record to 8-4 as Whitney Brown, who fanned seven in her three-inning complete-game stint, and Ali Parkerson pitched shutouts against AFNORTH (2-4).
Ramstein 8-20, SHAPE 1-1: Saturday at Ramstein, the continent's third unbeaten team, along with Naples and Patch, swept its non-regional rival to go to 10-0 overall. Becky Pletzer provided all of the run support the defending European Division I champ needed. She went 2-for-3 and drove in three runs to back Kayla Pahls' route-going, six-inning two-hitter in Game 1, then was 4-for-4 with a double and four RBIs to cement Kelsey Freeman's five-inning, complete-game victory in the nightcap.
Ramstein 15-15, Bitburg 0-0: In a makeup doubleheader Wednesday at Bitburg, the Lady Royals rolled behind a route-going, three-inning no-hitter in the opener by Freeman, and a one-hit, four-inning complete game by All-European Lindsey Jones in the nightcap. Freeman fanned six and got backing from shortstop Jones, who went 2-for-2. Jones struck out eight and surrendered the only Bitburg hit of the day to Shannon Dougherty.
Heidelberg 14-19, Mannheim 4-11: Saturday at Heidelberg, Melissa Guelle fanned six in her complete-game, five-inning victory in Game 1, and Asia Buss doubled in a 3-for-5 day that scored two runs to help her own cause in Game 2. The sweep evened Heidelberg's record at 5-5.
Buss struck out three in her six-inning, complete-game stint in the nightcap and got support from Aileen Donnelly, who tripled and drove in two runs in a 2-for-5 effort. Jasmin Craig drove in four runs to back Guelle in Game 1.