Far East D-I boys soccer
Smoker's hat trick makes CAJ champions
---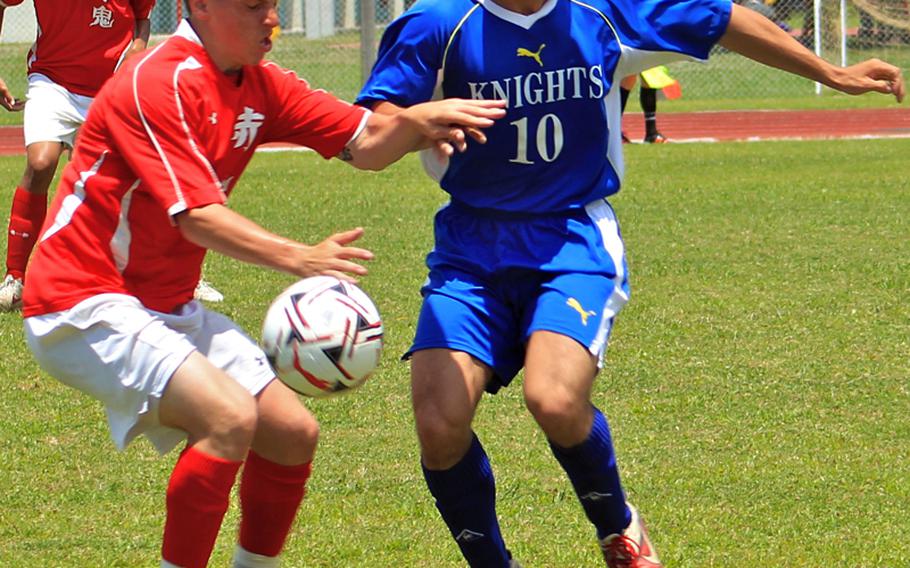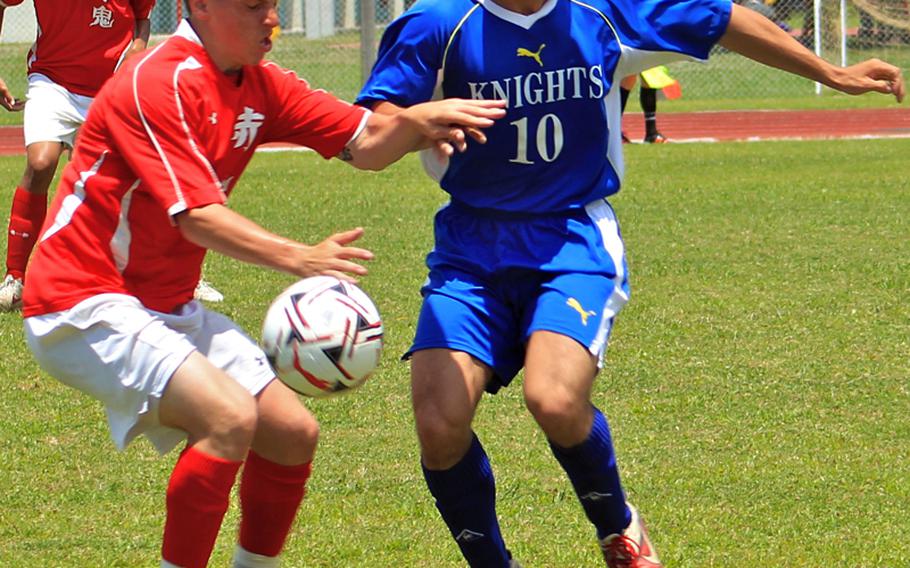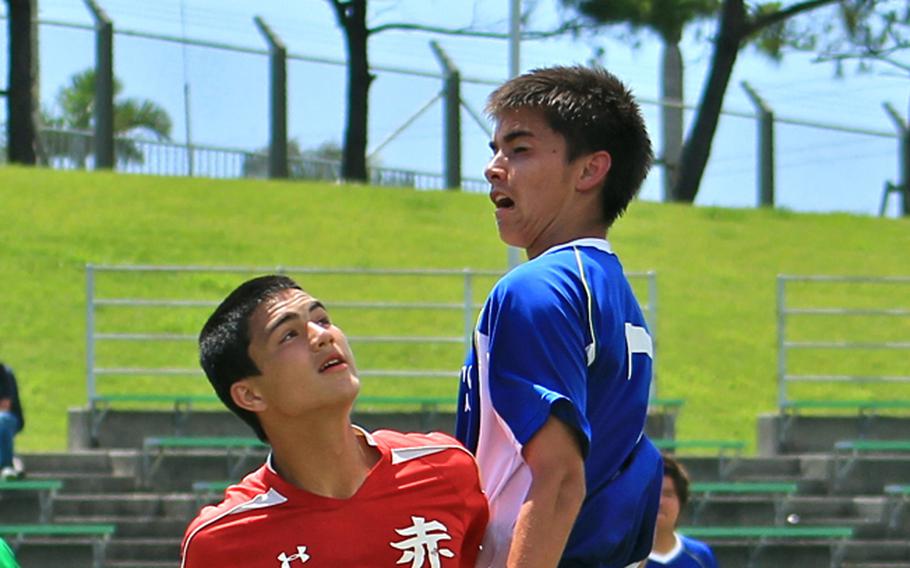 CAMP FOSTER, Okinawa -- After losing key players to injuries during the week, Kyle Smoker and Christian Academy Japan somehow pulled it together Friday and dominated the Far East High School Boys Division I Soccer Tournament final at Kubasaki's Mike Petty Stadium.
Smoker, the Knights' sophomore striker, notched an early hat trick and CAJ's goalkeeping and defense held firm in a 4-0 victory over Nile C. Kinnnick. The victory gave the Knights their fourth D-I Tournament title and fifth overall; they won the D-II title in 2002.
And they did it without a handful of players, including Gene Jeong, who suffered two broken wrists while attempting a bicycle kick in Tuesday's 5-0 pool-play match win over Yokota.
Playing with so few reserves, CAJ's game plan was to come out strong and dominate the game early. "The early lead was huge for us," said Knights coach Charles Smoker. "We wanted to get it done in the first 20 minutes."
Just four minutes into the match, the ball fell to Kyle Smoker's feet after a scramble in front of Kinnick netminder Brady Yoder. Smoker drove the shot low to score one of the earliest goals in D-1 tournament final history, setting the tone for the rest of the match.
"The ball fell right to me and I knew all I had to do was put it on frame," Smoker said.
Not even two minutes later, a well-placed corner kick from Ryan Hollands found Smoker's head, and he placed it in the bottom right corner of the net, giving CAJ a 2-0 lead.
Tournament Most Valuable Player and Golden Boot winner Shuhei Tanaka looked to extend the lead with a rocketed volley that struck the crossbar and bounced out. CAJ's ensuing possession led to a through ball from Eliot Reasoner that found Smoker, who slotted it past Yoder, completing his hat trick in just the 11th minute.
Just before halftime, Kinnick's Joey Marina received a red card after throwing Smoker to the ground during a dead ball, digging an even deeper goal for the Red Devils, who had to play a man down the rest of the way.
A goal from Arpan Shrestha in the 78th minute sealed CAJ's title victory, wiping out the bitter memories of a 3-2 semifinal loss to eventual champion Seoul American last year.
Hollands admitted to some nerves prior to Friday, because of Kinnick's 1-0 win over Seoul American on Thursday, which dethroned the defending champions.
"We were sort of worried after Kinnick beat Seoul, but we came together and it feels so good to finally win," he said.
CAJ had nine shots on goal and produced non-stop pressure on Kinnick's defense. On the other end, Kinnick's direct style of play suited the Knights' tall back line, allowing Yuma Fuseya, named the tournament's Outstanding Goalkeeper, to gobble up through balls all game.
CAJ's performance made it especially sweet for coach Smoker after his Knights got off to a shaky start to the season.
"We've been emotionally up and down," he said. "However, sometimes in life things just come together and we played great."
Stanley Schrock is a journalism major at Colorado-Mesa University and a 2010 graduate of Kadena High School.
---
---
---
---