D-II football semifinals
Small schools all have motivations for title
---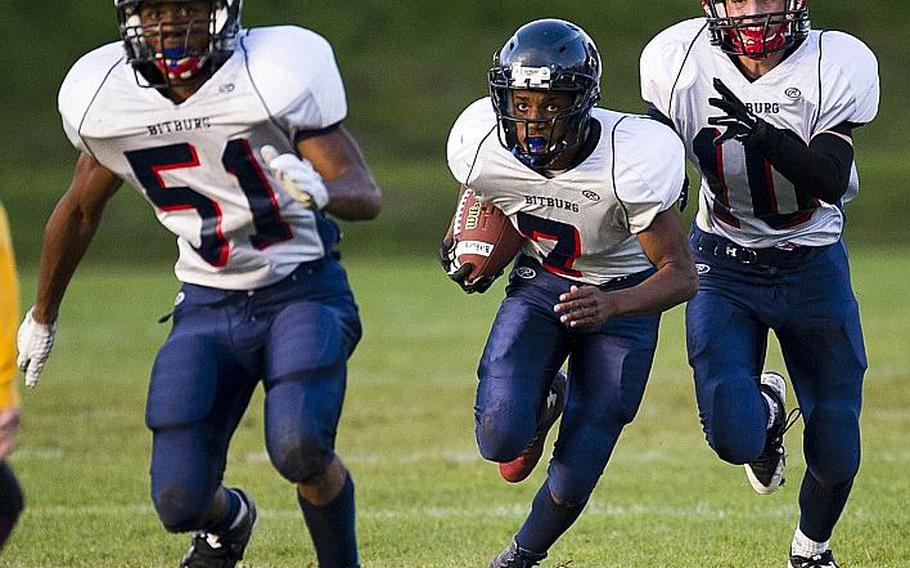 Round one of the DODDS-Europe Division II football playoffs played out exactly as expected. That trend could continue in this weekend's semifinals.
Assuming one knows what to expect from a pair of games that defy simple predictions.
One semifinal features two relative wild cards. Rota, the soaring top seed and newly-minted divisional power, surely has a ceiling set at some undetermined height but has yet to even brush up against it. Hohenfels has as much momentum as any team outside of Spain and is determined to remain relevant to the title scene. But it faces a long road trip and a potentially devastating injury situation.
The other semifinal features two of DODDS-Europe's most consistently successful programs, Ansbach and Bitburg. History, both over the last decade and the last month and a half, suggests both will be formidable.
The winners of Saturday's semifinals will play for the Division II championship Nov. 7 at Kaiserslautern High School.
No. 4 Hohenfels at No. 1 Rota The Admirals are sailing into uncharted waters. But they certainly look comfortable at the helm.
Just two years removed from a winless season, Rota is undefeated, the top overall playoff seed and host to a home semifinal game that might lead to its first ever Division II title shot.
Those expecting upstart Rota to falter have been left waiting for weeks now. The Admirals shut down their early-season opponents, allowing just 27 total points in their first three wins, then won a tough road game at eventual No. 5 seed SHAPE 27-14. A stunning 21-8 defeat of Bitburg – the biggest home game in Rota history until this Saturday's kickoff – sealed the top seed, and a quarterfinal romp of Alconbury put the Admirals in the Division II final four.
New coach Ken Walter has led Rota to its present heights behind a few guiding principles. The Admirals protect the ball as well as anyone, coughing up just two turnovers over their last four games; they run a simple but effective playbook fueled by running back Andres Torres and a squad of backfield playmakers; and their defense has yielded double-digit points just twice this season. They've also embraced an approach that goes against Division II conventions, avoiding iron-man football in which the best players play both offense and defense in favor of fresh athletes on both sides of the ball. It's a strategy that's clearly paid off.
All of that creates issues for Hohenfels, which claimed the No. 4 seed after winning the last four of its five regular-season games and handling SHAPE 28-8 in the quarterfinals.
As if the Tigers didn't have enough to deal with, they might find themselves without all-around star Tony Saintmelus, whom Hohenfels athletic director Kathlene Clemmons called a "game-time decision" due to a leg injury last weekend.
Already a solid contributor to the 2013 title team and 2014 runner-up squad, Saintmelus has stepped in as the Tigers' primary playmaker after the graduation of Stars and Stripes Football Athlete of the Year David Vidovic. Hohenfels will need to establish yet another highly productive runner Saturday if Saintmelus is sidelined or slowed; Jordan Kelly and Trey Briscoe are among the top candidates.
No. 3 Bitburg at No. 2 Ansbach DODDS-Europe football rivalries do not run much deeper than the long-term feud between the Barons and Cougars. While other contenders rise and fall, the two have served as the stalwart twin powers of Division II football since Ansbach joined the division in 2007.
The Ansbach-Bitburg rivalry reached its nadir in 2009, when the Barons supplanted the Cougars as Division II champs and launched a dynasty that included four straight championships and a DODDS-Europe record for consecutive victories. Bitburg has since faded a bit, sitting out the last two title games since winning its last in 2012, while Ansbach enjoyed a resurgent 2014 championship season.
This year's matchup could harken back to the hard-fought battles waged in the prime of this historic rivalry, as both the 5-0 Cougars and 4-1 Barons sport a similar blend of stingy defense and hard-hitting run-based offense. But there's not a lot of data with which to work.
The teams have just two common opponents in Baumholder and International School of Brussels, losing teams that proved equally overmatched against both the Cougars and Barons.. Both face arguably equal mental hurdles: Ansbach has steadily lost key players to PCS moves this year; Bitburg will enter still stinging from the loss at Rota that cost it the top seed. Yet both cruised through the quarterfinals, Ansbach beating International School of Brussels 54-6 and Bitburg blanking Aviano 44-0. Ansbach carries the distinction of the homestanding higher seed and defending champion, while Bitburg carries the added motivation of ending the program's absence from the title game.
Time, as it always has in this storied rivalry, will tell.
Twitter: @broomestripes
---
---
---
---