Home Team
Small school wrestling trying to avoid a fall
by
Dave Ornauer
January 26, 2017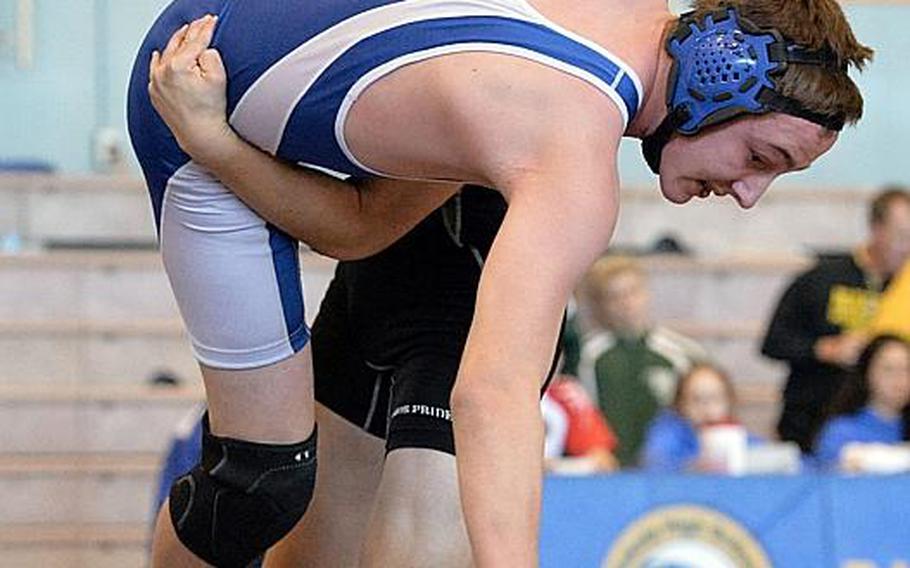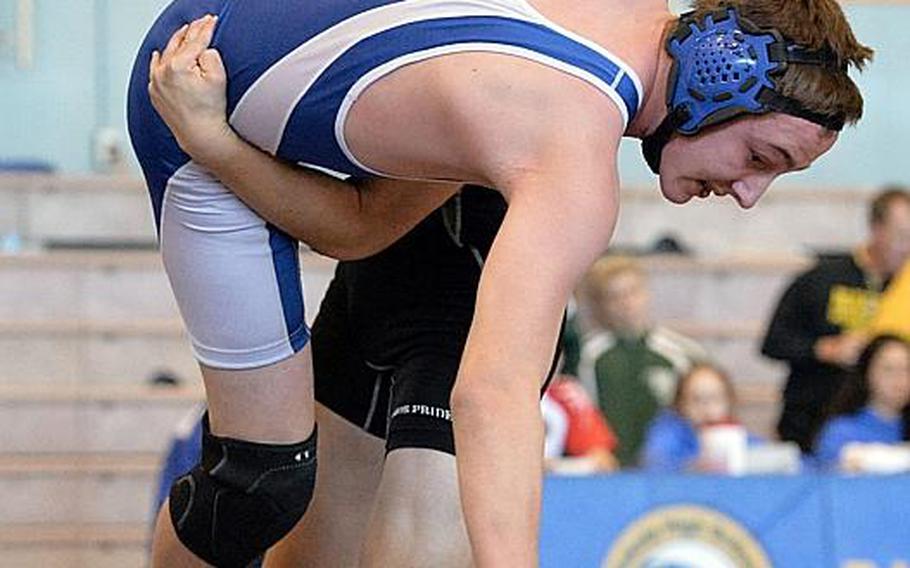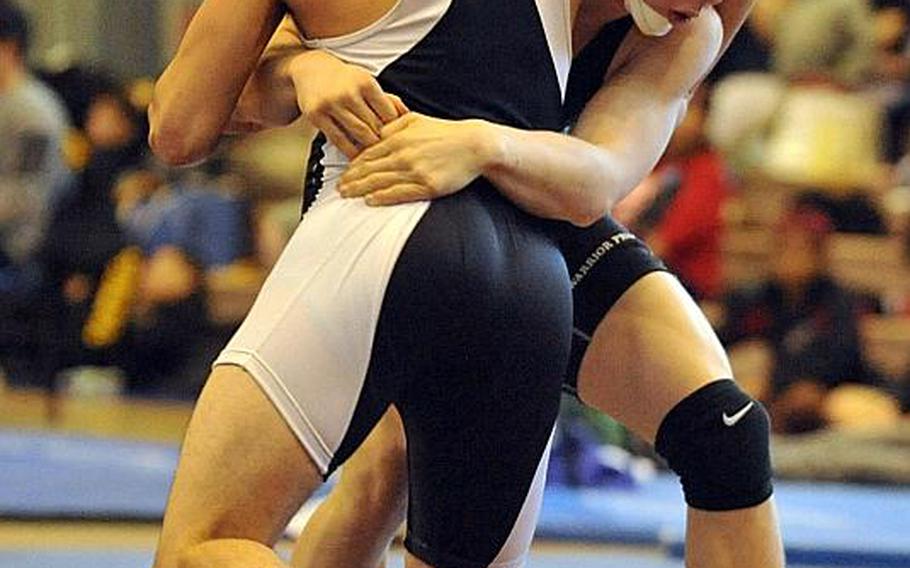 YOKOTA AIR BASE, Japan – It's not hard to come to a conclusion that high school wrestling in the Pacific is in trouble, at least at the Division II level.
Attendance by smaller schools at last Saturday's "Beast of the Far East" Tournament at Yokota proved a case in point: E.J. King brought eight, Matthew C. Perry five, Zama and Robert D. Edgren four each. Only Yokota and Christian Academy Japan had full lineups.
The numbers are the worst in Korea, which was represented by just two Daegu wrestlers. The Warriors and Osan have but four each on their rosters and Humphreys just five.
Quad-meets including Seoul American have averaged three bouts this season from a potential of 13. Defending Far East champion Brandon Rothe of Seoul American hasn't wrestled anybody all season and might not get any bouts before next month's Far East meet.
"It's a dying sport," Falcons coach Ben Pak said. "People aren't coming out for wrestling and I don't know why."
Pak said he would love for Rothe to have even one bout before Far East, "but I can't reward him because we don't have anybody to wrestle. You cannot substitute competition."
Observers both at "Beast" and elsewhere say they can already pencil in Yokota and CAJ for the D-II dual-meet finals, given the size of the opposing teams.
"That's pretty fair to say," Osan principal Morgan Nugent said. "We're (smaller schools) going to forfeit one weight class after another; that's the challenge we'll all be in."
The only hope for wrestlers at smaller schools is in the individual freestyle tournament, where "Beast" 148-pound champion Hunter Lane and his training partner, Jake Dexter (158), could steal valuable team points in tough weight classes.
Lane was grateful for the "Beast" experience. "It's definitely a nice break; you only see a couple of people" in Korea. He said he felt that with more preparation a year ago, he could have given eventual Far East champion Kazuho Kawashima a run for his money.
"It would have helped in the preparation, what to train for," Lane said. "The lack of training partners, lack of matches, the lack of diversity in Korea; it really hurts a lot of guys, And 148 is a strong weight class."
Aside from the lack of numbers at D-II schools, some cited coaching continuity as a problem. All four D-II schools in Japan and all three in Korea have new coaches this season. Al Grade, Daegu's principal who hasn't coached in 37 years, is the primary DODEA sponsor this season.
"First year of wrestling for me, it's been a new experience," said Bill Schofield of Edgren, who takes over for Justin Edmonds, the most successful coach in D-II history with nine Far East tournament titles. Schofield started the year with 12 wrestlers.
"I did expect it to drop off when you have an iconic coach who has been at Edgren for so long. Very difficult shoes to fill," Schofield said. "Some of it is lack of interest by the kids, or they come out because a friend came out and all of a sudden, the friend stops, so they stop."
"It's hard to develop programs when coaches are always moving every year, and just making more of an effort to promote the sport, to try to get the numbers up," St. Mary's coach Shu Yabui, a three-time Far East champion himself, said. "It's hard in this sport if you haven't had any wrestling experience."
Promoting the sport better starts with convincing kids that "the reason we come out for sports is not to just be with friends, but to challenge ourselves, make us stronger, better and faster, be more proud of who we are," Schofield said. "We'll get it back. I'm optimistic about it."
Wrestling isn't for everybody.
It requires a lot of time on the mat vigorously and repeatedly practicing moves. A wrestler's diet is often very generous in carbohydrates and nearly bereft of fat and cholesterol.
"They hang out with their friends and they go to Burger King or Popeye's and they're eating whatever they want while you're eating a salad," Pak said. "It requires a discipline unlike any other sport we have. You have to make weight. If you don't, you don't wrestle. It's very tough."
The number of teams in both divisions has dropped over the years, from a time when Far Easts would welcome teams from the Philippines, Taiwan and Guam - as many as 27 teams, down to 15 today - Yabui said.
"I don't really see the benefit of splitting D-I and D-II when our (region) is so small," Yabui said. "And when you make something small even smaller by splitting it, obviously, competition goes down and I think that's what we're seeing."
Even the style of uniforms worn by wrestlers can discourage a potential newcomer. The tight-fitting singlet has been around since the late 1960s.
A sampling of Web site articles have coaches and other wrestling observers calling for an end to singlets and changing to two-piece uniforms, which a handful of schools in the States are doing.
"I asked 10 kids this year if they wanted to wrestle and at least five said they didn't want to wear that uniform," Dexter said. He and Lane cited MMA-style shorts and a type of short-sleeved Rashguard top, sometimes referred to as Rashies as better options.
Grade agrees with Dexter's assessment. "We had a couple who wanted to wrestle, but not in a singlet," he said.
Pak doesn't feel a switch to two-piece uniforms would help, but "if it does, then I'm all for it," he said. "But kids are going to come out for wrestling because they have a passion for it, because they love it."
Of course, it's easier to love when you're successful. And seeing others be successful can be contagious.
"It's a people builder," Yokota coach Ty Gaume said.
The Panthers won the individual freestyle team title in 2003 as a D-I school, fell to just six athletes four years ago but went back to a full lineup the last two seasons and won its first Far East D-II dual-meet title a year ago.
"Success breeds success," Gaume said, adding that despite the lack of numbers at other D-II schools, the dual-meet tournament should continue. "Even though it looks like an exercise in futility, if we don't maintain it, we'll lose it and if you lose it it's hard to get it back," he said.
Twitter: @ornauer_stripes