D-I football preview
Six teams begin five-week fight for four playoff spots
by
Gregory Broome
September 12, 2019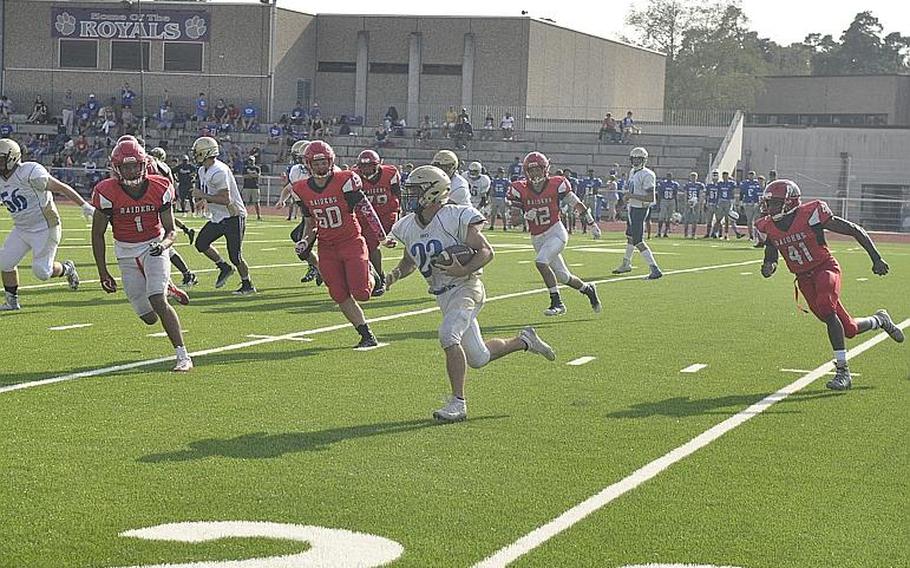 DODEA-Europe's six Division I football teams begin their five-week race for the semifinals this weekend.
While the regular season officially started with three non-conference games Sept. 6-7, this weekend's set of three games - Stuttgart at Kaiserslautern, Ramstein at Lakenheath and Vilseck at Wiesbaden - are the first to count towards playoff qualification. Each team will play its five divisional rivals once, and the teams with the four best records will advance to the semifinals the weekend of Oct. 25.
Here's a look at each team's chances of reaching the large-school final four.
Kaiserslautern The Raiders are back in the thick of the Division I pack after years of bringing up the rear. The program enjoyed a rejuvenation in 2018 with a pair of regular-season victories and a long-coveted trip to the playoffs.
This year's outfit appears poised to continue that climb up the standings. Kaiserslautern was impressive in its non-conference debut last weekend, launching a fourth-quarter comeback that toppled rival Wiesbaden 45-30.
Lakenheath The Lancers took another step in their rise from the divisional dregs to the lofty title scene last season. The upstart English squad finished 5-1 in the regular season and knocked off defending champion Stuttgart in the semifinals before falling to Ramstein in the title game.
Sustaining that momentum will prove difficult this fall as the Lancers deal with significant roster turnover, particularly on offense. Lakenheath didn't manage an offensive touchdown in its non-conference opener, a 17-7 loss against Vilseck
Ramstein The Royals were runaway champions a year ago, going undefeated in the regular season and posting multiple-touchdown margins of victory in both of their playoff games.
Ramstein returns a loaded roster with enough talent and experience to mount a successful title defense, but a repeat title won't come as readily as last year. The Royals won't go undefeated this season, having narrowly lost their non-conference opener 31-28 to a resurgent Stuttgart team.
Stuttgart Like an otherworldly entity from a horror film, the Panthers rise from the playoff fringes every other year to vengefully claim a European championship. It happened in 2015, then again in 2017, and may very well happen in 2019.
Stuttgart announced its plans to continue that tradition with a thrilling 31-28 triumph over Ramstein in an opening-weekend non-conference matchup. But the Panthers will be further tested over the next few weeks, running a gauntlet of 2018 playoff teams in September that includes a visit to Kaiserslautern, a home game against Lakenheath and a Sept. 27 rematch with the Royals.
Vilseck Years of near-misses on the Falcons' attempts to qualify for the playoffs gave way to an outright miss last fall as Vilseck went winless on the season, a disappointing outcome for a physical program that is among DODEA-Europe's most uncomfortable opponents with which to share a football field.
Expect the gritty Bavarian squad to reinsert itself into the Division I playoff picture this fall. The Falcons have already put their winless outlier behind them, suffocating the Lakenheath offense in an on-brand 17-7 slugfest of a non-conference win to open the season.
Wiesbaden Once an annual participant in the European championship game, the Warriors have slipped noticeably over the past couple of seasons. Wiesbaden earned a middle seed in the 2017 playoffs and bowed out in the semifinals, then stepped down another rung with a fifth-place divisional finish in 2018.
The Warriors have hopes of restarting their glory days this fall behind a talented offensive core and a renewed focus on aggressive, attacking play on both sides of the ball. Those hopes remain intact despite a bumpy start, namely a 45-30 non-conference loss to Kaiserslautern to open the season.
broome.gregory@stripes.com Twitter: @broomestripes