Boys cross country AOY
Siibo ran at his own pace all the way to Far East title
by
Dave Ornauer
November 25, 2018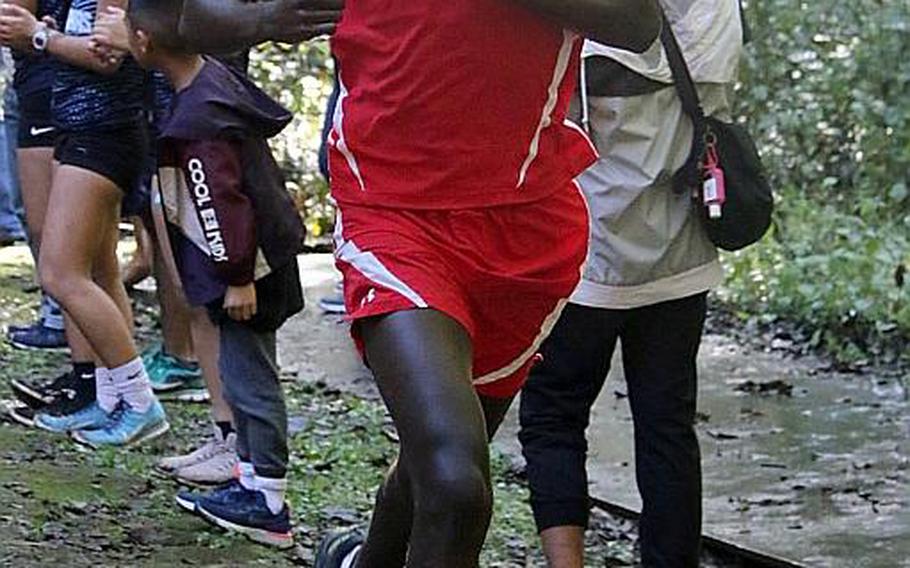 Most cross country runners say they don't worry so much about their opponents as how they themselves are doing on the courses.
But given how his rivals played a virtual game of stopwatch leapfrog with each other throughout the season, Akimanzi Siibo said he couldn't help but be concerned about them.
"I definitely did my research, looked at the times and what they were capable of and I was worried," said Siibo, a Nile C. Kinnick senior who, in the end, conquered those fears by sweeping every meaningful race there was to win and posting the Pacific's top time of the season.
Siibo went undefeated in nine races, including the Kanto Plain finals on Oct. 27, the DODEA-Japan finals on Oct. 20 at Yokota where he ran the region's top time of 16 minute, 8.3 seconds, and the Far East meet on Nov. 5 when he clocked 16:44.5 at Misawa Air Base, Japan.
For those feats, Siibo has been named Stars and Stripes Pacific's boys cross country Athlete of the Year.
The 16:08.3 was a school record for a 3.12-mile race, and he came within .3 seconds of the region's top time in the last four years, set in 2015 by Yokota's Daniel Galvin. Siibo also set the school record on the 2.9-mile Tama Hills Recreation Center course, clocking 15:12.1 on Sept. 29.
"He's by far the most talented kid to run at Kinnick," coach Luke Voth said of Siibo, who was chiefly responsible for being the leader of a Red Devils team comprised of youth and underclassmen, but somehow managed to finish second in the Kanto finals and first in DODEA-Japan.
Siibo says he credits star Red Devils runners who've come before him at Kinnick, such as Jerry Lotz, the team's leader in 2016, and Robert Beard in 2014, for getting him ready for that responsibility.
"My team, my coach, they all prepared me for that leadership position," Siibo said. "As a freshman and a sophomore, I was looking up to those guys. They helped me mature not just physically, but mentally. Then, when I was a junior, a lot of freshmen came in, and I had to assume that leadership role."
He took the advice that he gave his teammates in the Far East race.
"I just told my teammates not to worry, run your race, do what you could do. And that's what I did," Siibo said.
Siibo ran the Far East meet in 16:44.5 and had company the entire way with American School In Japan's Trevor McAuliffe on his right shoulder, and rivals Trevor Williams of Kadena and Matthew C. Perry's Owen Young in trail.
"Running with Trevor all the way also worried me, but I wasn't too worried," Siibo said. "I was focusing on myself; otherwise, I'd have been too nervous or would have fallen off."