Sigonella boys topple Rota for Division IV title
---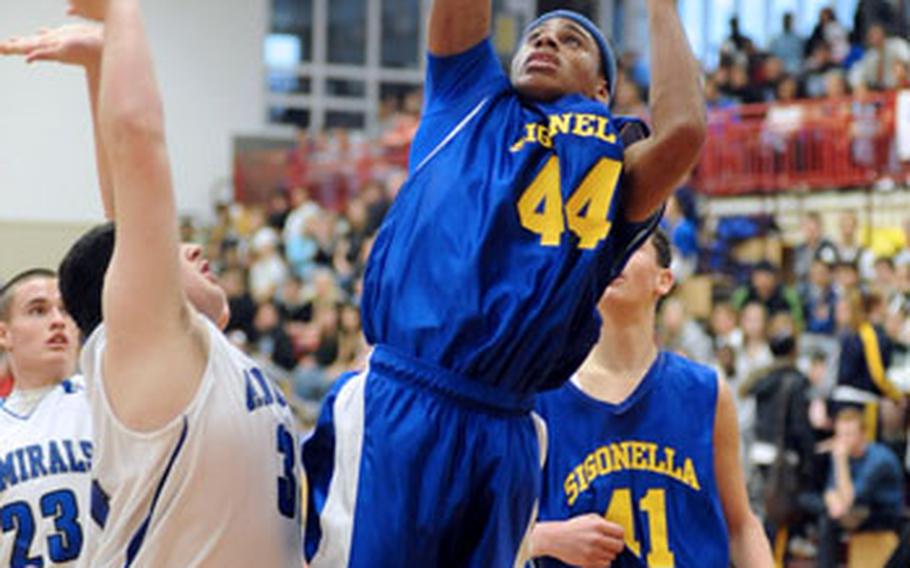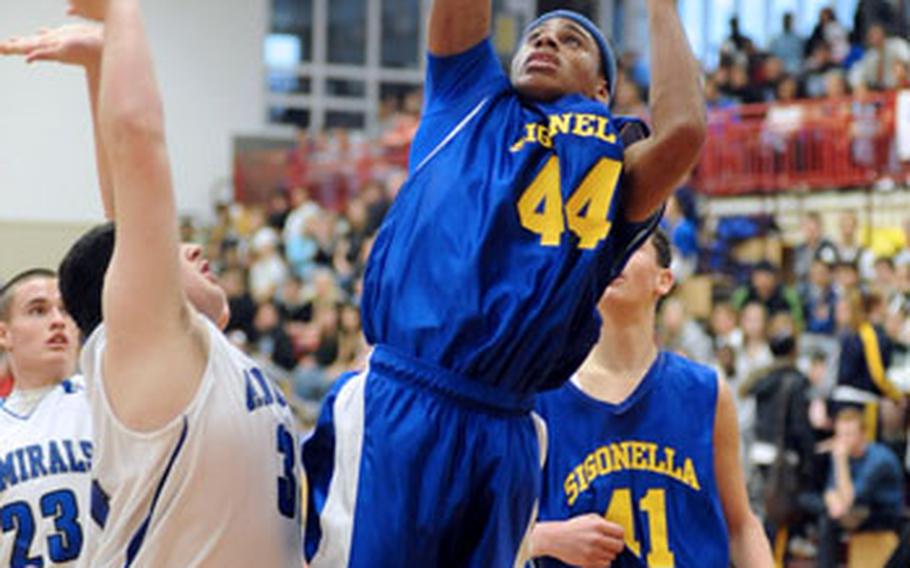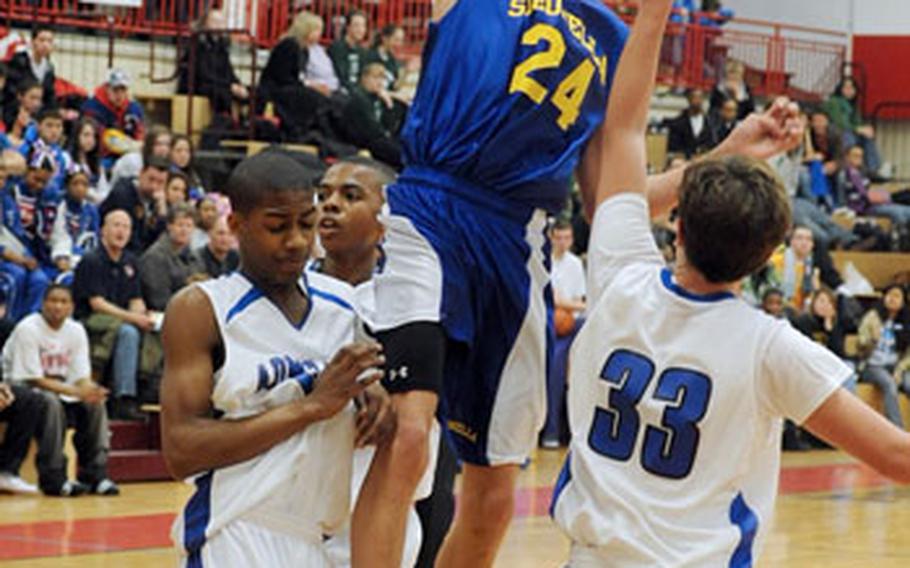 Photo gallery: Div. I and IV championships
MANNHEIM, Germany — All it took Friday for Sigonella to claim the school's first European boys title of any kind was a different defense and a massive rebounding effort. The combination produced a 55-43 Division IV title-game victory over top-seeded Rota.
"We were slow getting back in man-to-man," Sigonella coach Bobby Lazenby said of Thursday's 54-41 pool-play loss to Rota. "We went to a 2-2-1 zone [Friday] and it speeded us up."
It also slowed tournament MVP Tre'von Owens of Rota. The 6-foot-3 freshman, who scored 17 points in Thursday's victory over Sigonella, shot only 5-for-19 from the floor for 13 points Friday. Six of those points came during fourth-quarter garbage time, some eight minutes after the game had been decided.
Sigonella put the game away by mounting a 15-2 run during the first five minutes of the second half. Three three-pointers, two of them from the top of the key by junior DeAnthoney Mitchell and the third from the right wing by senior Tyler Kelbert, fueled the decisive spurt. Rota turned the ball over six times during the span.
If that weren't enough of a recipe for a Rota disaster, Sigonella was continuing its game-long domination of the boards. Sigonella, led by 18 rebounds by 6-2 senior Darius Johnson, outrebounded Rota 47-36.
"Thursday, we weren't boxing them out," Johnson said. "Today, we wanted it more."
Johnson's freshman brother, Randall, who prefers to be called Jack, added nine rebounds, and also busied himself by blocking three shots and assisting on two of game-scoring leader James Campbell's 10 field goals. Campbell, who finished with 23 points, was 7-for-9 from the floor in the second half.
Mitchell finished with 10 points, eight of them in the second half.
Owens topped Rota's scoring chart, but was limited to just two field goal tries by the Jaguars in the third quarter. He missed both. Caleb Arnold backed Owens with 11 points.
Jack Johnson said his team, despite Thursday's loss to Rota, was confident coming into the finale.
"We play in a pretty good conference," he said of the American Schools in Italy League, in which the Jags went 8-4 this season. That record included a split with Naples of Division II and a sweep of D-III Vicenza. "We play against schools from D-II and D-III."
In spite of that, Sigonella was seeded fourth here, behind Rota, Brussels and Menwith Hill. Sigonella dealt with Brussels in Thursday's semifinals, 67-54, to earn its rematch with the Admirals.
"We wanted to play them again," Darius Johnson said.
Sigonella 55, Rota 43Division IV boys' championship
(Friday at Mannheim)Sigonella..........8 14 19 14—55Rota..........6 11 4 22—43Scoring—Sigonella: James Campbell 23, Jack Johnson 11, DeAnthoney Mitchell 10, Darius Johnson 6, Tyler Kelbert 5; Rota: Tre'von Owens 13, Caleb Arnold 11, Stephen Freeman 7, Dale Parker 5, Darius Brown 3, Scott Curtain 2, Timothy Drake 2.
---
---
---
---