Shutdown kicks Pacific athletes off mats, courts
by
Dave Ornauer
January 21, 2018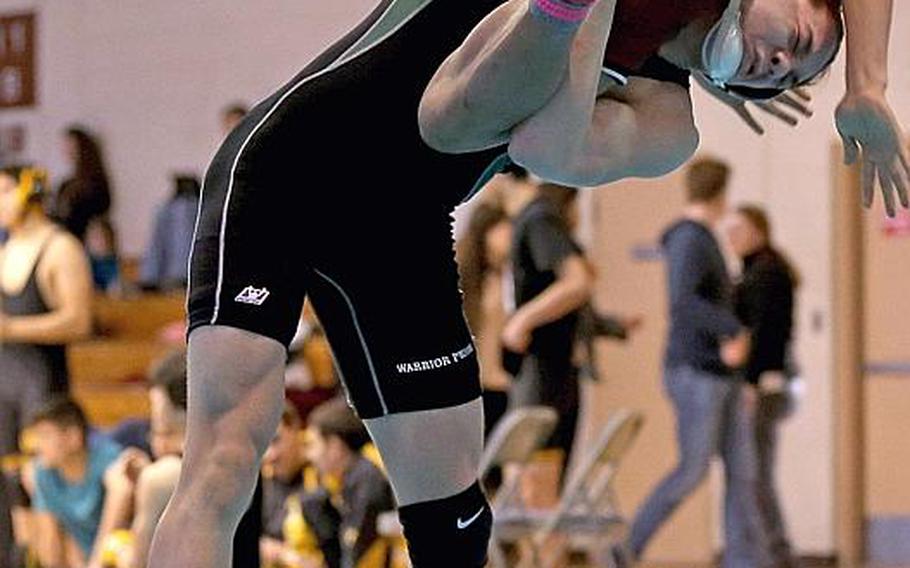 CAMP FOSTER, Okinawa – With just more than a week before the Far East wrestling championships are set to take place, Daegu senior Hunter Lane – and hundreds of other Pacific high school student-athletes – now have to wonder whether such events will happen.
Practices and regular-season basketball games and wrestling matches have been placed on hold due to the government shutdown, according to messages posted to the DODEA Headquarters and DODEA-Pacific official Facebook pages.
That does not yet include Far East tournaments in basketball, scheduled for Jan. 29-Feb. 1 for all divisions, and wrestling, slated for Feb. 1-3. But it very well could, if the shutdown continues, DODEA officials said.
"I've heard about that chance," said Lane, named Outstanding Wrestler at last year's event. He plans to keep working out on his own "to get better no matter what the circumstances. I don't know. I'm hoping it all gets resolved."
As a result of the Congressional impasse, "all of these activities will cease to include after-school practices until the shutdown is complete and we return to normal work status," a message from DODEA-Pacific Region Director Lois J. Rapp said on DODEA-Pacific's Facebook page Sunday.
All athletics, academics and Junior ROTC activities will cease on Jan. 23, according to an email sent to high school administrators by DODEA-Pacific Athletics Coordinator Tom McKinney, a copy of which was obtained by Stripes.
"This means no practice or games," McKinney said, adding that he will "monitor the situation day-by-day" and keep schools informed.
Lane was not the only athlete or other interested party upset by the situation. Other seniors, in particular, voiced their anger.
"Everyone is a little in shock, and not really sure how to feel," said Isabel Tayag, a senior forward for Kadena, hoping to regain the Far East Division I title it won in 2016.
"Us seniors are taking it harder," said Tayag, who transferred to Kadena after her freshman and sophomore years at Robert D. Edgren. "The seniors just wanted a final shot at the banner, something I personally have been waiting to finally take home."
Humphreys is undefeated in boys basketball this season and is aiming for a school-first Far East Division II title.
"It's crazy," senior swingman Brice Bulotovich said. "It's a shame, too, because this is definitely Humphreys' best team, without a doubt. I guess that's life, but this year's Humphreys' team is something different. I guess we can only hope all goes well."
Yokota, too, was gunning to return to the top of the Division II heap.
"My team and I, we've worked really hard toward the goal of being Far East champions, and to see this dream affected by this situation is disheartening," Panthers junior forward Renyck Robertson said.
Victor Rivera became coach of Daegu girls basketball this season, a team that ended a 30-game losing skid that lasted two seasons with a 38-21 win in November over Osan. He expressed anger over the government's "inability" to come to an agreement and its effect on student-athletes.
"The girls had their heart set on competing in Far East, working hard all season," Rivera said. "It just doesn't seem fair that their lives, as well as so many others, are impacted, yet the lives of the people who caused this go on as usual."
ornauer.dave@stripes.com Twitter: @ornauer_stripes