Home Team
Shutdown cost one day of practice, but another one could hurt
by
Gregory Broome
January 25, 2018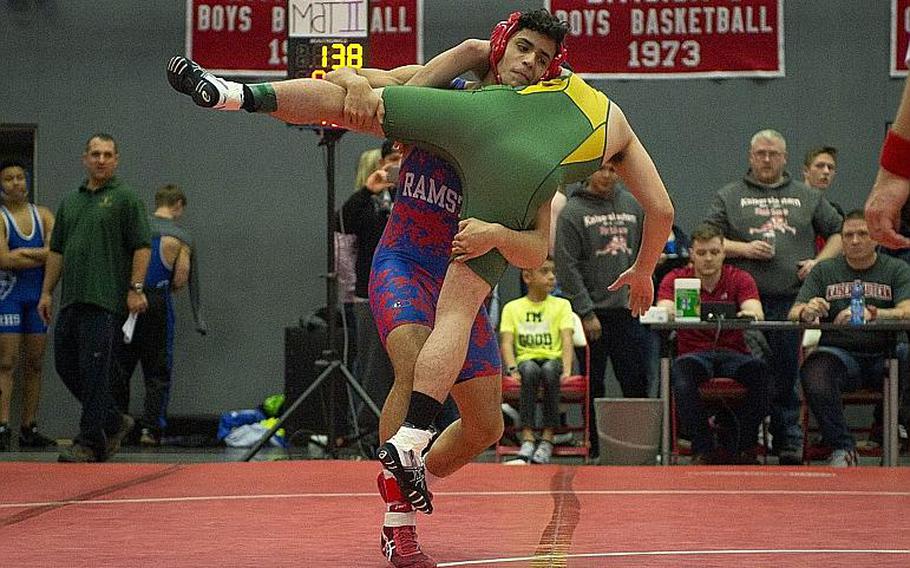 The DODEA-Europe winter sports season resumed Tuesday with the end of the three-day government shutdown.
The shutdown cost European teams just one day of practice; no games or meets were affected.
"All is good and nothing has to be rescheduled because of the shutdown," DODEA-Europe athletic director Kathlene Clemmons said via email Tuesday morning.
Though the shutdown began prior to a busy slate of games and meets Saturday, Clemmons said the required funding for those events "was obligated and executed before the shutdown," thus allowing them to proceed.
While DODEA-Europe teams were prevented from practicing only on Monday, the shutdown and the uncertainty surrounding it presents an ongoing challenge for the coaches tasked with guiding their teams through it.
"Anytime we miss a day of practice, it throws off the routine for the whole week," AFNORTH boys basketball coach Justin Daugherty said.
On Saturday, Daugherty's Lions enjoyed their first win of the season, a 58-43 defeat of American Overseas School of Rome at Aviano, Italy. On Monday, a season that was suddenly looking up was in purgatory.
"We wanted to keep the momentum going into this week, and not being allowed in a gym on Monday afternoon definitely hurts that," Daugherty said.
Vilseck girls basketball coach Adrian Crawford said an interruption like this one "breaks routine," but took solace in the fact that all of his Division I rivals were similarly inconvenienced.
"We use Monday to correct mistakes from the weekend," Crawford said. "So it was disruptive, but everyone missed a day so you can't complain."
Kaiserslautern wrestling coach Christopher Kelly said the missed day of practice can have a particularly profound effect on that sport.
"Wrestling is a sport that requires a massive amount of cardio training and weight management, which can be disrupted very easily," Kelly said, adding that the month-long winter break over December and January already presents difficulties for winter sports teams. "We have a young team this year, so anytime that you miss mat time, you can see the difference."
Some coaches, meanwhile, downplayed the effects of the shutdown. Several teams take occasional Mondays off of practice anyway, particularly after arduous weekend road trips. And Monday's cancellation came at the start of a crucial week of semester exams, providing students some extra after-school time to study.
"It was a very minor disruption," Wiesbaden boys basketball coach David Brown said. "It actually came at the most convenient time it could."
Lakenheath boys basketball coach Greg Mako discounted the shutdown's impact on his team entirely.
"We came back from a long trip and took Monday off to study for finals. Then we started back up Tuesday," Mako said. "No effect, just a lot of blustering."
While this shutdown inflicted minimal collateral damage on DODEA-Europe sports, it left open the possibility of a more consequential one in the near future. The bill passed by Congress and signed by President Trump will keep the government funded only through Feb. 8.
A shutdown at that point would jeopardize the European wrestling sectional qualifiers, set for Feb. 10, the wrestling championship meet, set for Feb. 16-17, and perhaps even the four-day European girls and boys basketball championship tournament, scheduled for Feb. 21-24.
DODEA-Europe athletic director Clemmons declined to discuss how those season-defining events might be affected by a potential shutdown.
"It would be inappropriate to speculate as to future impacts on athletic programs or events in DODEA-Europe," Clemmons said. "If there is a future lapse in appropriations, we will continue to operate within the guidance provided by the Department of Defense."
Aviano girls basketball coach Brian Roers deployed a pearl of sports wisdom to summarize the way coaches are approaching that worrisome hypothetical.
"Just like practices and in games, you play until the whistle blows," Roers said. "We'll keep pressing forward until they tell us to stop."
Twitter: @broomestripes