Shooting to fill big shoes
by
Dave Ornauer
December 4, 2008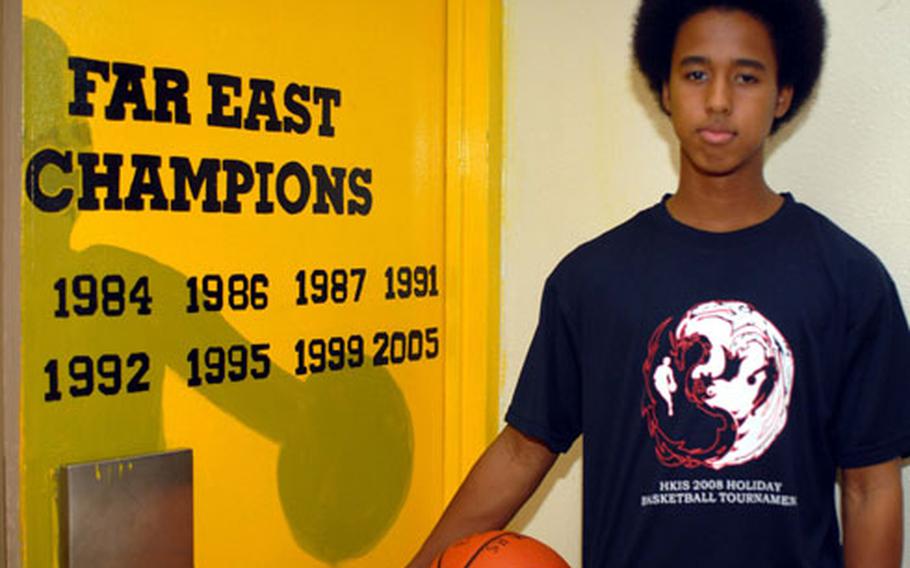 KADENA AIR BASE, Okinawa — One would think that losing a player so critical to a team's fortunes as was Jamil Barney for Kadena, that the Panthers would have to classify themselves as rebuilding.
But by the close of one door, another opens.
Taiyo Robertson is not nearly as big as the 6-foot-3, 200-pound Barney. Slight and slender, Robertson, a junior who transferred to Kadena last spring, brings a 5-11 frame — along with a three-point touch that adds a different dimension to last season's Far East Class AA runner-up.
"He's a completely different ballplayer" from Barney, Kadena coach Robert Bliss said.
Barney transferred to Jack Britt High in North Carolina for his senior season and took his 21 points, 14 rebounds and four blocked shots per game with him.
Robertson has been learning the defensive end, is getting some rebounds and has an "ability to square up from outside and also drive to the basket," Bliss said.
The results have been encouraging for the Panthers (6-1).
Robertson scored 25 points in Kadena's season-opening 83-78 victory Nov. 22 over Mirai Koka, a Japanese team, then averaged 20 points in last week's Hong Kong International School Holiday Tournament.
"He's a solid all-around player, a good addition to the team. He came in and adapted well," Bliss said.
It was probably easier for Robertson than most to adapt. Robertson has lived overseas for 14 of his 16 years, starting at birth at Sasebo Naval Base and most recently at RAF Lakenheath in England, where he earned All-tournament honors in the DODDS-Europe Division I championships at Mannheim, Germany, before coming to Kadena.
Robertson confessed to being "a little nervous" prior to coming to Kadena, but he already had friends in place, such as senior guard J.V. Omila, who helped Robertson ease in.
"He's great to have as a teammate," Kadena senior Jordan Ray said. "He's clutch, he's fun to be around and he's a team player."
That immediate acceptance, and having worked out over the summer with guys like Omila, Brandon Harris and others, put Robertson at ease.
"I've felt comfortable the first few games," said Robertson, who made the All-tournament team at Hong Kong and won the three-point contest there.
Seen primarily as a scorer, Robertson says he enjoys "getting his teammates involved" with passes to open shooters, and is working on playing better defense.
More than anything, Robertson said, he and his teammates take frequent looks at the years that Kadena has won Class AA titles, on the door entering the boys locker room, and how they want to add a ninth year to that sign.
Barney and the Panthers just missed last season, losing at Seoul American 64-60 in the Class AA championship game on Feb. 23.
"We're talking about what we're trying to do this year," Robertson said. "We're trying for a different result."
The Panthers will have to improve on their most recent meeting with Seoul American, in which they lost 87-57 in last Saturday's Hong Kong tournament title clash.
"We have to play better defense, play with more heart and attack more," Robertson said.
"We're not nearly as big as they are," Bliss said of a team that lost most of its size after last season. "We'll be undermanned size-wise."
Still, the early record indicates that the Panthers will be competitive.
Sophomore Kevin Paranal, junior Stanley Schrock and senior Earl Gittens return from a Kadena outfit that last season went 36-14 and swept all four regular-season games against Kubasaki.
In the Hong Kong tournament, Kadena won all five of its games against international schools, two of which they'll see in the Class AA tournament, and the Panthers edged their island rival, Kubasaki, by one point.
Kadena's Okinawa Activities Council regular season begins Friday when the Panthers host Kubasaki. Robertson is hoping that, aside from the Seoul American hiccup, the Hong Kong experience will serve as a springboard to a successful campaign.
"We play hard. We're faster than some teams. And we play smart," Robertson said. "I just want to be part of a championship team. It can be done."