SHAPE's tennis champs ready to defend their European titles
by
Rusty Bryan
October 25, 2006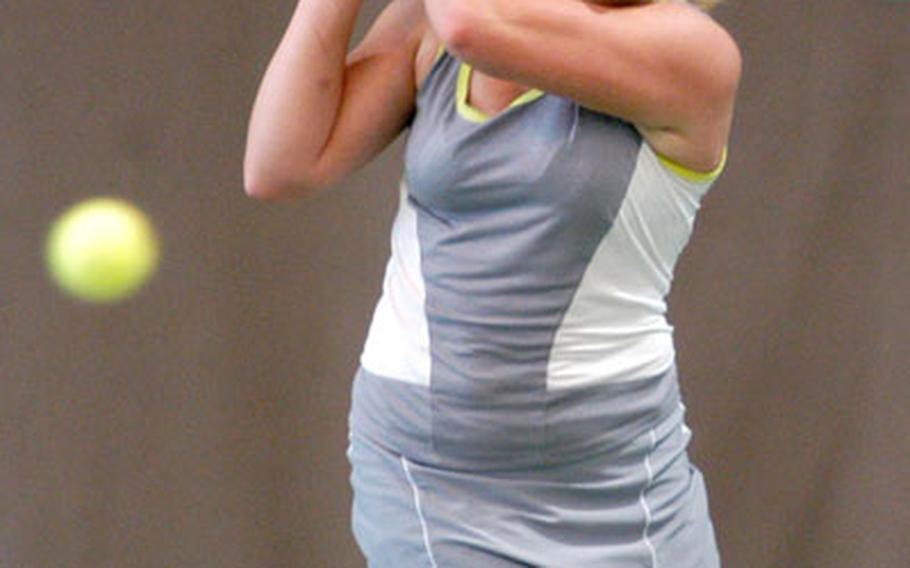 If he didn't know it before, defending boys champion Claudio Giraldi of SHAPE learned 11 days ago that repeating in the high schools' three-day tennis championship tournament beginning Thursday is no sure thing.
"Claudio lost to Nick Garcia (of Heidelberg)," SHAPE coach Sam Ochinang said by telephone Sunday. "He's been working a lot harder this week."
Garcia, who arrived at Heidelberg during the 2005 tennis season, downed Giraldi 6-2, 6-0 on Oct. 14. The victory earned the unbeaten Garcia, who has lost just six games total this season, the No. 1 seed for the European championships, which are scheduled to be played at three venues in the Wiesbaden suburbs.
Giraldi goes into the tournament, which begins at 8 a.m. each day at the Vitis Tennis Center in Wiesbaden-Nordenstad, seeded No. 2. Thursday and Friday matches are also scheduled for the Hochenheim Tennis Center in the town of the same name and at the Medenhalle Tennis Center in Medenbach. All three sites are northeast of Wiesbaden and north of the A-66 autobahn linking Wiesbaden and Frankfurt. Admission to all events and venues is free.
SHAPE's other defending champion, Krista Citkovska, appears ready to repeat. She's seeded No. 1 after a season of perfection.
"She hasn't lost a game all year," Ochinang said.
Seeded second is Bitburg's Jennica Botonis, who, if the seedings hold up, will face the defending champ in Saturday's final at the Vitis Center in a showdown of unbeaten players. Citkovska didn't play when SHAPE visited Bitburg on Sept. 16.
In doubles, tourney organizers Mark McVicker and Dexter Bohn of Brussels awarded the No. 1 seeds to boys and girls duos from Ramstein.
Matt Puchta and Shawn Kelley top the boys field, despite the return of the defending champions, Sam Pohl and Blair Martin of Heidelberg. Pohl and Martin are seeded fourth this year.
Jackie Ventrice, a former Bitburg performer, and Lindsey Jones drew the No. 1 girls seed, ahead of Wiesbaden's experienced duo of Katie Foxworth and Nancy Jensen. Foxworth and Jensen finished third in doubles last year.
Team championships also will be determined in Divisions I, II, III and IV by combining girls' and boys' scores for each school.
---
---
---