Seven-time All-Marine cager Grant tries hand at coaching, playing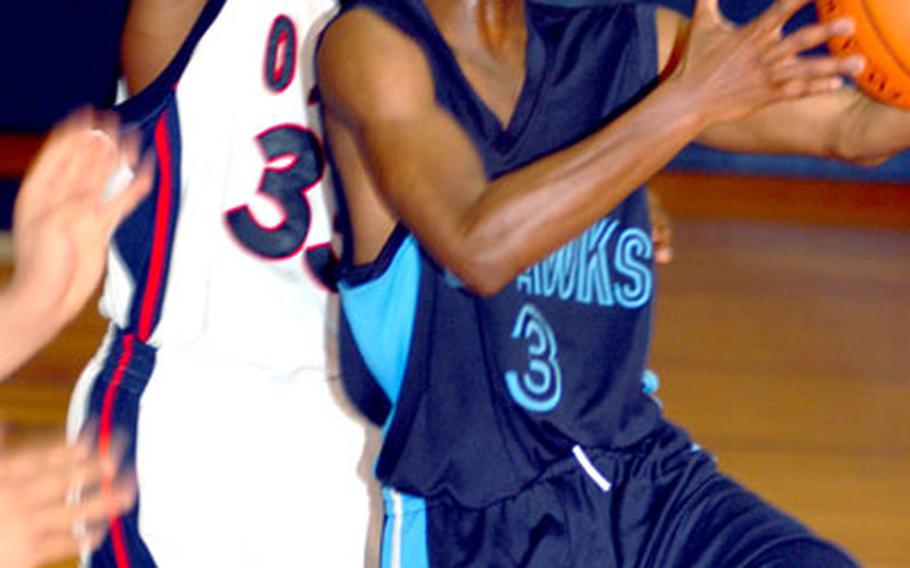 (See more about the Kadena Classic on the scoreboard page.)
KADENA AIR BASE, Okinawa — Trinia Grant is pulling double duty as both a player and coach in this week's 4th Kadena Classic interservice basketball tournament.
When not at the helm of the 3rd Marine Logistics Group men's team, the seven-time All-Marine player also is suiting up for the Okinawa Mystics women's squad. Each qualified for the double-elimination playoffs, men's games starting Monday and the women's on Tuesday.
"It's not that big a deal," said Grant, 32, a gunnery sergeant from Detroit who's assigned to 3rd MLG at Camp Kinser. "I can handle it."
Coaching men is old hat for Grant, who piloted 3rd MLG to a 3-3 finish and a semifinal berth in the Marine Forces Pacific Regional Tournament last October at Camp Foster, then a second-place finish in the Joint Military Athletic Conference's first season, and fourth place in the JMAC tournament in December. Overall, 3rd MLG was 19-10 entering the Kadena Classic playoffs.
"She's a good coach. I have a lot of respect for her," said seven-time All-Marine Barry Celestine of 3rd MLG.
Grant also is bolstering the lineup of the Mystics, winners of the Osan Pacificwide Open Tournament in December in South Korea. The Mystics are playing without seven-time All-Army post player Evevetta Crawford and first-time All-Army guard Amoni Suttice, who are at Fort Indiantown Gap, Pa., for the Armed Forces tournament that began Tuesday.
Former Kadena prep player back on OkinawaSix years ago, Ray Cooper toiled in Kadena High School black and gold, helping the Panthers reach their third DODDS-Pacific Far East Boys Class AA Tournament final in as many seasons.
Cooper has returned to Okinawa, only now as a senior airman and wearing the red, white and blue of South Korea's Osan Defenders, one of the pre-tournament favorites to win the men's title.
Seeing how Kadena has changed in six years was "surprising, more than anything," said Cooper, 24, a St. Louis native working in air traffic control at Osan Air Base. "It's different. A lot of things have changed. A lot of new buildings, a lot more dependents."
Cooper played only his senior season for Kadena High School, which lost 53-50 to St. Mary's International in the Class AA championship game at Guam's Andersen Air Force Base.
He'll transfer in June to Eglin Air Force Base, Fla., and plans to leave the Air Force in June 2008 to try to land an ATC job with the Federal Aviation Administration.
For however long he has him, coach Tony Jones appreciates having Cooper's outside shooting range in his lineup. "We're happy to have him," Jones said.
Wireman truly Osan's long-distance manJones also was happy to welcome Matt Wireman back into his lineup for the Kadena Classic. Wireman, a three-point specialist, transferred from Osan in December to Wright-Patterson Air Force Base, Ohio, across the state from his native Cleveland, but wanted to return to help Osan try to complete an undefeated season.
So Wireman shelled $3,000 out of pocket for him and his wife to fly to Okinawa and was inserted back onto the Defenders roster. He serves the same sixth-man role he did before his departure, coming off the bench to provide instant long-distance offense for Osan.
"I'm having a good time seeing all the guys again," said Wireman, 36, a staff sergeant who said he was happy to be back home in Ohio, but "happy to be here, too. One last hurrah. I want to help Osan finish the season unbeaten."
Wireman confessed to no worry whatsoever about the expensive trip. "It's worth it," he said.
Osan entered the double-elimination playoffs at 34-0 overall.