Girls cross country Athlete of Year
Sessions best in Europe for third straight year
by
Gregory Broome
November 8, 2013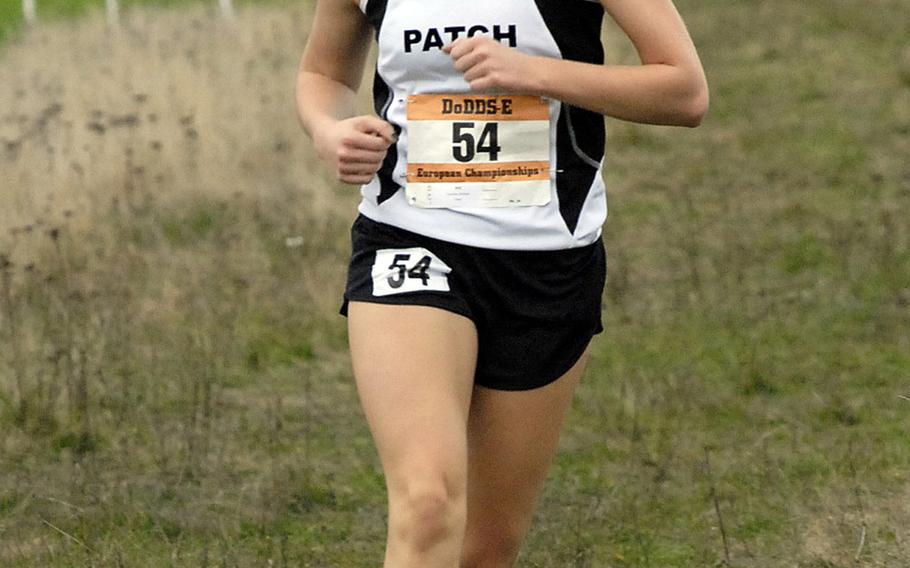 No scene from this DODDS-Europe fall sports season is more telling than the image of Patch senior Baileigh Sessions completing the final cross country race of her high school career.
The photo finds Sessions approaching the European championship finish line at a comfortable trot, a placid expression on her face. She appears tired, but not exhausted; poised, but not aloof. There is applause coming from the crowd lining the ropes round Baumholder's Rolling Hills Golf Course, but no overwhelming cheers or exclamations. Those are generally reserved for upsets and close finishes, and Sessions offered neither.
The picture is one of an assumed outcome taking place as predicted, a thoroughly predictable moment in time.
Sessions' third consecutive DODDS-Europe individual victory was the sports equivalent of logging into your bank account on payday and seeing that the money you've earned has been direct-deposited. It is a happy moment, but not quite a thrill. It was supposed to be there, and it is. Something might have gone wrong, but it didn't. So, that's a good thing.
"I love doing this," Sessions explained simply after the race, a statement of both fact and purpose.
A sense of inevitability drifted over the DODDS-Europe girls cross country field in 2011, when Sessions, then a sophomore, beat out her teammate Morgan Mahlock for her first individual title. It thickened a year later, as the junior Sessions and senior Mahlock again finished first and second in a race that was theirs from start to finish. Mahlock wasn't around for 2013, so the race belonged to Sessions alone.
As she had a sophomore and junior, she won. And like those previous years, Sessions is the Stars and Stripes Girls cross country Athlete of the Year.
A handful of contenders attempted to stave off what was always bound to happen, to throw some kind of twist into a story whose ink was already drying. Sessions simply ran at her own pace and they all fell away. Another runner didn't finish until Sessions was 46 seconds on the other side of the line. That's why, in that photo, the only people near her are the two girls holding the rope taut so Sessions can break it.
Next fall, when Sessions is gone, there'll be room in the frame for someone else.
Twitter: @broomestripes