Servicemembers across the Pacific partied it up during Super Bowl
---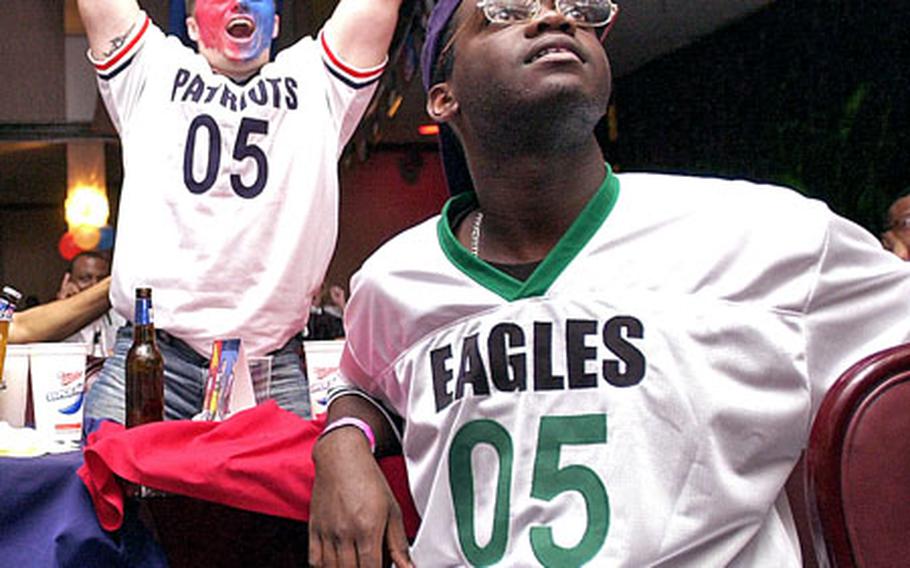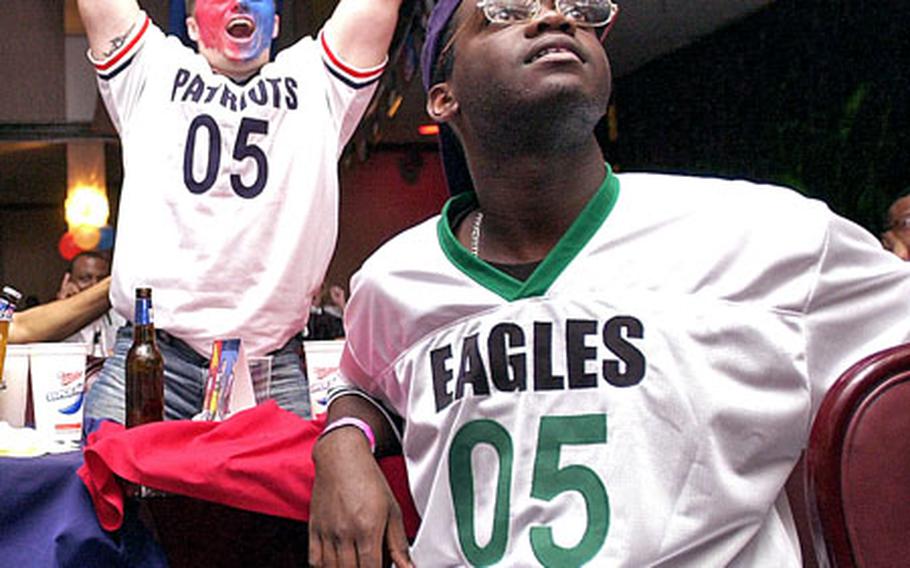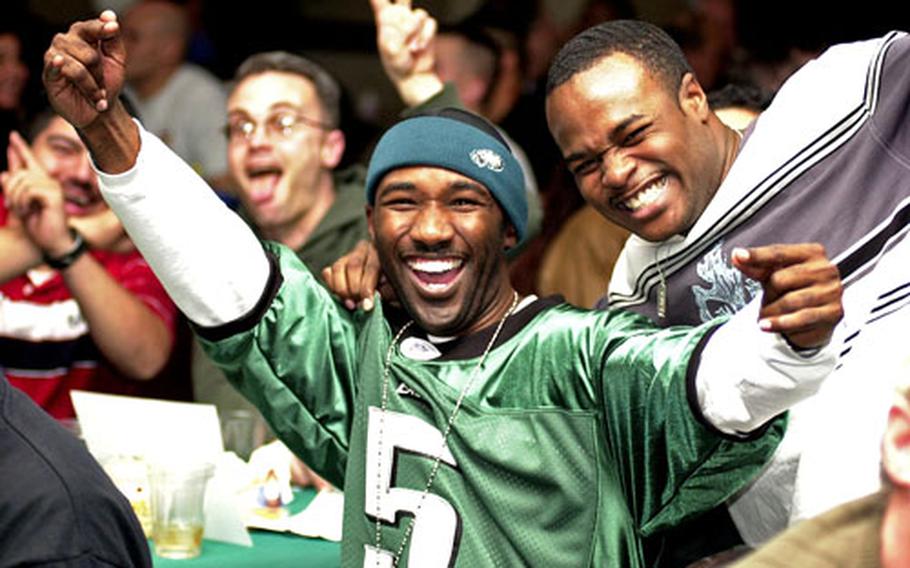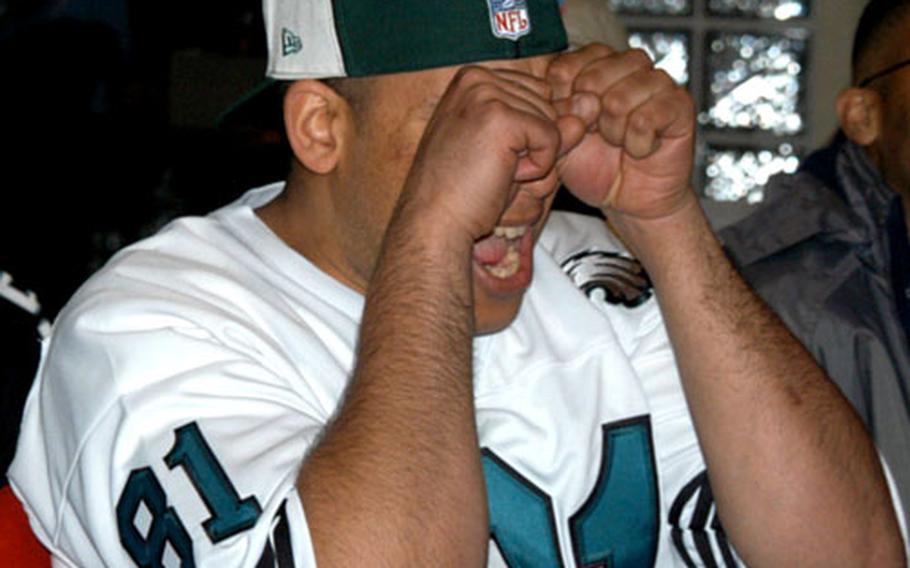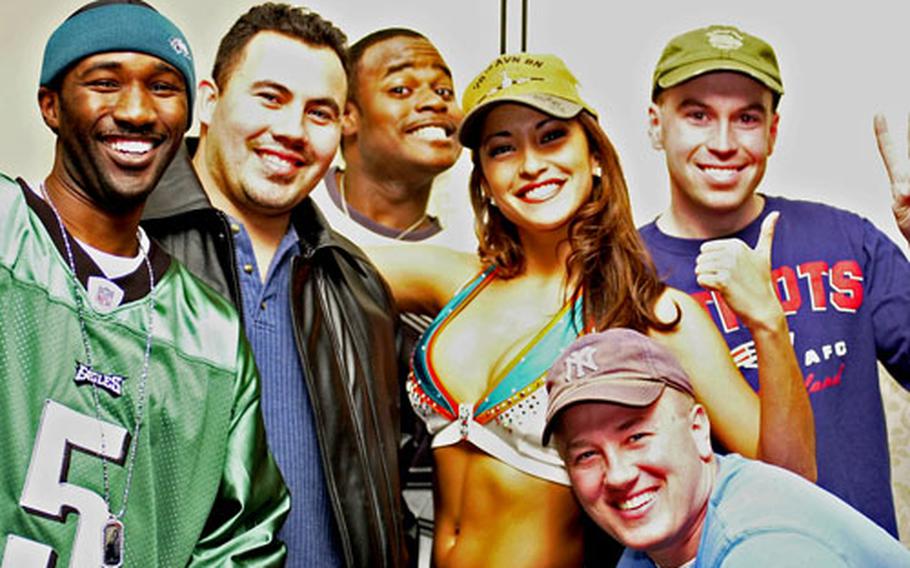 For a moment, Joseph Doswell, 41, must have remembered what it felt like to be the kid in the candy store.
He spent the early portion of Monday's Super Bowl party at Camp Zama's Community Club chasing autographs on a picture card from six Miami Dolphins cheerleaders, special guests of Zama's Morale Welfare and Recreation Department.
He said the autographs were for his son, Brandon. For the Navy Chief Petty Officer assigned to nearby Atsugi Naval Air Facility, the cheerleaders "are increasing the morale of everybody here," said Doswell, of Pensacola, Fla. "They didn't have to come here. We don't often get a chance to meet celebrities. We really appreciate their support."
It was just one sample of Americana brought on Monday to servicemembers, civilians and family members at clubs and recreation centers from Misawa to Okinawa — and on ships at sea.
Thousands gathered around wide-screen TVs and plates of breakfast goodies to take in New England's 24-21 victory over Philadelphia in the Super Bowl at Jacksonville, Fla. Contests, door prizes and giveaways highlighted the morning, from flat-screen TVs to round-trip plane tickets to the States.
At Kadena's Rocker NCO Club on Okinawa, 500 spectators for a "50-Yard Line Party" received jerseys sporting the number 05 to commemorate the year. There and elsewhere, fans bantered over which team would win.
"Are you kidding me? Patriots by 14," said Airman 1st Class Shane Thomson, a Boston native, his face painted Patriots red and blue.
Jeff Blood, 33, a dependent spouse at Zama wearing a Tom Brady No. 12 jersey, recalled when the Patriots didn't enjoy today's heights. The Norwood, Mass., native, remembered when "we used to go in" Foxboro Stadium "and watch the fourth quarter for free. You can't do that now. I'm here to watch the Eagles' second Super Bowl loss."
At Seoul's Yongsan Garrison, Pvt. 1st Class Takia Fosque, 19, and Staff Sgt. Latosha Wise, 28, cheered for Philadelphia at the Main Post Club, wearing Eagles jerseys bought in Itaewon three weeks ago. Said Wise, of Millbrook, Ala., noting the Patriots' recent Super Bowl success: "It's time for someone else to take the trophy home."
Seaman Matt Weil expressed a similar pre-game view at the Harbor View Club, Sasebo Naval Base, Japan. "I'm for the Eagles because I'm from there and because they haven't won much of anything since 1960," he said.
Fosque said she knew her family was crowded around a TV in her hometown of Philadelphia. She knew, she said, because "I call them every five minutes."
In three Japan locales, cheerleaders added sparkle to the day, including those for the Oakland Raiders at Yokosuka Naval Base and for the St. Louis Rams at Misawa Air Base. They and the Dolphins cheerleaders were guests of each base and Armed Forces Entertainment.
Bob McKeta, Zama director of commercial sponsorship, said he'd been working since last February to bring cheerleaders to Zama; when the chance was offered three weeks ago, he said, "Send 'em!"
"All these people probably didn't get a chance to go to a game in the States," McKeta said. "This is their chance to get up close, interact, get autographs and take pictures with them."
Said U.S. Army Garrison Japan commanding officer Col. Garland H. Williams: "They could have chosen anywhere else to go. They chose Camp Zama. We're happy to have them."
The cheerleaders seemed grateful for the opportunity.
"I don't think we could describe in words the sacrifice that they make," said Brandii of the Dolphins' cheerleaders, who has an uncle serving in Iraq. "You have a better appreciation of what they do by being here to see it."
Two lucky soldiers, Staff Sgt. Jonathan Cogun and Sgt. Sang Yi, each had their names drawn in a "King of the Quarter" contest, for which they won a pile of sports gear and restaurant coupons — and got to sit on a "throne" with three Dolphins cheerleaders on each side, Cogun in the second quarter, Yi in the fourth.
"This was the best part" of the game, said Yi, of Seoul. "I was not expecting this."
"This is great," said Cogun, sporting a Tom Brady jersey, "as long as the Patriots win."
As was the case in the Patriots' previous two Super Bowl triumphs, the game went down to the final seconds, when Rodney Harrison intercepted his second pass of the game.
"I almost feel guilty," said Blood, seconds after the Patriots' victory. "Last year's Super Bowl, the Red Sox and the World Series, and now this. It's almost too good. I'm soaking it up."
Greg Tyler, Teri Weaver and Fred Zimmerman contributed to this report.
---
---
---
---