Seoul girls' long wait for Far East title ends with homecourt celebration
---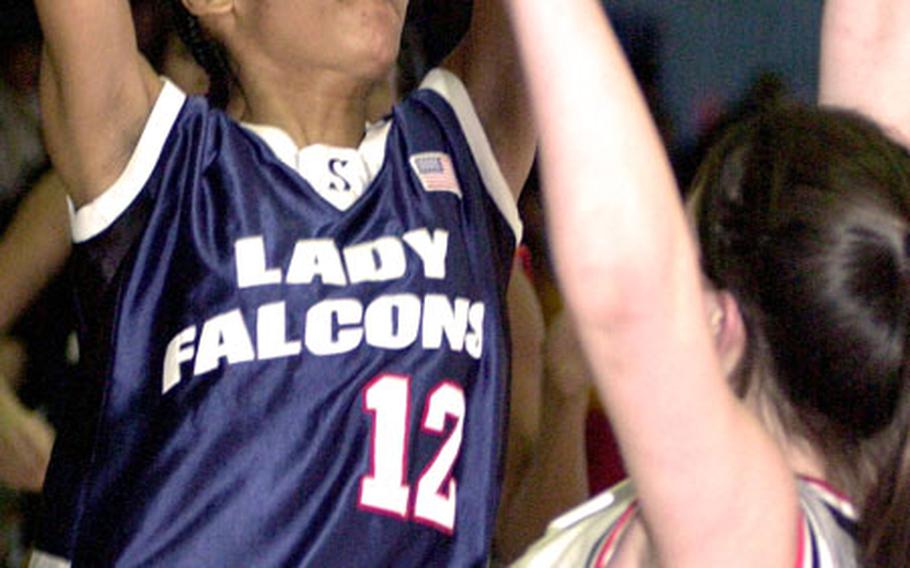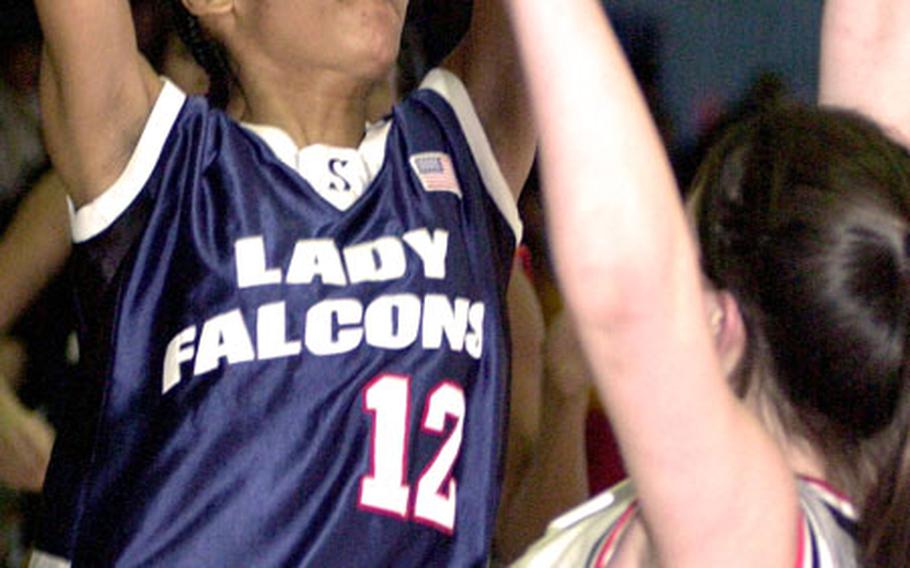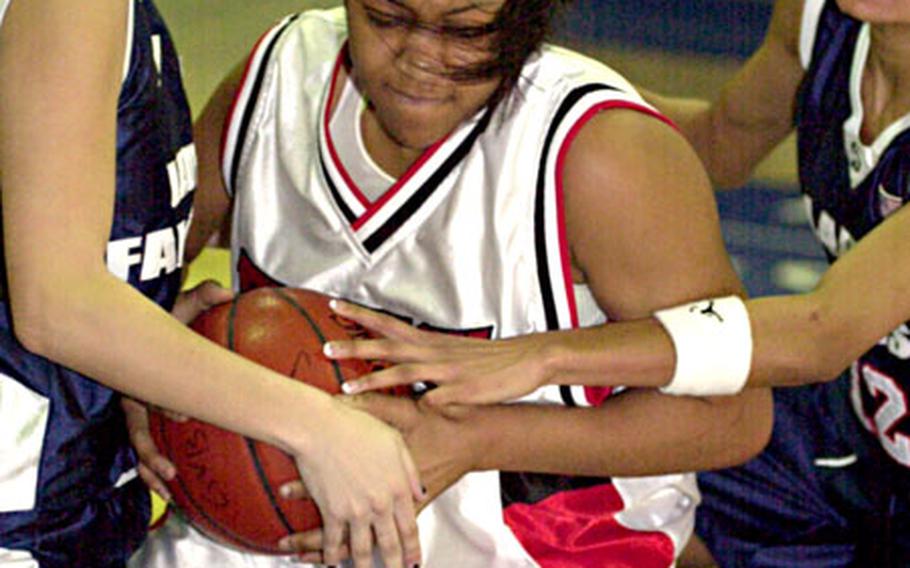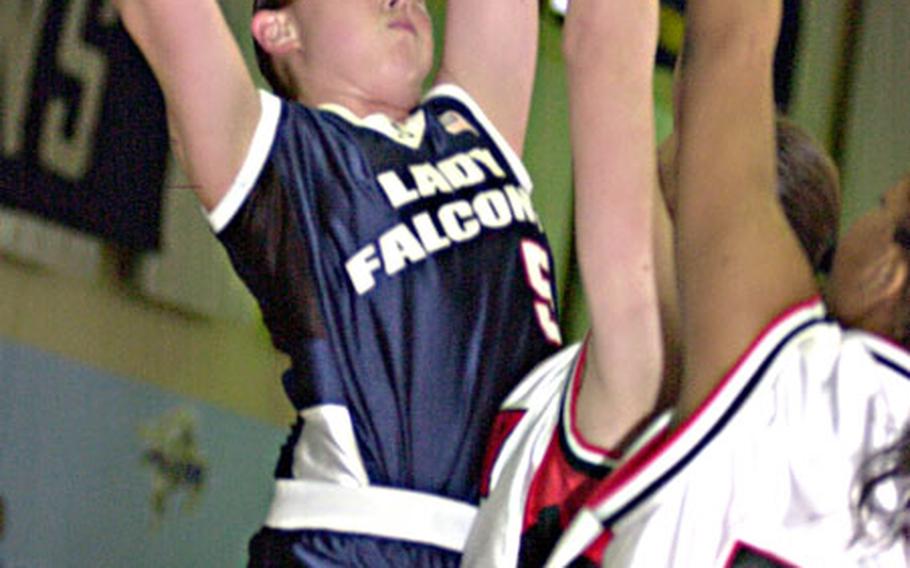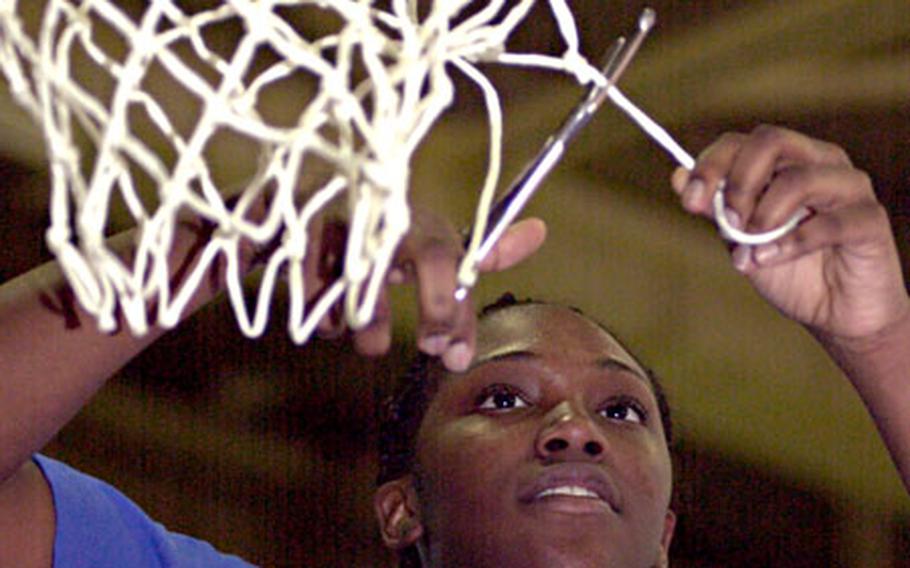 (Click here for tournament standings and summaries)
YONGSAN GARRISON, South Korea — The long wait is over for coach Charlotte Hicks and the Seoul American Falcons.
MVP Janel Daniels scored 27 points, including two crucial three-point plays in the second-half, as the Falcons rallied past Nile C. Kinnick of Japan 60-48 on Saturday in the title game of the Far East High School Girls Class AA Basketball Tournament.
It was the second Class AA championship for Seoul American, but its first in 21 years. After 19 years at the Falcons' helm, Hicks won her first Far East title. And it broke a string of seven straight third-place finishes for Seoul American.
Hicks said she had had no doubt that her team could win.
"There's such a calmness about me today. I knew the girls were ready. They worked together as a group, they pulled together and were determined," Hicks said. "Right now, I feel a combined numbness and tremendous joy."
That joy resulted from a rally after Kinnick, opening with a suffocating 3-2 zone press, forced turnovers and converted them into easy layups for a 13-5 lead with 2:14 left in the first quarter.
From there, Hicks stressed "passing and patience" to overcome the pressure, while the Falcons blanketed the Red Devils' shooting guards and ballhandlers with a 2-1-2 zone and sent Daniels and junior Chivonne Floyd inside to crash the boards against the shorter Devils.
Daniels gave the Falcons their biggest lead, 50-35, on a rebound putback with 6:20 left. Twice down the stretch the Red Devils rallied, but Daniels squelched the uprisings with three-point plays each time.
"They (three-point plays) took the steam from under them," Hicks said.
"I had to make a couple of big plays to keep up our momentum and slow them (Kinnick) down," Daniels said.
Hicks also credited senior point guard Amy Bakameyer for keeping the team's cool during Kinnick's flurries.
"Each time they made a run, they (Falcons) were able to keep their heads about them and stay calm," she said. "The determination was there."
Rebounding and keeping their defensive assignments were not there, meanwhile, for Kinnick, coach Henry Falk said.
"Not getting rebounds, not hustling back on defense," Falk said. "They (Falcons) got the rebounds, they got the fast breaks and they hustled their butts off."
Falk was nonetheless happy with the accomplishments of a team that held the second-best record in Japan this season.
"The Cinderella team almost took it all," Falk said. "I'm very proud."
As were the Falcons, who cut down the net cords at each basket following the game to the cheers of a home crowd of about 600.
"This was so great," Bakameyer said. "I can't begin to explain how great, especially for our coach and for our senior year."
"What a way to go out," Daniels said. "It's great."
Notes: Seoul American's previous championship came in 1984, as coach Tom Gartside and sophomore MVP Gloria Peele led the Falcons to a 54-41 triumph over American School In Japan at Yokota High School in Japan. … Daniels becomes the second Falcon named MVP in the 30-year history of the tournament. … The outcome continued a trend of home-court success that began in 1986. Host teams have reached Center Court 14 times and won nine of them, including the last four in a row; Kubasaki won in 2002 and last year, while Kadena won in 2003. … Seoul American teams have hosted Far East tournaments the last three years and won all three titles. The boys vanquished Kubasaki of Okinawa in 2003 and Kinnick a season ago, giving the school four total Class AA crowns.
---
---
---
---