Prep roundup
Seoul Foreign edges Daegu, nears title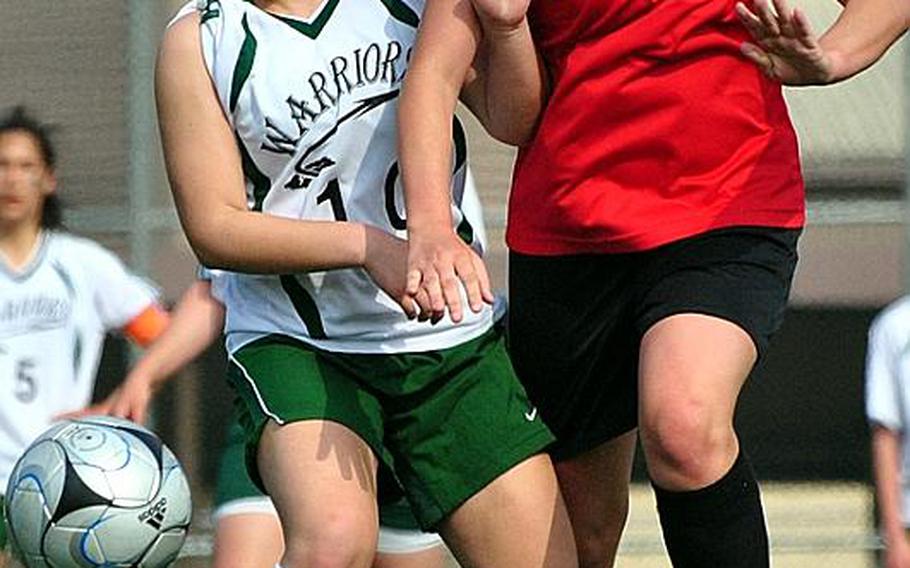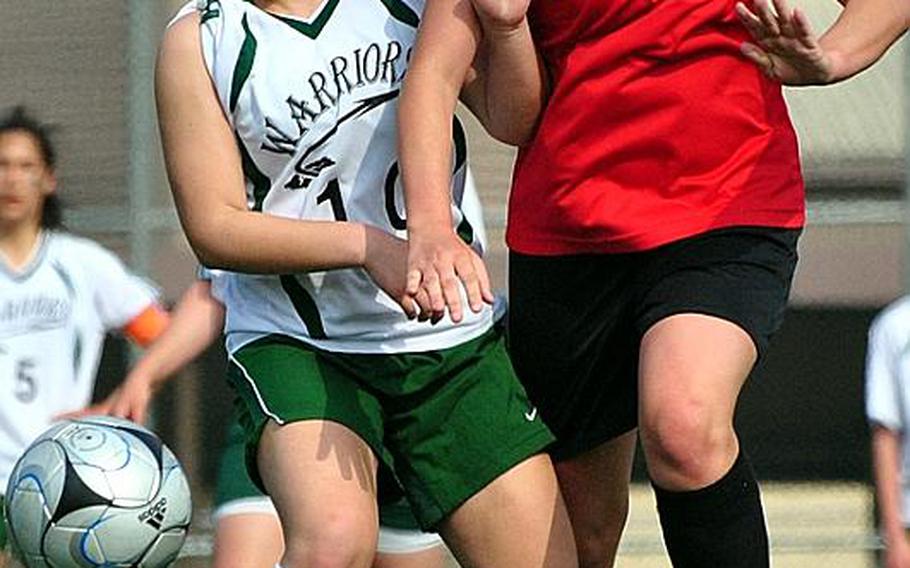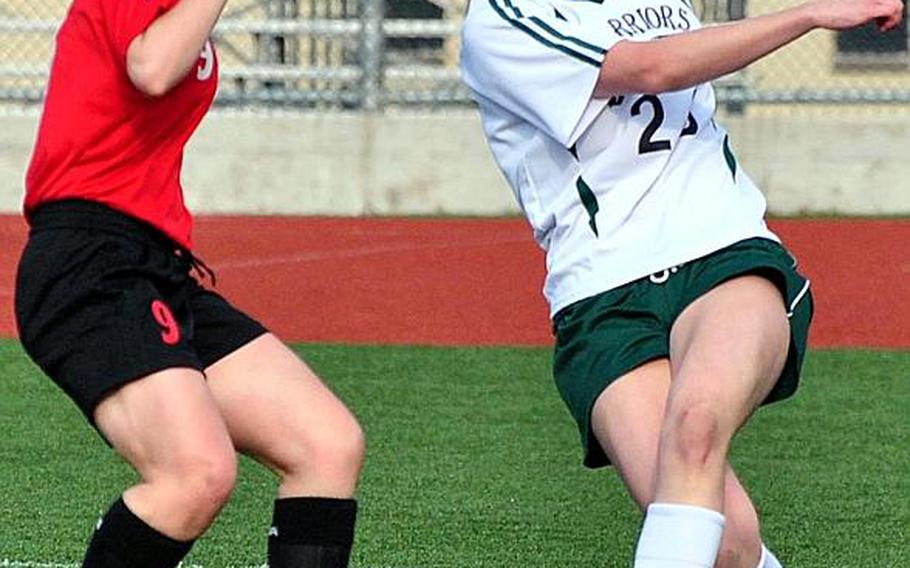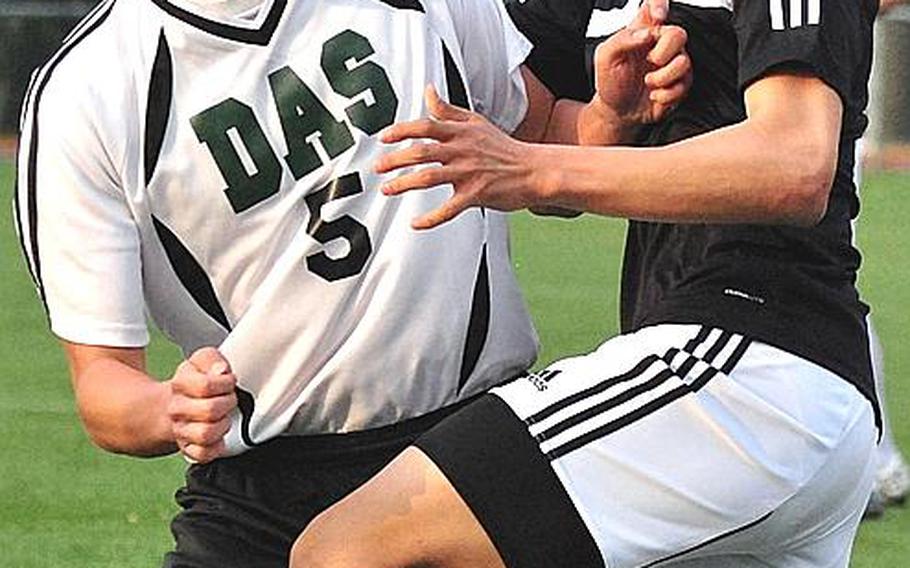 After getting off to their best season start in school history, Daegu American's girls soccer team finally succumbed to defeat Friday and likely lost a first Korean-American Interscholastic Activities Conference Division I regular-season title in the process.
Kathy Lee's first-half penalty kick proved to be the difference as Seoul Foreign held off a second-half rally to edge the host Warriors, 2-1, at Camp Walker's Kelly Field.
"That was a tough one for us," said coach Ed Thompson, whose Warriors fell to 7-1-2 with 23 points. Of the defending KAIAC regular-season champion Crusaders, he said: "That's a team we can beat. But it didn't go our way."
Sarah Stegner put SFS (11-1, 33 points) on top early in the second half, preceding Lee's goal, her 13th of the season. Daegu rallied in the second half as Angie Robinet got her 10th goal of the campaign.
Daegu needed to win its remaining four matches to win the KAIAC title. "If we had won this, it might have been an easy haul," Thompson said. "We'll see them again" in the KAIAC tournament later this month.
It became anything but easy in the second half for the Crusaders. "We had it in hand, made a couple of mistakes that made it closer," coach Joon Myong said. "But it was good. I'm proud of the way our girls played. I think we have it (KAIAC) in hand."
It was the final tune-up for the Crusaders as they head to Shanghai American School-Puxi in China for next week's Asia-Pacific Activities Conference tournament.
Seoul Foreign's boys (9-1-2, 29 points) kept control of the boys chase by beating Daegu, 7-1. Seoul International (8-2-1) and Yongsan International-Seoul (5-2-3) each lost ground after battling to a 0-0 tie.
There were three scoreless ties in KAIAC play on Friday; YIS-S and SIS also drew 0-0 and Taejon Christian International and Osan American fought to a 0-0 tie in girls play.
Kadena's Smith nears high-jump markMove over, A.J. Watson. You have company among record-chasing Okinawa high school track and field athletes.
Lotty Smith, Kadena's senior jumper, resumed his chase of the Pacific's high-jump mark, leaping 1.96 meters, or 6 feet, 5 inches, on Friday during Day 1 of the Okinawa Relays at Kubasaki's Mike Petty Stadium.
"I feel really good," said Smith, who had been making sub-par jumps while recovering from an ankle injury suffered during basketball. And he feels 1.96 is just the beginning.
"I'm 100 percent sure I can beat it," he said of the Pacific record of 1.97 set by Kadena's Marquis Newton six years ago. "I'm sure I can get 6-foot-7. I feel good completely, for the first time in a while."
The Oki Relays is a two-day replacement event for the 9th Mike Petty Memorial Meet that was canceled by DODDS Pacific last month in the wake of the Tohoku-Kanto earthquake that would have prevented many teams from traveling to Okinawa.
Watson took it easy during Friday's qualifying for Saturday's finals in the 100- and 200-meter dashes. He clocked an 11.08 in the first and 23.22 in the second, easily making it to Saturday, when he says he plans to go "all out."
"I want to see how well I can do and what I need to work on," Watson said.
Kadena's Ana Hernandez and Jacob Bishop remained dominant in the 3,000-meter runs, while Zion Christian Academy swept the 3,200 relay. Smith also won the long jump.
Vallen Alleyne of Kubasaki stayed unbeaten in the girls shot and discus, Micaela Sherman won the high jump, Milyka Dees the long jump and Victor Ellis the discus.