Seoul boys get breakthrough victory at Osan tourney
by
Dave Ornauer
December 21, 2004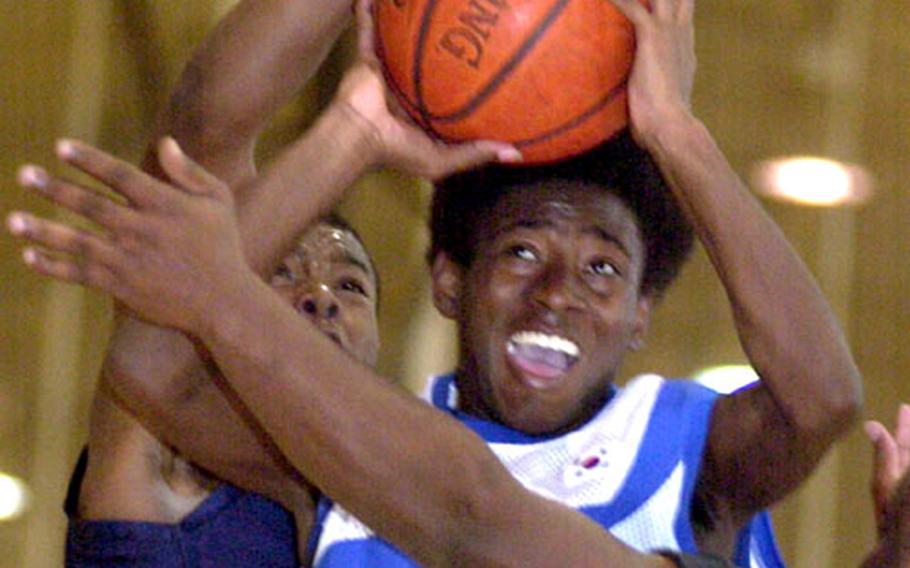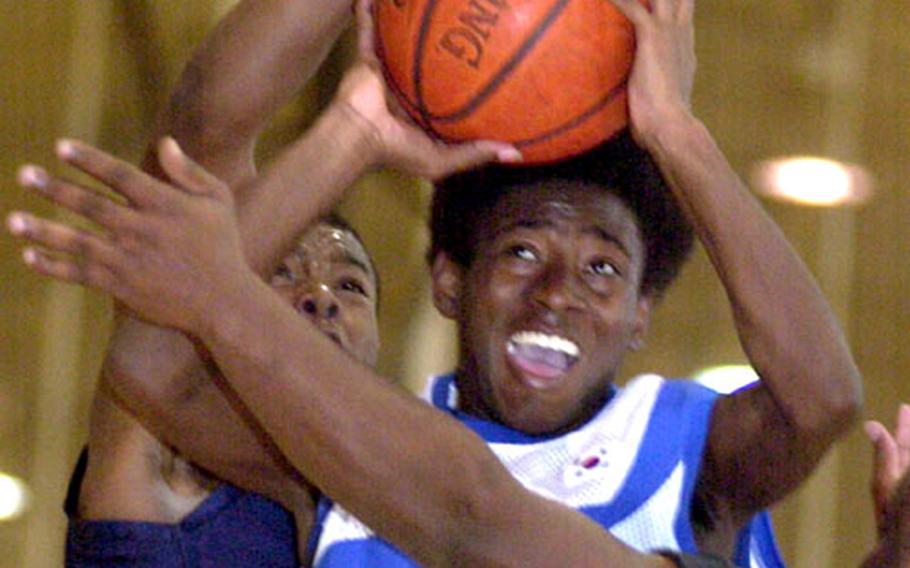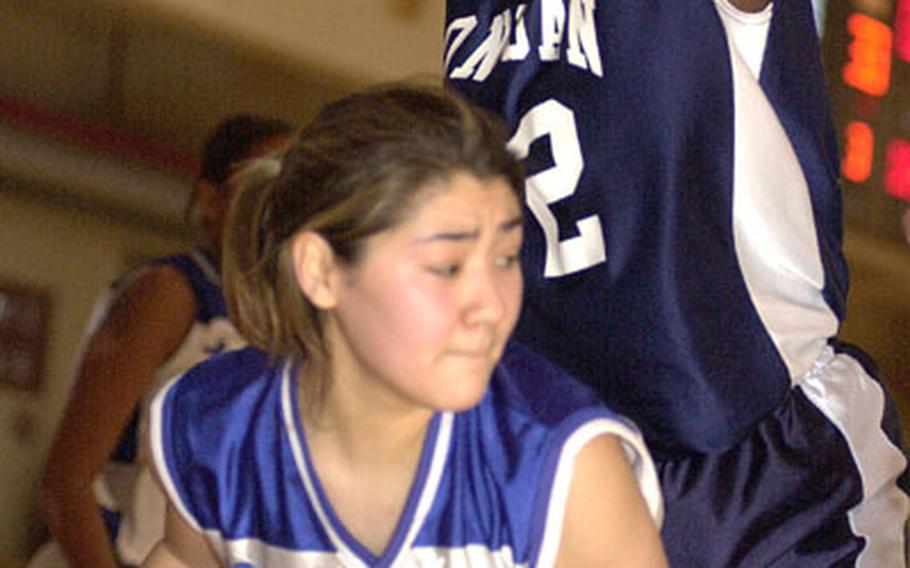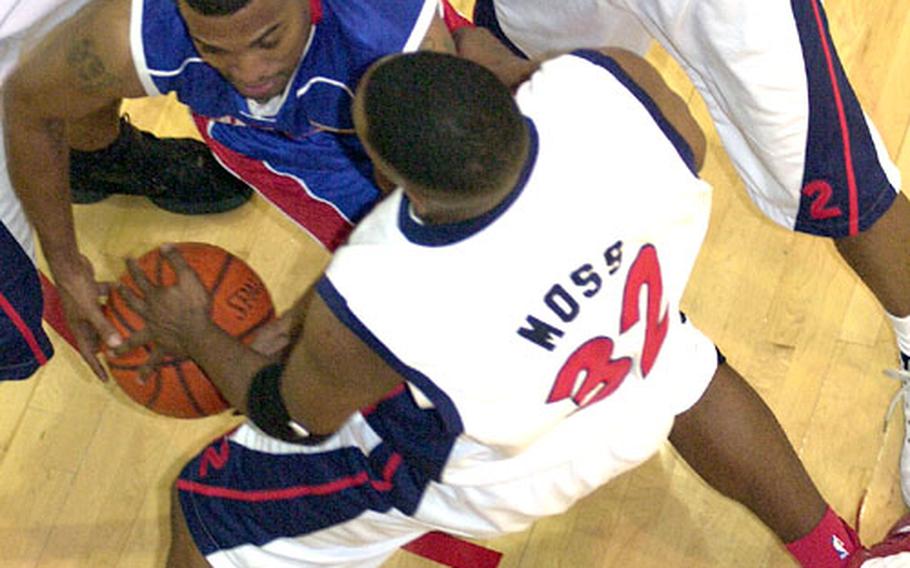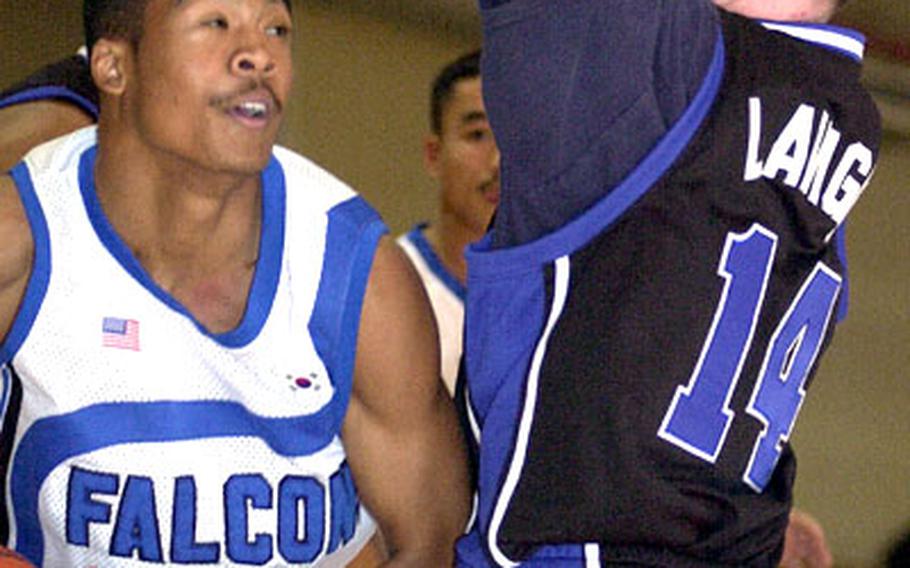 OSAN AIR BASE, South Korea — The Seoul American boys expected to come to the Osan Pacificwide Open Holiday Basketball Tournament to take their lumps and learn valuable lessons about the game, lessons administered by their adult counterparts.
But Falcons coach Steve Boyd and his team instead became the first high school team to beat a post-level squad since the tournament's inception in 1987, routing Korea's Suwon Trail Blazers 68-42.
"I'm very happy with this," said Boyd, acknowledging that the victory came against a Suwon team that was missing three starters. "But that doesn't matter. A win is a win. Any time you can beat a group of adults, that's a feather in your cap."
Largely responsible for the victory was Boyd's use of varying defenses.
After Suwon's Josh Smith hit three quick early first-half baskets, Boyd put senior Phillippe Anglade on Smith in a box-and-one, and shut him down the rest of the half.
Boyd then unleashed his trademark 1-3-1 "Black Diamond" halfcourt trap, and the Falcons led by as many as 30 points in the second half.
"They're good for a young team," Smith said. "They have heart."
All-Air Force outfielder plying guard skills for host Osan
For an All-Air Force outfielder, Kazue "Jo-Jo" Dancer seems to be pretty fair at shooting a basketball, too.
Her scoring touch has helped the host Osan Defenders seize the early edge in the women's portion of the tournament, winning each of their first three games.
"I play sports year-round," said the 26-year-old staff sergeant from Salinas, Calif., who's assigned to Osan's 51st Security Forces Squadron. "Basketball and softball pretty much keep me busy here."
Playing about half of each game, with coach James Wright giving everybody on his roster equal minutes, Dancer averaged 11.5 points per game as Osan downed Seoul American High 65-45 on Saturday and bested Camp Humphreys 52-43 on Sunday. Osan also beat Suwon Air Base by forfeit.
That's a dramatic turnaround from the 1-5 start by Osan in Korea Traveling League play.
Dancer's berth on the All-Air Force softball team came in her first trip to All-Air Force camp last summer at Peterson Air Force Base, Colo. She made the team along with Twyla Sears and Peni-Nicole Nery of Okinawa's Kadena Air Base and Jamie Thompson of Misawa Air Base, Japan.
But Air Force fell short of the gold in the All-Armed Forces tournament, also at Peterson. The airmen lost the gold medal game 36-24 to Army on Sept. 17.
Wright half-jokingly says playing basketball is a way for her to keep fit for softball. But Dancer would like to take it a step further, and perhaps represent Air Force blue in both sports.
"I want to. I'd really like to go out, get the opportunity to try out for the Air Force team," Dancer said.
Duty might get in the way, she said, given the high operations tempo at Osan and the large number of Air Force personnel worldwide deployed in support of Operations Iraqi and Enduring Freedom.
"It's kind of hard to juggle [sports] with work," she said. "We work lots of hours. It's kind of hard to let me go for two different sports, and the mission always comes first."
---
---
---
---