Seoul American, Taejon to square off for title
---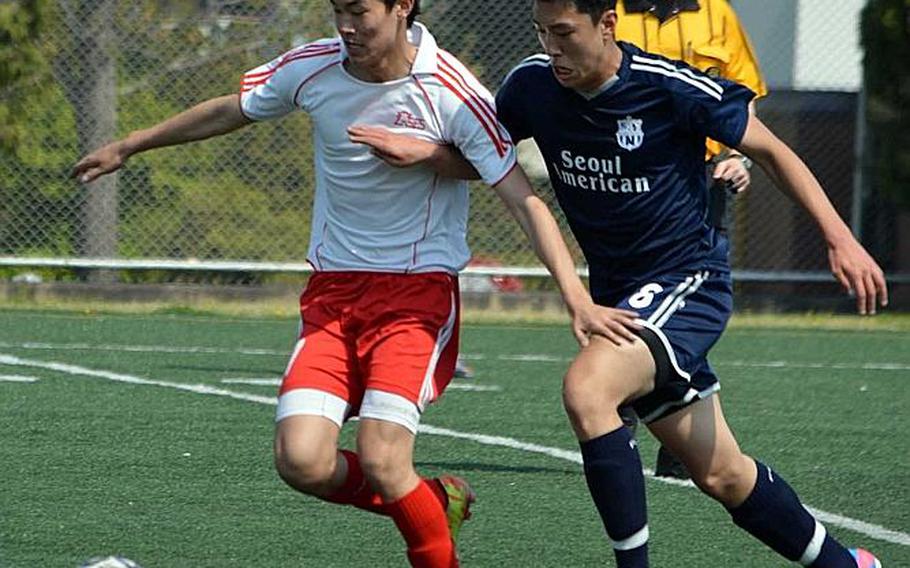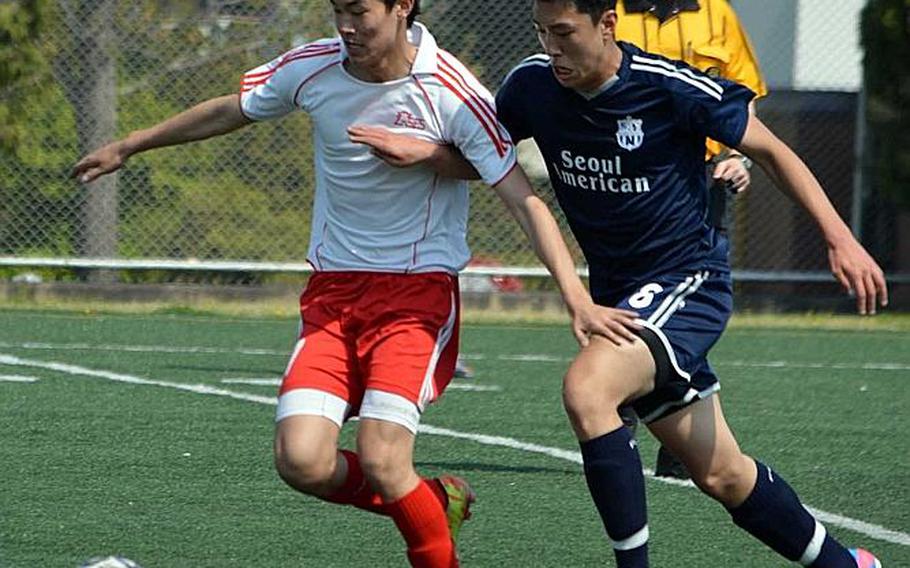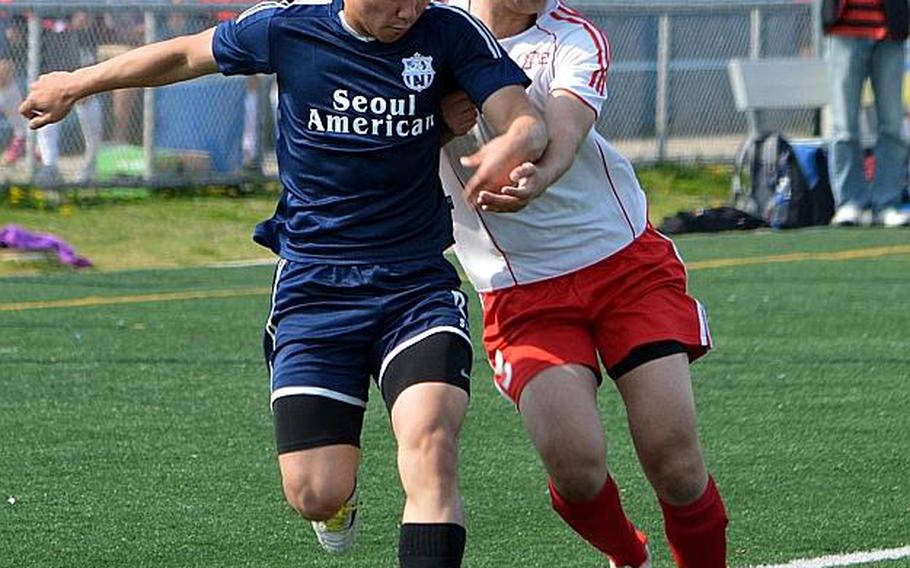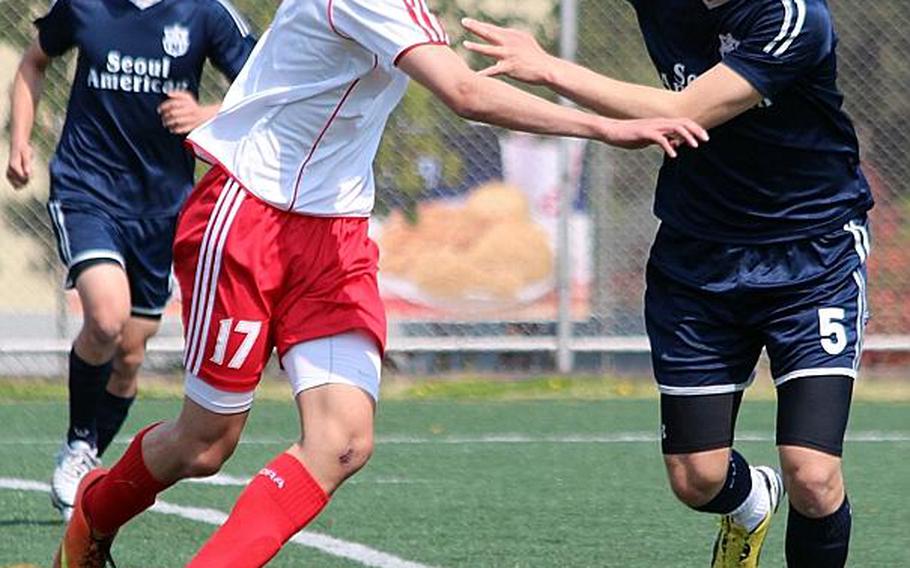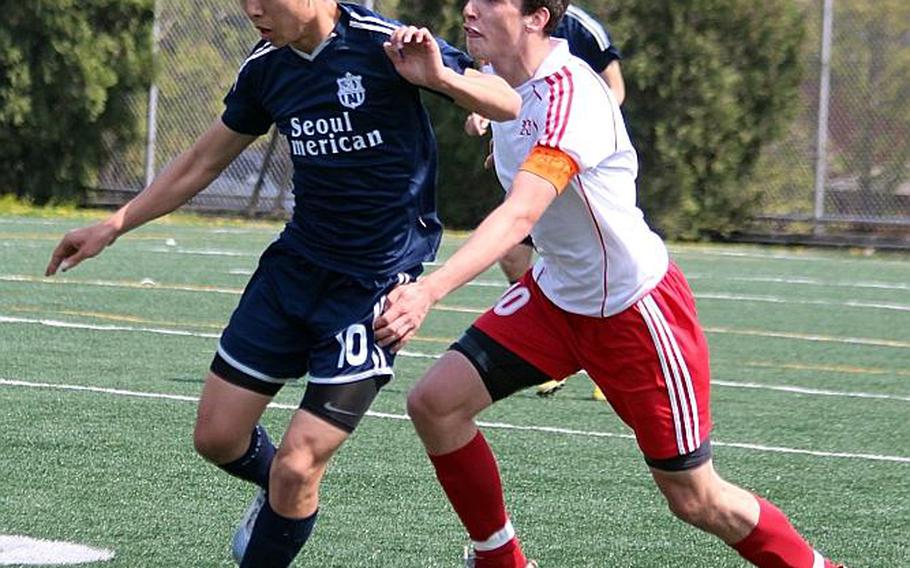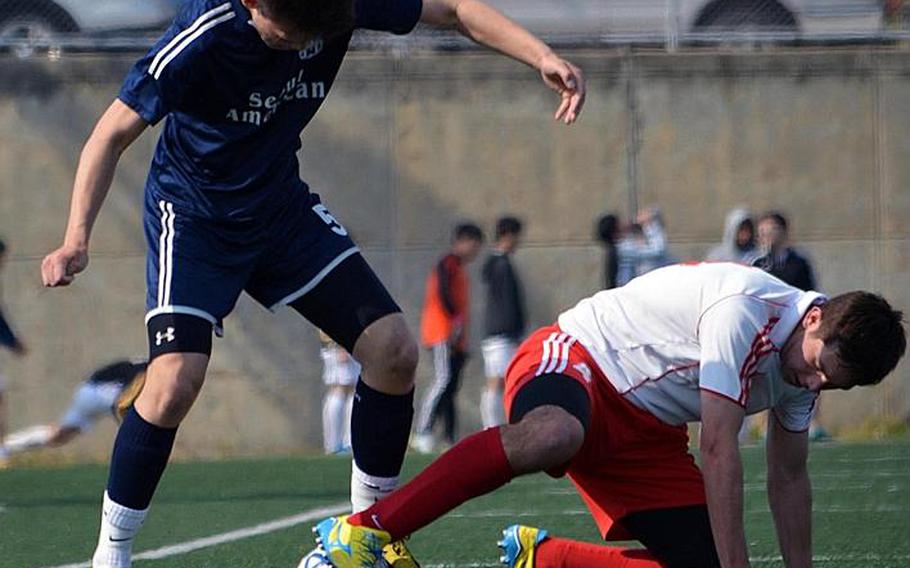 This article has been corrected April 29, 2013.
They just played three days ago, with Seoul American's boys soccer team winning a 5-0 shutout at Taejon Christian International for the Korean-American Interscholastic Activities Conference Five-Cities Division regular-season title.
Now, they'll tee it up again, at 3:30 p.m. Saturday, this time at Seoul American's Sims Field on Yongsan Garrison for the league's postseason tournament title. And coach Steve Boyd says he and the Falcons are prepared for a much different brand of Dragon this time around.
"They have the variable of revenge, and that's always a powerful factor," said Boyd, whose Falcons reached the tournament final by edging Seoul Foreign 2-1 in Friday's semifinal. TCIS blanked Yongsan International-Seoul 4-0 in the other semifinal.
"I kind of figured it would be TCIS," Boyd said. "We're the two best teams in the league and the best teams should play for the championship, and that's what's happening. I think they'll come out aggressively. It comes down to who plays the better game tomorrow."
David Voelker scored his 20th goal of the season and Andrew Clark his seventh to give the Falcons just enough to win.
In the girls tournament, host Seoul Foreign faces Osan American for the championship. The Cougars got five goals in two matches from freshman Ebony Madrid, as Osan routed International Christian-Uijongbu 8-0 and edged TCIS 2-1 in the semifinals. The host Crusaders blanked the Falcons 2-0 in the other semifinal.
On Okinawa, Kadena's boys captured the Okinawa Activities Council's island regular-season championship on Friday, getting three goals from Yuji Callahan and rallying from a 3-2 halftime deficit past Kubasaki 6-3. Kadena prevailed 2-1 in their first meeting on March 27.
For the third time this season, once in a mid-March scrimmage (1-1) and again on March 27 (2-2), Kadena's and Kubasaki's girls played to a tie on Friday, this one a scoreless draw. The teams will lace it up again on May 10 for all the marbles.
On the boys pitch in Japan, Gaku Lange netted his 33rd goal, best in the Pacific among DODDS players, and Matthew C. Perry edged Zama American 3-2. Steven Ball scored a goal and assisted on three others as E.J. King routed Yokota 6-1. Aaron Russ and Ryan Wolf each scored twice as Nile C. Kinnick won 6-0 at Robert D. Edgren.
Anju Yamanaka's goal and two assists paced Yokota's girls past the Cobras 4-0. Courtney Beall got her 20th goal plus an assist as Perry beat undermanned Zama 4-1. Athena Peerson got two goals and Kaile Johnson her Pacific-leading 28th as Kinnick blanked Edgren 3-0.
On the Korea diamond, Julia Ring got the win and Kayla Fointno had two hits for Seoul American, which ended a two-game skid against Daegu 11-6 at Camp Henry's Victory Field.
Tommy Warren pitched five innings of one-hit ball and helped himself with a homer and two RBIs as Kubasaki remained unbeaten against Kadena this season 6-0. Kei DePontbriand fanned 11 in five innings and belted three doubles and drove in three runs at Yokota won 13-2 at E.J. King.
Pacific girls 1,600-meter record nearly tumbles Despite gusty winds, Kubasaki sophomore Jessica Ircink barely missed snapping the three-year-old Pacific record in the girls 1,600-meter run, clocking 5 minutes, 24.62 seconds in Friday's meet at Kadena. Siarria Ingram of Seoul American holds the record with 5:24.28.
"It was pretty windy back there," Ircink said of the back stretch, where gusts blew right in the runners' faces. She credited Ana Hernandez of Kadena, who paced her for two laps, with "completely setting me up" for a run at the record.
"It's just a little extra push at the end," Hernandez said. "I believe in her. She's amazing."
"She knows what she needs to do and when she needs to do it," Dragons distance coach Paul Campbell said.
The Okinawa Activities Council district finals next Saturday at Koza City Stadium is Ircink's next chance to beat the record, set in 2010.
---
---
---
---