Pacific players of the year: Boys soccer
Seoul American midfielder Chung keys postseason success
by
Dave Ornauer
June 4, 2011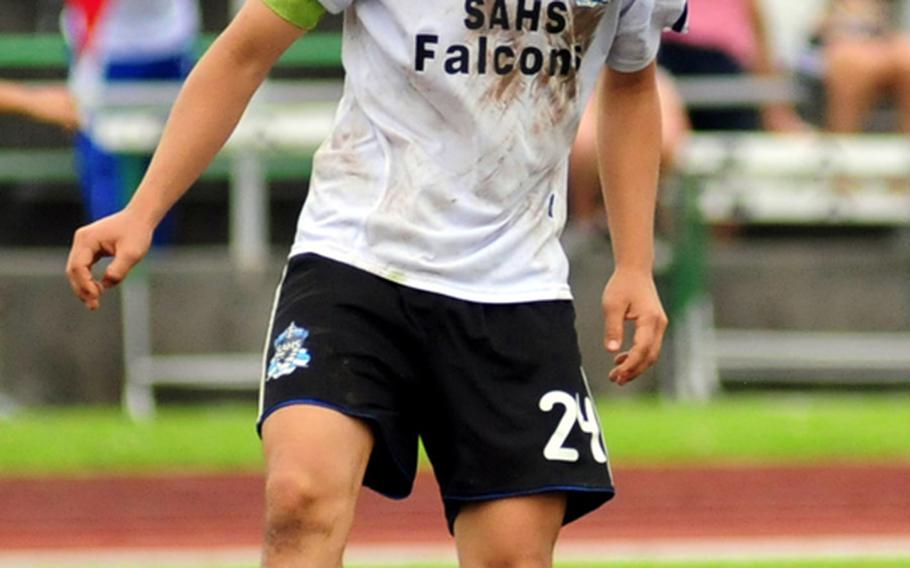 Given their pedestrian 5-5-4 regular-season record and fourth-place pool-play finish in the Far East Division I Tournament, not many gave Seoul American's boys soccer team much of a shot at winning the title.
Coach Steve Boyd knew better. That regular-season mark came during the toughest Korean-American Interscholastic Activities Conference Division I season on record, in which six teams each had a shot at the regular-season and tournament title.
And it prepared the Falcons for the most unlikely Far East D-I Tournament finish in school history.
"As we learned to play with each other, building the chemistry of the team … it took a little longer given the strength of the league," Boyd said. "But we kept getting better and better, we peaked at the right time and in the end, it showed."
It showed in a 1-0 double-overtime triumph over host Kubasaki in last month's Far East D-I Tournament final match, when the Falcons became the lowest pool-play seed in the tournament's history to win the title.
At the effort's center was Josh Chung, a junior whose play in both KAIAC and Far East were critical to his team's fortunes, Boyd said. For that, Chung has been accorded Stars and Stripes boys high school soccer Pacific Player of the Year honors.
"Josh was one of the best players in KAIAC and Far East," Boyd said of Chung, who was also named Far East D-I Tournament Most Valuable Player. "He was the engine. He was the only one on our team who could play all 11 positions. He's that skilled."
That fourth-place Far East pool-play finish could have just as easily been a first-place finish, Boyd said, given the conditions the first couple of days of the tournament in which rain fell incessantly, muddying the one field used the first three days.
"When we got onto a dry field" Friday for the semifinals and championship matches, "we showed we still had it," Boyd said.
Chung tallied 12 goals and four assists for the Falcons, who went 8-2-1 in postseason play.
He helped fire an offense led by scoring specialists Peter Kim (16 goals) and David Voelker (eight goals), while goalkeepers Kenneth Butts and Mitchell Lee helped those leads stand up.
Chung is expected to attend a handful of soccer camps in the States and will be one of the Falcons' returning stars in 2012.
"He'll be even stronger and bigger next year," Boyd said.
All-Pacific honorsPlayer of the Year—Josh Chung, Seoul American.
Golden Boot—Tyelor Apple, Matthew C. Perry, 38 goals.
Best defensive player—Roberto Betancourt, Kubasaki.
Best goalkeeper—Shu Ikeda, Yongsan International-Seoul.
All-Pacific team—Aaron Ahner, Kadena; Peter Kim, Kenneth Butts, Seoul American; Ryo Fuseya, Ryan Hollands, Christian Academy Japan; Zach Yoder, Nile C. Kinnick; Leo Muro, Kubasaki; Yuta Fleming, Matthew C. Perry; Jimmy Kim, Yongsan International-Seoul; Ben Neumann, Seoul Foreign; Jacob Davis, Osan American; Matt Linder, Robert D. Edgren; Jerry Promise, Taejon Christian International; Jacob Son, Gyeonggi Suwon International; Eddie Cho, Seoul International.