Seeing Tiger on TV got DODDS golf champ to pick up a club
by
Scott Schonauer
October 14, 2004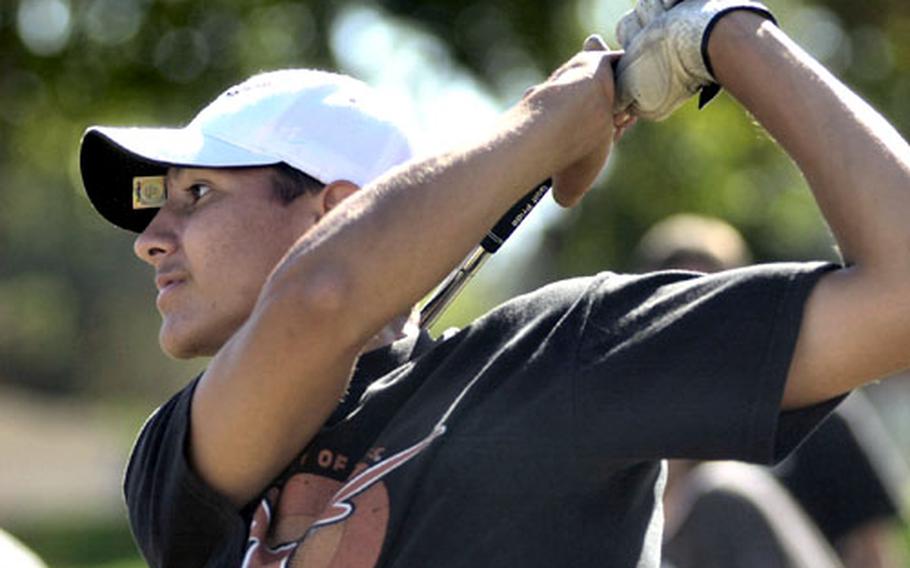 NAVAL STATION ROTA, Spain — Four years ago, golf hadn't reached Gilbert Mendez.
He played baseball and basketball.
Then he saw Tiger Woods.
Golf was suddenly cool. Watching the fist-pumping golf superstar on TV inspired him to play, like thousands of other kids who didn't know the difference between a putter and a pitching wedge.
"I was watching him one day and actually had a baseball bat and a golf ball and I started putting with it," Mendez said.
"I told my dad I wanted to play golf."
Mendez, now 17 and a senior at Rota High School, hasn't stopped playing.
And he keeps getting better and better.
In a relatively short period, Mendez has gone from smacking balls with a bat around his home to becoming one of the best prep golfers in Europe. He will attempt to defend his title this week in the Department of Defense Dependent Schools-Europe championship in Wiesbaden, Germany.
He should have a good shot if he continues to play as he has the past few weeks. He comes in with an improved short game and a level-headed approach to each round.
But he believes the competition is tougher this year.
"I know there are a lot more players out there that have improved," he said. "I know I've improved, but it's a totally different game out there. I've just got to do my best."
The players who might give provide his stiffest competition are his teammates. Four of the six top golfers in Europe this season are from Rota, which has seven players in the top 25 in scoring average.
Senior Jason Allard placed third last year and is leading Europe with a 47.5 Stableford point average. Stableford scoring awards points for double-bogeys and better. Allard's average is just a half-point better than Mendez's.
Juniors John Orem and Jim Connelly aren't far behind, averaging 42 and 41, respectively. Having so many good players on the same team has made everyone better, Allard said.
"We probably have the best practices of the other teams because we push each other," he said. "There's a lot of guys that score well. Our practices get competitive and we have fun."
Rota golf coach Greg Jacobs said Mendez and Allard are exact opposites in how they play. Little seems to rattle Mendez. He is calm and cool when under fire and relies heavily on his impressive short game. Allard is known for his ability to launch mammoth drives off the tee, but he has to learn to control his emotions sometimes, Jacobs said.
"They're different," Jacobs said. "This is power," he said, pointing to Allard. "This is finesse," he said, pointing to Mendez.
Both have the tools to play college golf if they are committed to the game, according to their coach.
"Potentially, they're both, I would say Division II golfers, possibly Division I," Jacobs said. "Both of them have the ability to make that other part that they need to work, and I think they can do it. It's up to them."
Mendez, who was mostly a self-taught golfer before coming to the team, would like to continue playing competitively. He said playing the game comes naturally even though his father isn't a golfer and he wasn't exposed to the game until he saw Woods on TV.
The days when he's playing really well, such as the time he shot below par on the base course earlier this summer, keep him going and practicing to improve his shot-making skills.
"The good days make you want to come back and do it again and I know I can do it," he said.
---
---
---