Girls soccer roundup
Seebeck's goal lifts Ramstein past K-town
---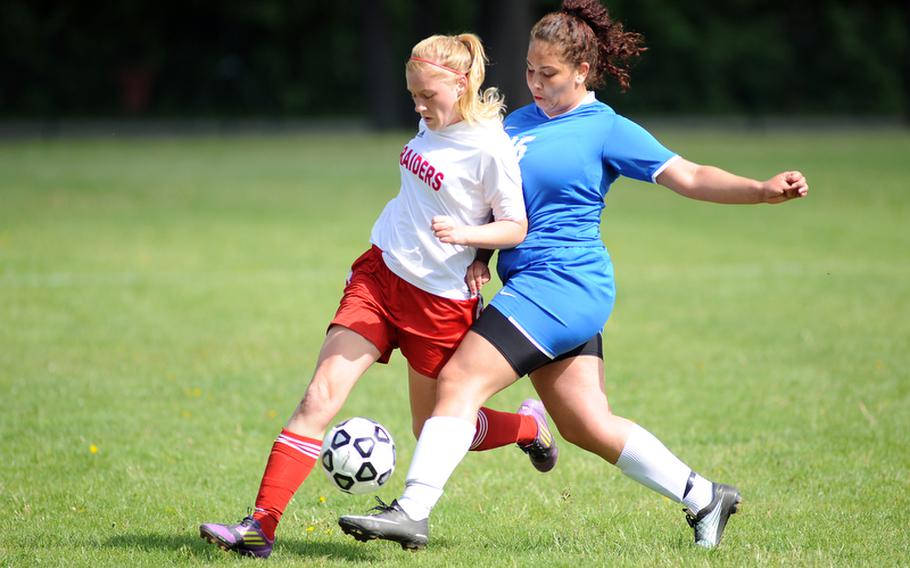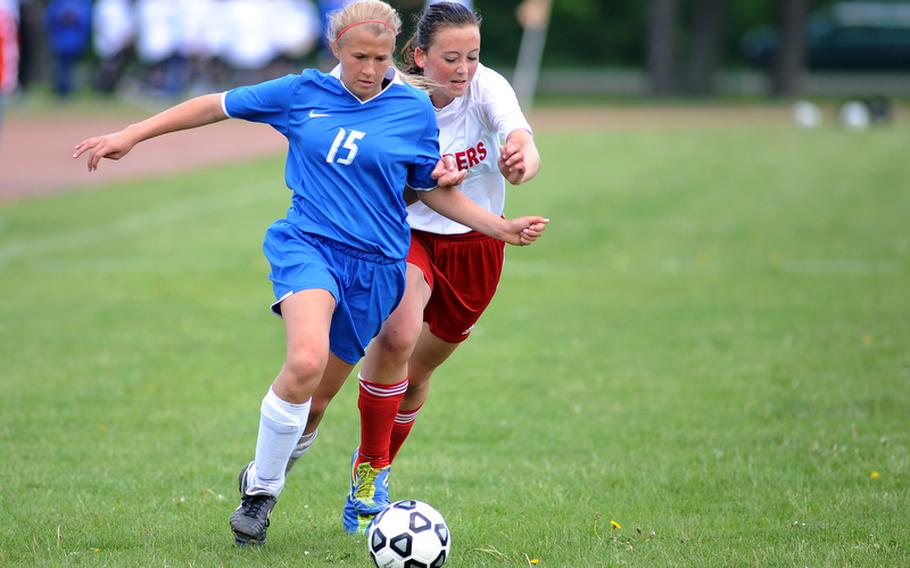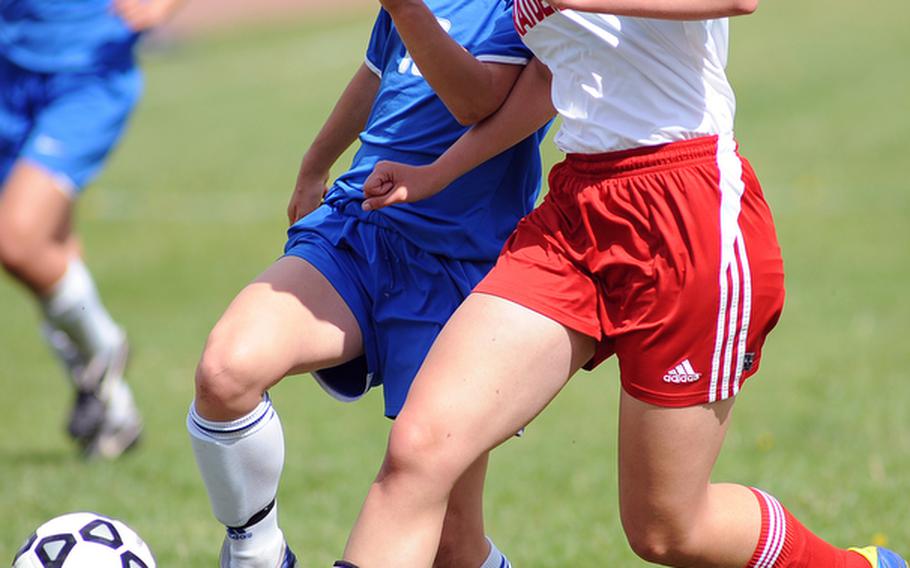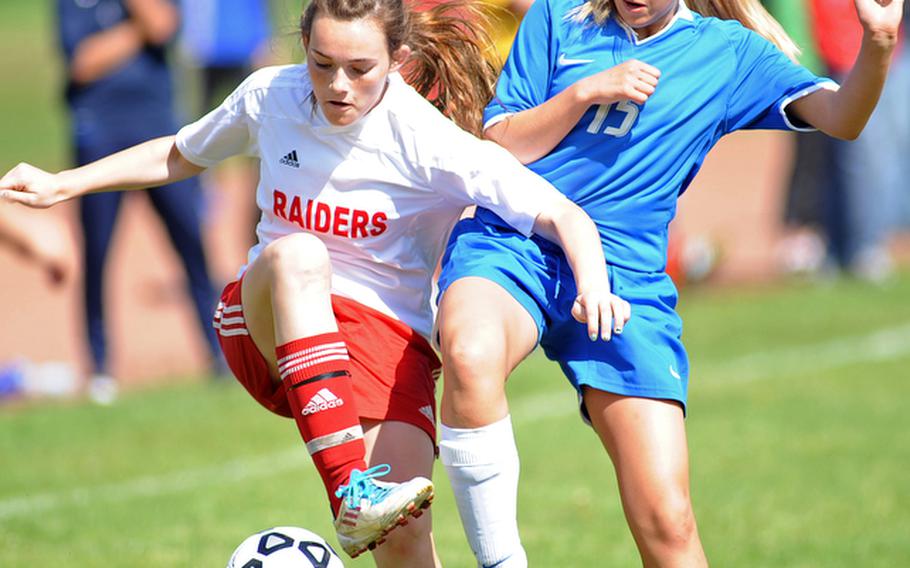 Stars and Stripes 2011 player of the year Josie Seebeck converted a first-half penalty kick Saturday to lift the Ramstein Royals to a 1-0 regular-season-ending girls' soccer victory over the previously unbeaten Kaiserslautern Red Raiders.
The shot by Seebeck, who has accepted an NCAA Division I scholarship from Central Michigan University, proved to be all the offense the Royals needed. Ramstein, which will take a 7-0 overall and 5-0 regional record into the European Division I tournament May 21-24 in the Kaiserslautern Military Community area, played so well defensively that Royals' keeper Terri-Leigh Obermiller was required to make just three saves to make Seebeck's score stand up.
K-town coach Brian Daly's defense was no slouch, either, in a game that gave each team a valuable taste of the kind of tournament pressure they'll encounter later this month.
"K-town's defense played solidly all day," Daly wrote, "shutting down most of Ramstein's goal-scorers and forcing them to take a lot of off-balance shots."
Leading the way for the defense for Kaiserslautern (6-1, 4-1) were Rachel Griep, McKenna Roden, Brie Scott and Corinne Parkinson, Daly reported.
In other girls' games of note:
Patch 4, Vilseck 1: Saturday at Vilseck, the defending European Division I Panthers clinched the Region III title behind two goals from Lauren Rittenhouse.
Sarianna Jones' second-half goal prevented Patch (6-0 overall, 5-0 in the region) from going unscored-upon in the 2012 regular season. Previously the Panthers had blanked all five opponents.
Amanda Thaden and Nadia Santangelo also found the net for Patch, which saw 22 of its shots turned aside by beleaguered Vilseck goalkeeper Jasmine Martin. Whitney Mannier and Brittany Nixon assisted on two of the shots that got past Martin.
Vilseck, which finished the regular season 4-2, 3-2, is to join Patch in the European D-I tournament.
Aviano 4, Vicenza 4: Saturday at Aviano, sophomore Allyson Dinges returned from an injury-induced 20 minutes of pine time in time to boot home what appeared to be the winning goal with 30 seconds to play, only to see Vicenza All-European Alex Frank convert a free kick for the equalizer as the game ended.
Frank's goal, her third of the day, prevented what would have been a disappointing loss for Vicenza, which led 3-1 at halftime, and allowed the Cougars to finish 4-1-2 and tied with Marymount for second place in the Region IV final standings.
Tatiana Miranda added the other goal for Vicenza; Madeline O'Brien scored twice and McKenzie Roers once for Aviano, which completed its regular season 4-2-1.
SHAPE 6, ISB 0: Saturday at Mons, Belgium, the Spartans wrapped up the Region I title behind single goals by six different seniors.
"It is noteworthy that every person who scored (Liz Burden, Melyssa Gomez, Paris Johnson, Kiki Mourning, Teresa Muldoon and Miriam Sivertsen) is a senior," SHAPE coach Shawn Whitehurst wrote in an email report of the game, "and two of them scored when playing full back."
The victory left SHAPE and AFNORTH tied for the Region I big-schools title at 2-1-0 in the four-team sub-region that also includes Lakenheath and ISB. But SHAPE (5-1-1 overall), which tied AFNORTH 0-0 on April 27, enjoys a 9-3 advantage in goal-differential over the Lions after beating Lakenheath 3-0 the previous Saturday. AFNORTH (6-0-1) topped ISB 2-1 on May 5 and Lakenheath 4-2 on March 24.
Both teams are scheduled to contest the European D-II tournament next week in the Kaiserslautern-Ramstein area.
AFNORTH 6, Brussels 2: Saturday at Steerebeek, Belgium, Cheyenne Mendelsohn scored twice, and All-European Kaley Harless chalked up a goal and two assists to lift the Lions over their small-school hosts from Division III.
---
---
---
---