Home Team
Scoring goals or hitting notes - a tough choice for some
by
Dave Ornauer
April 27, 2017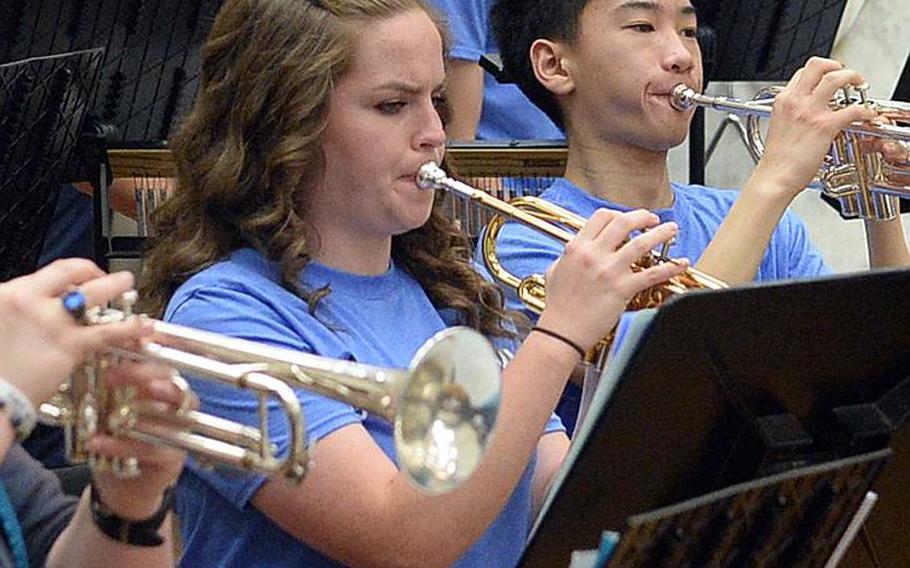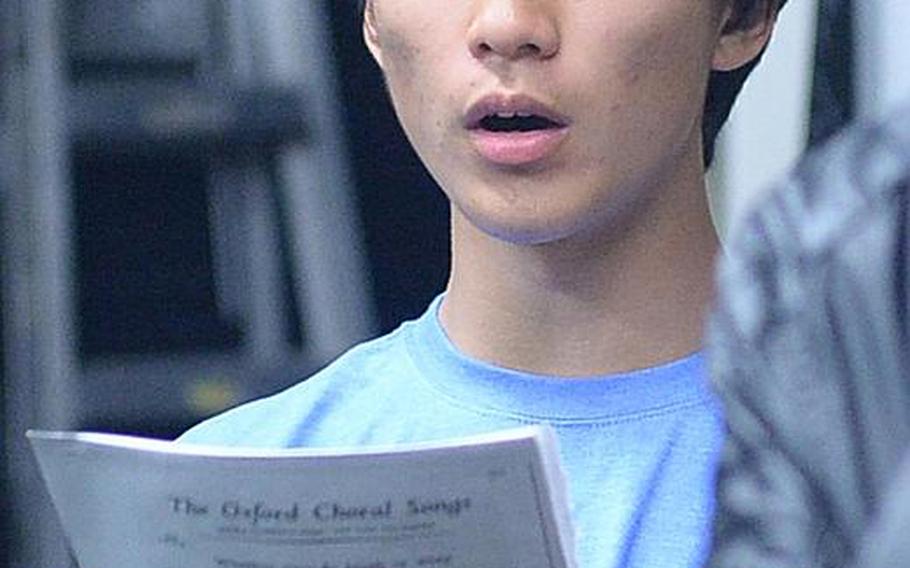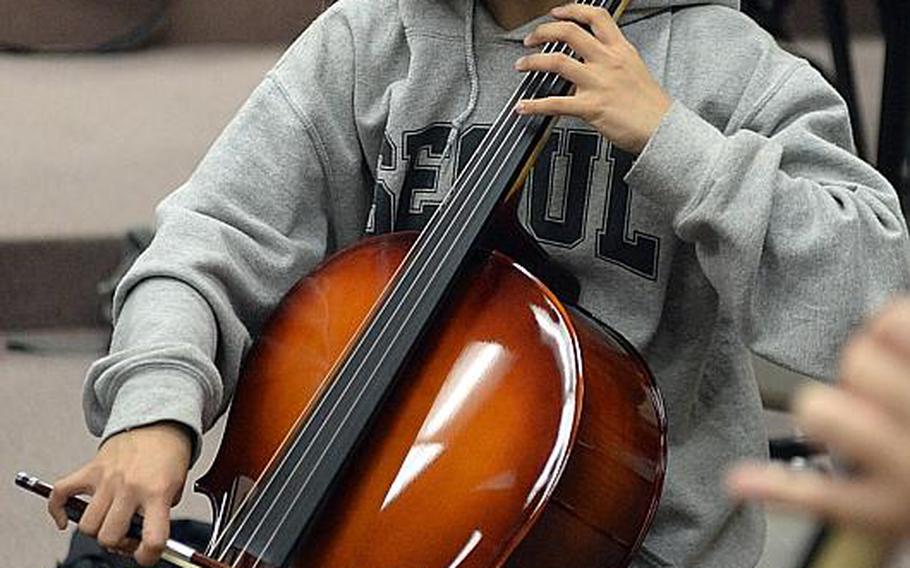 CAMP HUMPHREYS, South Korea – One sister felt conflicted, knowing her soccer team faced its district tournament in one locale, but also yearning to ply her musical talent in another, hundreds of miles away.
The other sister felt like her soccer team was entering that tournament badly missing her older sister's leadership and on-field abilities.
That was the conflict facing Seoul American's Furner sisters, senior Sierra and freshman Nina, as the Korea Blue Division soccer tournament at Humphreys approached – the same week as DODEA-Pacific's Far East honors music festival week on Okinawa.
Sierra, the defensive captain on the Falcons, but also an accomplished trumpeter, auditioned and won a spot with Seoul American's delegation to honors band and chose music.
Meanwhile, Nina stayed in Korea and assumed her sister's role as the Falcons' defensive sweeper on a team missing five players – two of them starters – all of whom chose music over the pitch.
"It's really hard; I know our defense is really going to have to pick it up," said Sierra on Monday, two days before the start of the Korea Blue tournament at Humphreys.
"We really want her back," Nina said of her older sister on Wednesday, minutes before the Falcons stepped on the field at Humphreys for their match against Taejon Christian. "She's one of the defensive leaders. It makes it tough for us to change formations and have players play positions they're not used to."
The Falcons beat TCIS 5-0 before falling in the semifinal 2-1 to Seoul Foreign.
"It was terrible," Falcons coach Francine Imrie said. "We definitely would have had a better impact on the field with Sierra; she has such a positive influence."
Other Falcons who decided on music over soccer included Claire Ancheta, a senior cello player; and senior choir singers Carole Lee and Lizzy Puskis. Noah Lee, a Seoul American sophomore midfielder and choir singer, opted for music, as did Humphreys freshmen Jonathan Houghton and John Koo.
"It was tough; I was torn about which to choose," said Noah Lee, a midfielder-defender-backup goalkeeper. He called it a "win-lose" situation for teams, players and coaches.
"I benefit from coming here (to music), but I also deprive my team of my presence there," Lee said. "When my teammates get tired, I can't provide them with support on the field."
He, along with all the other players who chose music, said they gave their coaches ample notice in advance, but that didn't make it any easier for the coaches to digest, they said.
Coaches want their full complement of players for important tournaments.
"You're caught between a rock and a hard place," Imrie said. "It's unfair that it (music) happened during (the tournament). We would have played an entirely different game" against Seoul Foreign with all the Falcons players present.
"But our school has an accomplished music program. How can you tell them they can't do the music because they're in a sport? That wouldn't be fair," Imrie said.
Part of the experience of being a DODEA-Pacific student is making choices among the many activities available throughout the school year. Far East tournaments are offered in 10 sports, while academic activities range from language to junior science and humanities.
"They have to make tough decisions," said Missy Gingrich, DODEA-Pacific's activities coordinator. "We have a lot of events they can choose from, and it's tough, especially for smaller schools."
Just the process of auditioning for events such as the honors music festival is an undertaking.
First, students must pass muster with their own school as to whether they can submit an audition. Next step is for them to send an audition tape to the III Marine Expeditionary Band on Okinawa, which then evaluates all students and decides which are eligible for the festival.
For that reason, and being one of the 147 selected (of 329 applicants), "It was really a blessing to come here," Sierra Furner said.
Student musicians engaged in practices and rehearsals for the first 3½ days on Okinawa, with the full complement of student musicians from 14 DODEA Pacific schools congregating Thursday evening for the honors band concert at Kubasaki.
All were due to return home Saturday, the Korea-based soccer players back for the second day of the Blue Division tournaments. Seoul American's girls play YIS-Seoul for third place at Humphreys, while the Falcons' boys challenge Seoul Foreign at their home field.
"We still have Saturday," Nina Furner said. "Saturday still means something. And we'll have our whole team back."
And there's also the Far East tournament for which to prepare, next month at Yokosuka Naval Base, Japan, and being short of players Wednesday helped toward that end, Sierra Furner said.
"They get to see how it is with minimal substitutes and multiple matches in a day," she said.
Twitter: @ornauer_stripes
---
---
---