Home Team
Scheduling change creates busy championship week in Europe
by
Gregory Broome
April 26, 2018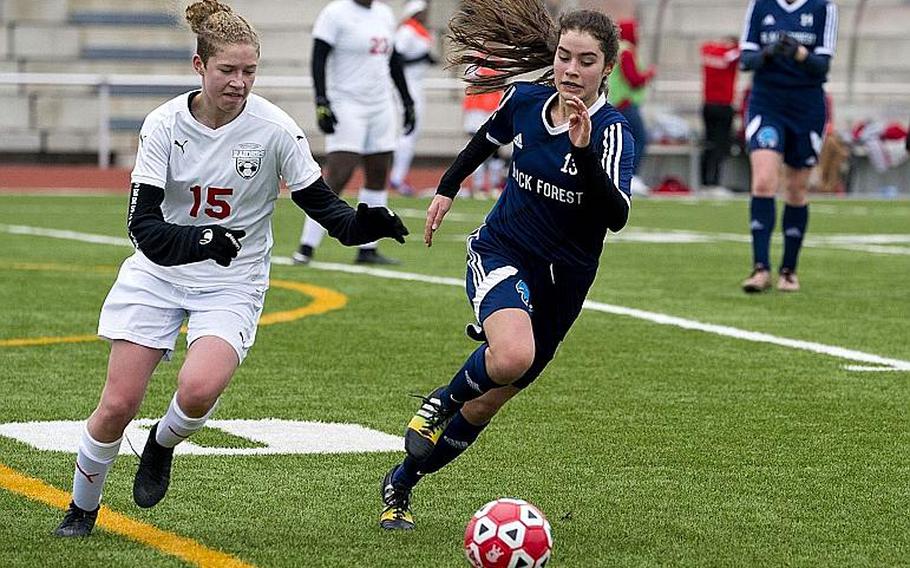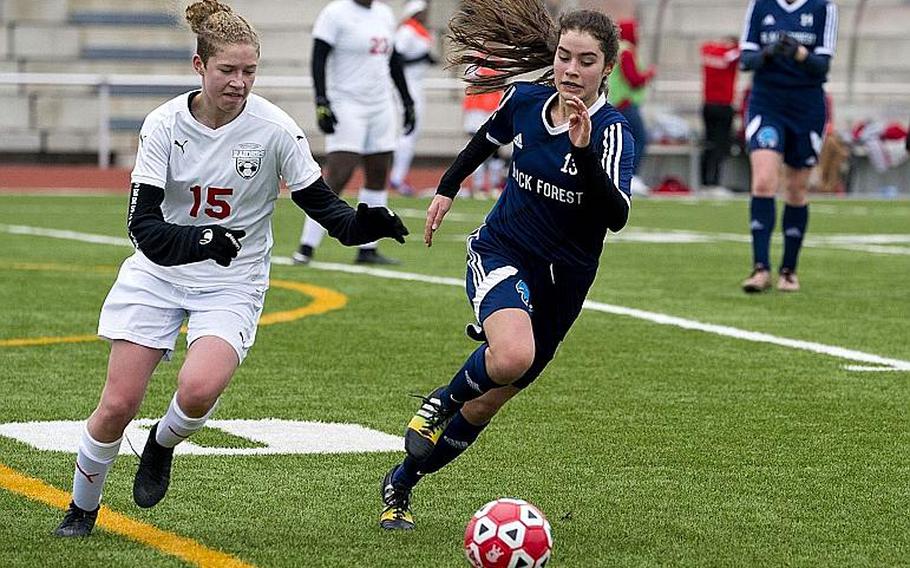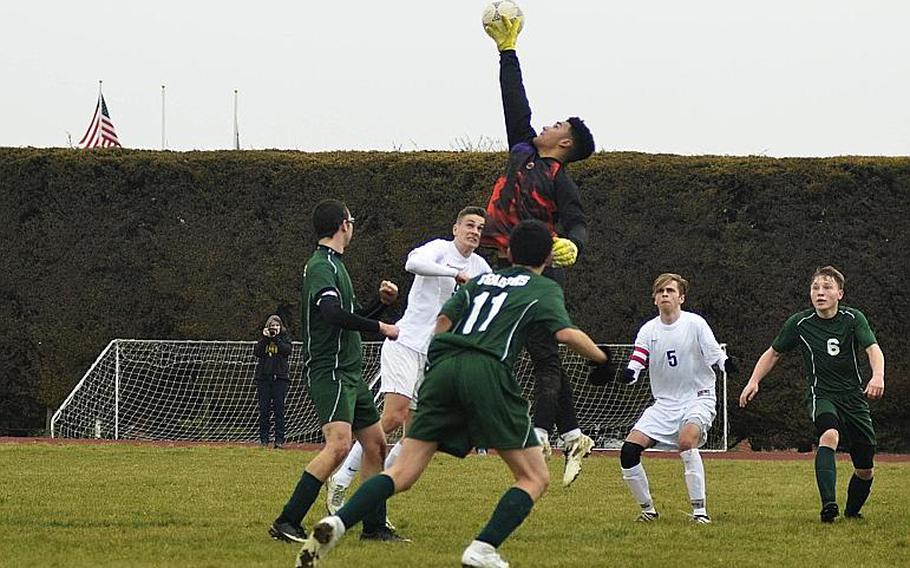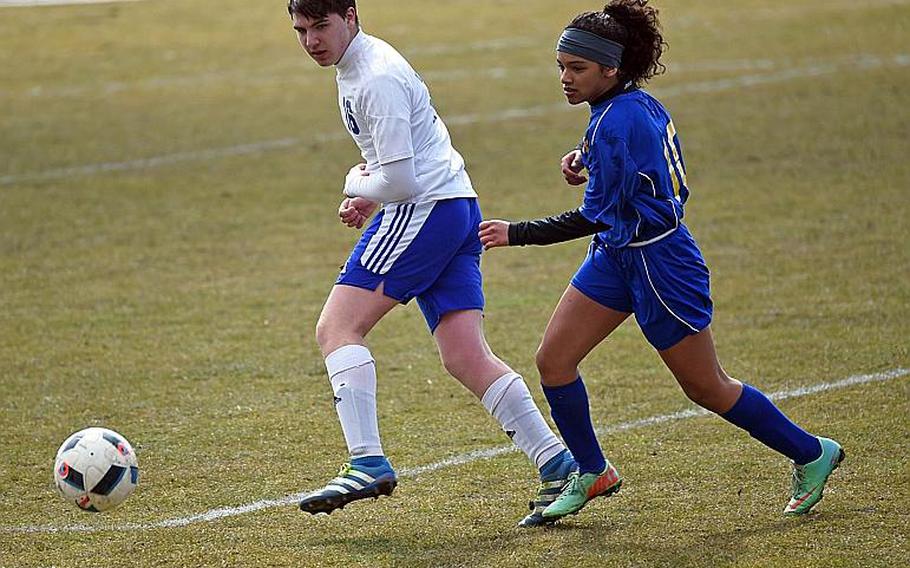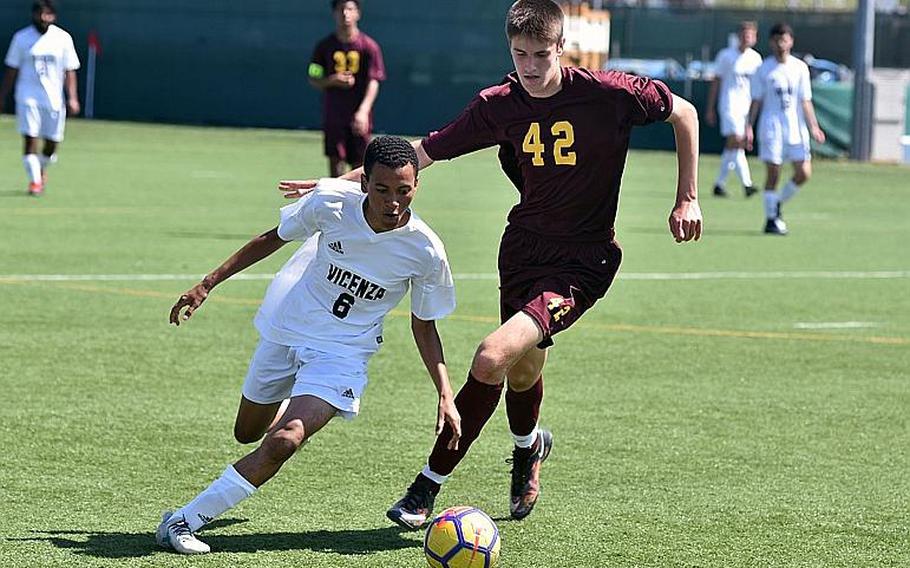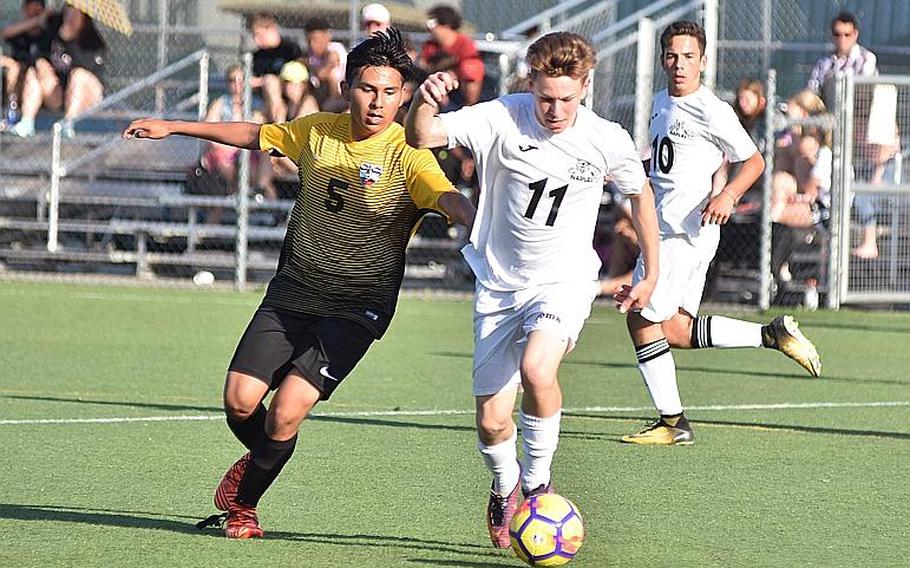 The 2018 DODEA-Europe soccer season is fast approaching its season-ending tournaments. At the same time, it's fast approaching the second extended break of the spring.
This year's European soccer tournaments will be played on a Monday-Thursday schedule for the first time since 2015, a contrast from the 2016 and 2017 editions that ran from Wednesday through Saturday. The 2018 tournaments are set for May 21-24 at sites around the Kaiserslautern Military Community in Germany.
DODEA-Europe athletic director Kathlene Clemmons cited the second week of AP testing as the reason for the switch. The tournaments, had they matched last year's placement ending the weekend before Memorial Day, would have overlapped with the May 14-18 round of tests. The academic pursuit would take precedence over the athletic one, leaving most or all teams without key players.
Instead, the event will overlap with the European baseball and softball tournaments, which will start their concurrent three-day runs on the same day soccer is scheduled to conclude with six divisional championship matches at Kaiserslautern High School. That makes for a frantic final week of the DODEA-Europe sports calendar, featuring playoff events every day from Monday through Saturday - including baseball, softball and track and field finals on Saturday, May 26.
But first, the schedule quirk produces a nine-day gap in the DODEA-Europe soccer season. The regular season ends on Saturday, May 12, and teams will be idle until their tournaments.
Well, not exactly idle.
"I will try to create a couple of game-like settings with extended play during the week before to help keep up our game-level conditioning," Vicenza girls coach Adam Ridgley said.
Nicole Angel, coach of the defending Division I champion Wiesbaden girls, said that the lack of live game action represents a challenge, something she'll counteract with "high-intensity play" in practice sessions. But she added that the Warriors plan to take full advantage of the "rest and game-planning" made possible by the week off
"We can heal our bodies while simultaneously focusing our efforts on tailoring our game plan in preparation for tournament play," Angel said.
The break also represents a chance for teams to strengthen their bonds before subjecting them to the rigors of a grueling tournament. Hohenfels girls coach Rayshell Threadgill hopes to arrange a "team-building opportunity" on May 19, the unscheduled Saturday before tournament play.
Not that her team needs any more motivation.
"The four-day tournament is what the team looks forward to," Threadgill said. "So break or no break, it wouldn't affect the high-caliber excitement the team has for Europeans."
Some teams have already made more formal plans for the weekend ahead of the tournaments, largely because those plans involve protracted bus rides across Europe. Distant teams such as Lakenheath and Naples will begin their long journeys on Saturday, some immediately after their school's prom festivities. That puts the teams in the KMC on Sunday ahead of their Monday tournament openers, which could start as early as 8:30 a.m.
"We travel all night and use Sunday as rest to begin playing on Monday," Lakenheath boys coach Greg Mako said. "Then after Thursday's finals, we board the bus for another all-night ride back to school. Friday morning, we are expected to report to duty after riding the bus all night long."
Mako said the week before that hectic tournament week provides an opportunity to arrange lesson plans for substitute teachers - the vast majority of DODEA-Europe coaches are also teachers - and for athletes to get their "homework plans in line" to avoid falling behind in the crucial final weeks of the school year.
The Monday-Thursday schedule makes that effort more difficult, though Angel joked that her players don't mind the "additional excused absences" the Monday-Thursday schedule requires as opposed to a Wednesday-Saturday format. It also complicates the logistics for fans of distant teams hoping to make their way to the KMC to register their support in person.
"Since most of our parents are not within driving distance, the Wednesday-Saturday schedule allows for more of our fan base to fly up and support our girls," Naples girls coach Rebecca Lucy said.
That's not the only factor that might suppress attendance. The latest of Thursday's six championship matches is set to start at 7 p.m., placing the Division I awards ceremony that immediately follows it close to 9 p.m. And that's not accounting for any of the late starts and delays for which DODEA-Europe championship events are notorious.
"There will be fewer kids who will stay up late if there is school the next day," Mako said. "And there will be fewer people who attend the games since it is Thursday instead of Saturday."
The consequences of the tournament's schedule are primarily felt by the teams furthest removed from the event's sites in southwest Germany. While those coaches can't help but grapple with that reality, the teams waiting in and around the host cities are also well aware of it.
"We plan on resting on May 19," Kaiserslautern girls coach Susan Fitzpatrick said. "One benefit of our location is we will be finished with traveling."
Twitter: @broomestripes