Santini scores three as Ankara wins D-III crown
by
Rusty Bryan
May 23, 2010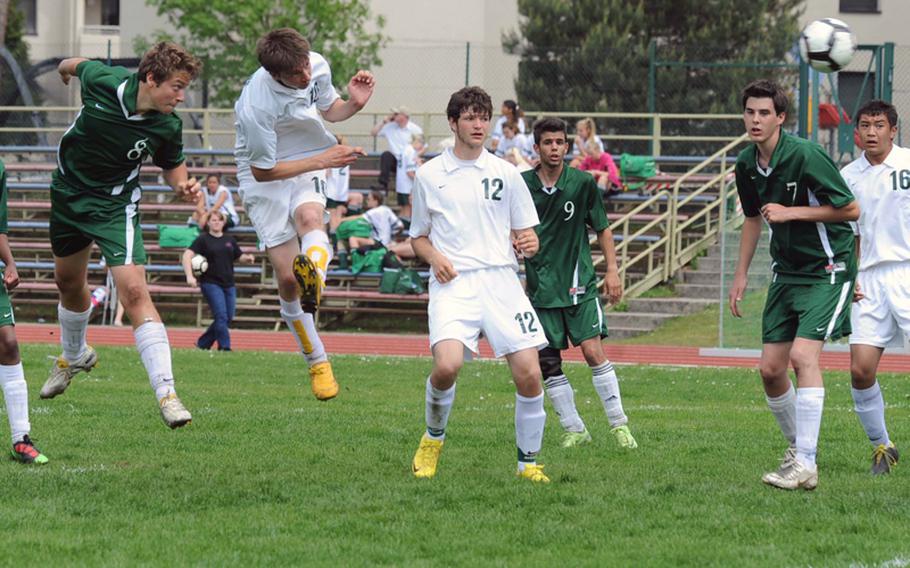 RAMSTEIN AIR BASE, Germany — Luca Santini ran onto San Kilkis' free kick in the middle of the box Saturday and headed the ball past keeper Jayson Williams to complete his title-game hat trick, and one minute later the Ankara Trojans claimed their first DODDS-Europe title in any sport with a 4-2 victory over Alconbury in the boys Division III championship soccer game.
All three of Santini's goals followed free kicks, but his last-minute dagger that put a pressuring Alconbury team away was the biggest, according to the Milan, Italy, native.
"When it went in," Santini said, "I understood that we were the champions."
It was a goal, Ankara coach Leigh Carignan said, the Trojans had worked for from the get-go.
"This was our first final," Carignan said, "and our first win. We knew at the start of the year we had a chance to win, and the boys worked really hard to make it happen."
Few worked harder Saturday than Santini, a junior midfielder.
Each of his goals resulted in a two-goal margin over the 2009 Division IV champion.
The first came with 14 minutes to go in the first half when his header off a free kick slipped inside the far post and put the Trojans, who had taken the lead on Azat Yazberidev's rebound goal after 15 minutes, ahead 2-0.
Ernestas Tyminas got one back for Alconbury with a rocket just under the crossbar from 30 yards to make it 2-1 at halftime. Santini answered 10 minutes into the second half by ramming home a rebound off an attempted clear to restore the two-goal margin.
But the Trojans weren't out of the woods, and they knew it.
"We faced them in pool play and were fortunate enough to beat them 3-2," Carignan said. "That game was a lot like this one. They just kept coming."
Tyminas made it a one-goal game again with a low diagonal shot across the Ankara box just inside the far post. And the Dragons kept up the pressure. Only a string near-misses by Alconbury's all-region senior forward Greg Pettiway kept the Dragons from tying the game in the final 20 minutes.
Pettiway came close to tying it four times in that span, but two rockets and two headers went just over the crossbar, and a third header went wide of the left post.
Santini's final goal ended the drama.
"We knew they wanted it," he said, "but we wanted it more. We knew we had to win this year, because we have a lot of people who won't be back."
Maybe not, but now they'll be leaving with a championship.
bryanr@estripes.osd.mil