Sais leads Azores to overall team title
by
Mark St.Clair
April 19, 2008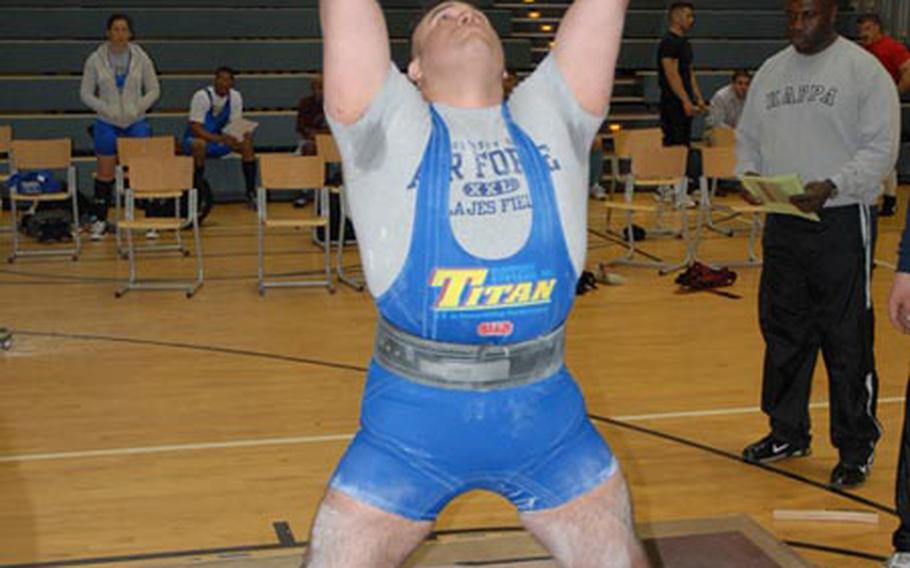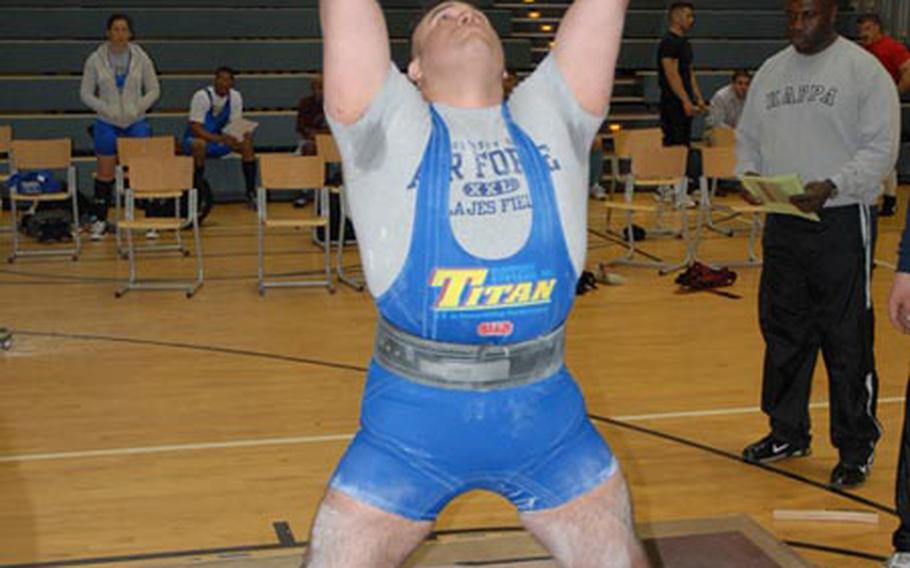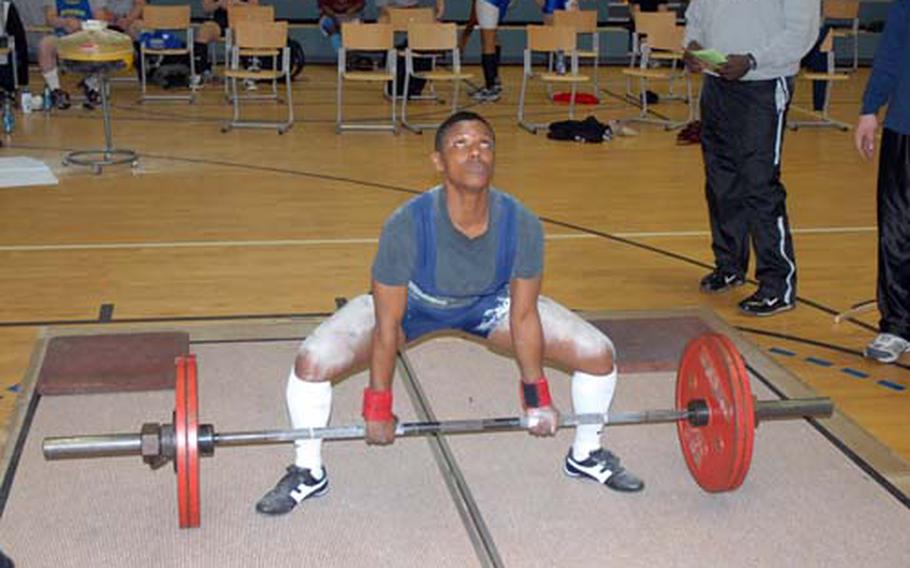 BAMBERG, Germany — Five airmen from Azores' Lajes Field combined to win the 2008 U.S. Forces Men's and Women's Powerlifting Championships on Saturday.
The team was led by the event's top overall lifter, Sandy Sais, whose combined squat, bench press and dead lift weights totaled just over 1,600 pounds. The Azores team had the most competitors among the 19 entries from various communities in Germany, Italy and Portugal.
Kaiserslautern, the second- place team, fielded the top female lifter, Debra A. Jackson, whose lifts totaled more than 650 pounds — more than 3½ times her body weight.
In only his fourth powerlifting meet, Sais, 33, said he's been lifting since grade school, but only seriously for the last 18 months. He and his teammates traveled for three days to compete, at a cost of around $1,000 each.
"It's kind of like a little vacation, but at the same time, this is the reason we're here," Sais said.
Overall, the Lajes team had three first-place finishes and two seconds.
Jackson, 49, who has been powerlifting for 11 years, said she treats every meet as a challenge between her and the weights.
"I always try to improve every meet that I go to," she said.
A qualifier for the World Games in 2004, Jackson — an Army specialist — had to miss that event because of a deployment but has hopes for another qualification in the future.
Along with the other two lifters from Kaiserslautern, Jackson finished first in her weight class.
While the event, held for the second year at the Freedom Fitness Facility on Warner Barracks, was hailed a success by its coordinators, there was one major shortcoming.
According to Jim Mattingly, director of the Sports, Fitness and Aquatics section of the Army's Installation Management Command-Europe, the tournament had a lack of lifters. While the 19 participants were four more than last year, if fewer than 15 had preregistered, the event would not have taken place, he said.
"You'd like to have enough [athletes] so that you've got to have two platforms," he said, referring to the areas where the lifters are judged.
"In the 'big Army' days we were there."
U.S. Forces Powerlifting Championships
BAMBERG, Germany — Results of the 2008 U.S. Forces Men's and Women's Powerlifting Championships held here Saturday. Lifts are in pounds and are total of best squat, bench press and dead lift. Top lifters are decided by weight lifted versus body weight.Top teams: 1, Lajes, Azores; 2, Kaiserslautern, Germany; 3. Aviano, Italy.Overall male lifter: Sandy Sais, Lajes, 1,631.40.Overall female lifter: Debra A. Jackson, Kaiserslautern, 650.36.
Women126.8 weight class: Jackson, 650.36.148.8 class: Tracy E. Click, Kaiserslautern, 699.96.165.3 class: 1, Delana Jemison, Aviano, 716.50; 2, Rachel Taylor, Lajes, 529.10
Men148.8 class: David W. Guthrie Jr., Lajes, 749.56165.3 class: Timothy Weatherspoon, Bamberg, 733.03181.9 class: 1, David L. Anthony, Aviano, 1,113.3; 2, Joshua A. Deuermeyer, 937.0 pounds198.4 class: 1, Christian A. Moore, Kaiserslautern, 1333.8; 2, Michael R. Brown, Ramstein, 1245.6; 3, Axel Zengotita, Aviano, 1069; 4, Malachy Coghlan, Ansbach, 496.04242.5 class: 1, Jake Taylor, Lajes, 1,388.90; 2, John Svalina, Grafenwöhr, 1,157.4;275.6 weight class: Sais, 1,631.40
Did not qualify: Mike Reed, Aviano; Michael Roller, Hohenfels; Kyle Smith, Ansbach; Curtis Cimpson II, Ansbach.