Royals, Panthers might go at it again
---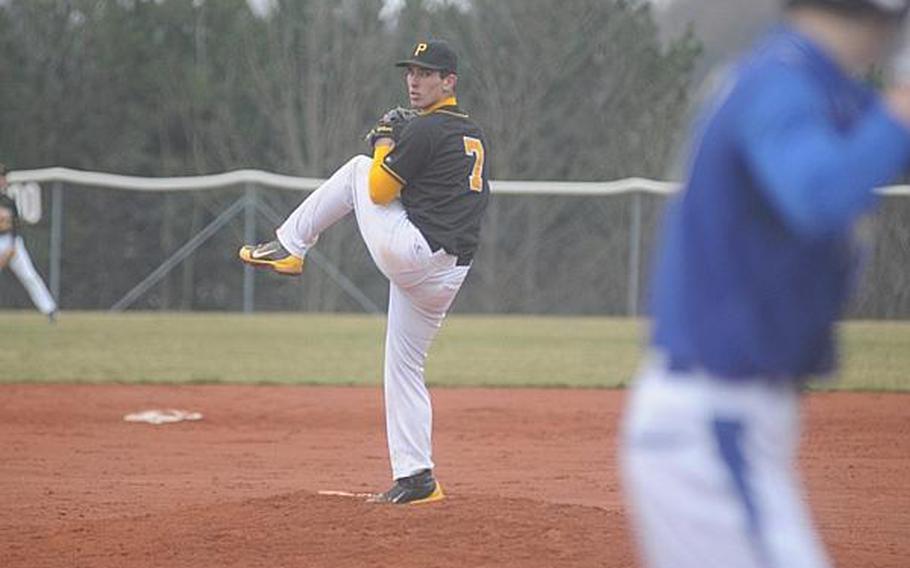 The 2013 DODDS-Europe baseball championships will take place Thursday through Saturday at sites around the Kaiserslautern Military Community in Germany, culminating in a pair of European championship games Saturday at Ramstein High School. Here's a look at the field, based on the season's results and input from participating coaches:
Division I The names on the lineup cards change over the years. But in the end, it is always Patch and Ramstein.
The Panthers have won three consecutive Division I European titles. Each time, Ramstein has met them in the title game and fallen short. In 2010 and 2011, the deciding margin was a single run; in 2012, Patch earned a more comfortable 7-2 victory.
Ramstein's mission this week: to avoid being the team that trudges off the field in the background as Patch celebrates another title. And it's a safe bet that Ramstein will get that opportunity at redemption come Saturday.
The Panthers and Royals each navigated the regular season unbeaten and largely unchallenged. Both teams feature some of Europe's best players, including All-European standouts likes Ramstein's Justin Pendergrass and Patch's Jack Smith, atop a well-stocked and versatile roster. The combination of high-end talent and positional depth has proven insurmountable.
The championship-game rematch is not quite a foregone conclusion. But while upstarts like Wiesbaden, Heidelberg and Vilseck have the tools to craft an upset bid, none can compete consistently at the level of DODDS-Europe's two established powers.
Lakenheath is perhaps best-equipped to interlope on the expected rematch. The Lancers' only two losses of the season came against Ramstein in a March 22 season-opening doubleheader. As Ramstein went on to hang double-digit losses on each of its subsequent opponents, Lakenheath's 8-4 and 9-1 losses to the Royals looked downright respectable.
In the end, however, it would take an unlikely series of statistical anomalies to keep Ramstein and Patch from their annual appointment.
Division II/III While Division I figures to end in a predictable clash of titans, the smaller-school ranks offer no such clarity. What they do offer are possibilities.
Again, the two smaller divisions will crowd into one bracket, as Division III simply doesn't house enough teams to create a viable stand-alone tournament. As such, the smallest of DODDS-Europe baseball programs will spend the postseason like they did the regular season - fighting back against long rosters and longer odds.
SHAPE, a somewhat surprising champion in 2012 after pulling off a small-ball upset of hard-hitting Bitburg, is among the many DODDS-Europe schools to see its schedule ravaged by weather.
That unfortunate situation leaves the team lacking in valuable live-ball experience. But the Spartans' knuckleballing pitching staff, solid defense and contact-focused lineup make them a tough out for anyone.
Bitburg lost a substantial chunk of its talent base to graduation and has managed just two wins, a doubleheader sweep of AFNORTH, in its own limited season. But a history of success and the winning culture it breeds can be a powerful elixir in the playoffs.
Meanwhile, new contenders are circling.
Ansbach has taken the lumps of a rugged schedule and emerged better for the experience. The Cougars have lost just three games all season, all to Division I opponents. Naples finished its season at a perfect 12-0. But as often is the case for the more-isolated Italian entries, that record comes with a caveat: the Wildcats have played only in-country foes, leaving them untested against the larger field they'll encounter this week.
Italian foes Vicenza and Aviano haven't been able to conquer Naples all season; Division III Italian rival Sigonella hasn't either.
But as history has proven, anything can happen at the European tournament.
Twitter: @broomestripes
---
---
---
---