European baseball preview
Royals lead large-school field; small schools a toss-up
---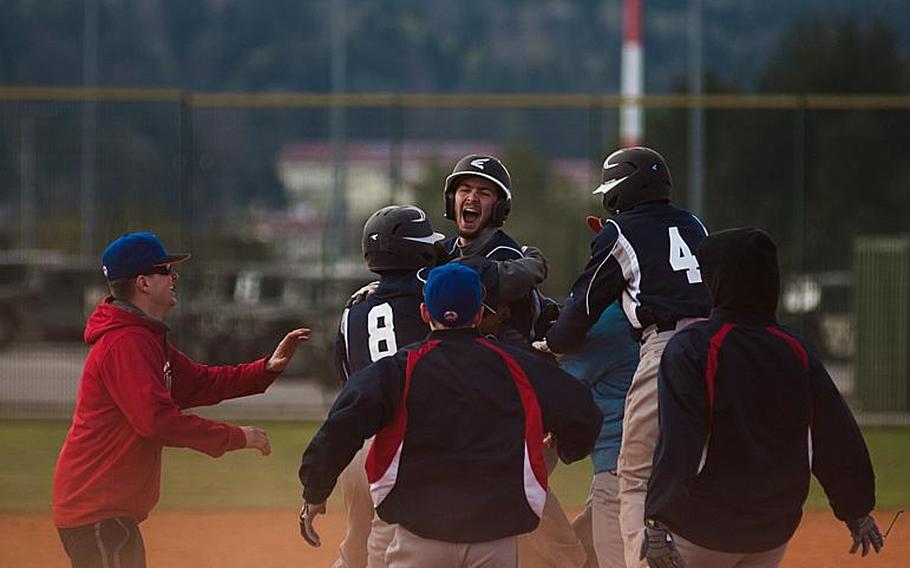 It was unintentional, but DODDS-Europe baseball is borrowing a page from European soccer leagues this spring.
Last fall's divisional realignment switched Naples, Vicenza and SHAPE from Division II to Division I. That decision was based on school population - those three schools were the largest in Division II.
But in baseball, the move was a de facto promotion for the Wildcats, Cougars and Spartans, similar to the practice of European soccer leagues promoting their best teams to a higher level of competition while relegating the weakest teams to a lower league.
Naples won last year's Division II championship game over Vicenza. SHAPE finished third in the bracket.
Now all three will pile into a Division I bracket that is parched for fresh blood. Ramstein and Patch have played for the title every season since the inception of DODDS-Europe baseball, and are on pace to do so again unless one of the new arrivals, or maybe another opportunistic contender, is up to the task of preventing it.
The 2015 DODDS-Europe baseball tournaments run Thursday through Saturday at sites in the Kaiserslautern Military Community.
Division I: In addition to fighting off new threats, Ramstein is on the verge of seriously wounding its oldest one.
The Royals and rival Patch Panthers have coexisted at the peak of DODDS-Europe baseball for as long as the sport has been played, transferring the title among themselves but confident in the notion that their rivalry represented the whole of the Division I power struggle.
This tradition is now in peril, and it's not just because of the expanded field. Ramstein has not only won the last two titles, but beat the Panthers rather comfortably in a late-season doubleheader May 9.
The Royals are stacked with hitting, run production, stellar starting pitching and perhaps the smoothest defense in DODDS-Europe. The result has been a clean 14-0 regular season loaded with lopsided victories.
Though it fell short of their usual standard of competition with Ramstein, Patch gave the Royals their toughest games of the season in 9-1 and 9-2 losses. And the Panthers can lean on experience, some of it gleaned from a 2-1 loss to Ramstein in last year's classic title game, in pursuit of another elusive title.
Naples seems the biggest incoming threat to both Ramstein's title reign and Patch's hopes for redemption.
After dropping their opener to Vicenza, the WIldcats have been perfect, including three wins over the Cougars.
Vicenza is less impressive on paper, having suffered a string of five losses in six April games and entering the tournament at an even .500. But the Cougars have the pieces to make a run.
Naples and Vicenza are also still shrouded in mystery; an unprecedented regular-season clash with German Division I teams was canceled due to inclement Italian weather.
Lakenheath, Vilseck, Kaiserslautern, Wiesbaden and SHAPE round out the large-school bracket.
Division II/III: In lieu of a clear favorite, an analysis of the small-school baseball bracket must look backwards.
The absence of Naples, Vicenza and SHAPE leaves 2014 fourth-place finisher Ansbach as the default team to beat.
Bitburg and Rota are the most recent small-school champions still competing Division II/III. In 2011, Bitburg won the Division II crown and Rota took the Division III title. SHAPE beat Bitburg to win a consolidated Division II/III bracket in 2012 before Naples embarked on its two-year run.
Ansbach, Bitburg and Rota have history on their side, and each has played well enough this spring to build legitimate title hopes. But the Division II/III field is notable for the lack of separation between teams. That phenomenon played out throughout the spring.
Hohenfels beat Sigonella 7-6 on March 28. Sigonella edged Aviano 5-4 on April 17. AFNORTH edged Alconbury 2-0 on May 2 and gave Rota its only loss of the regular season. On consecutive days in April, Alconbury suffered a one-run loss to Rota and a two-run win over Bitburg. Ansbach and Bitburg split a doubleheader coming out of spring break.
That kind of evenly-matched play posits an unpredictable and fascinating small-school tournament. While the Division II/III level has lost a big part of its history with the exit of Naples, SHAPE and Vicenza, it has no shortage of teams ready to make history of its own.
Twitter: @broomestripes
---
---
---
---