Roundup Kinnick wrestlers keep rolling, win second straight Kanto title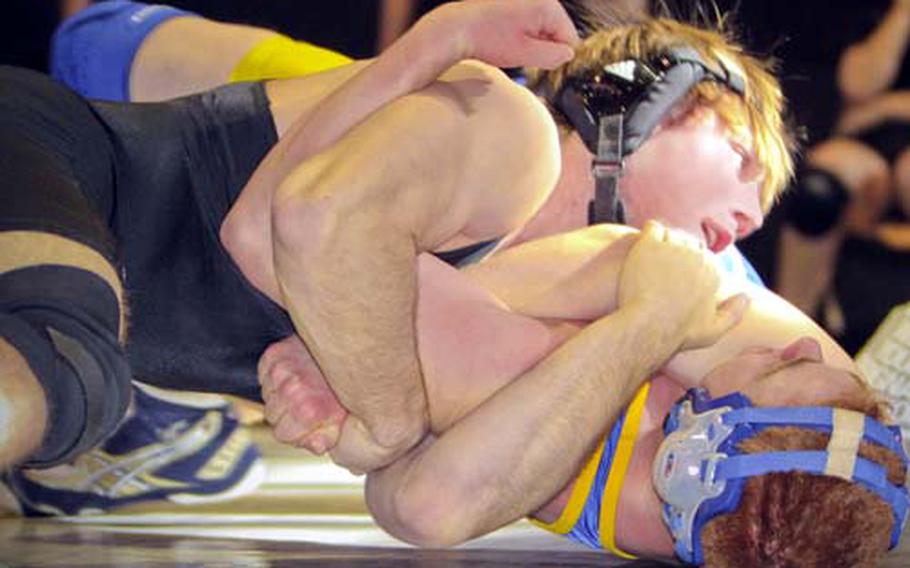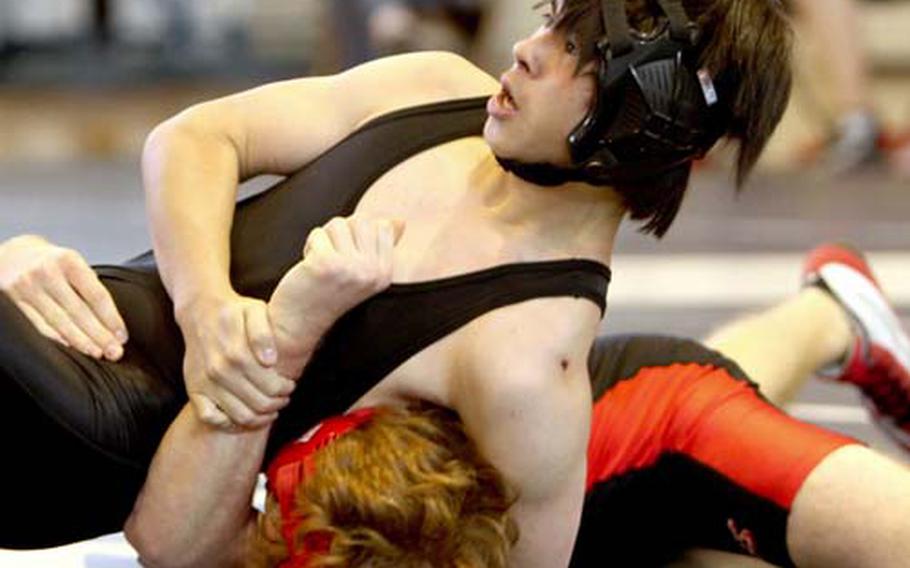 Fresh off a miserable 1-8 football season, Gary Wilson had reservations about assuming the helm for Nile C. Kinnick wrestling, a sport he'd never coached.
What does he think now?
"It must have been a good decision," Wilson said after his Red Devils won their two dual meets in Saturday's three-way at Camp Zama to improve to 4-0 and capture their second straight Kanto Plain Association of Secondary Schools title.
Nick Gibbons scored a stunning upset of defending Far East champion Michael Spencer, pinning him in 3 minutes, 40 seconds at 168 pounds as Kinnick beat host Zama 47-17. Earlier, the Red Devils pounded Yokota 42-16; Yokota led off the meet by edging Zama 32-30.
It was the first time in 31 years that the Red Devils, Panthers (3-1) and Trojans (2-2) had been unbeaten and leading their three international-school foes, St. Mary's International, American School In Japan and Christian Academy Japan, this late in the season.
"They're the best team in mainland Japan, without a doubt," Yokota coach Brian Kitts said of Kinnick. "They're solid, experienced, tough, disciplined. What are you going to do?"
Gibbons' victory, two weeks after losing a close decision to Spencer in the "Beast of the Far East" tournament, "definitely boosted us. They were coming into their strength. It helped turn the tide," Wilson said.
Elijah Gamble ran his winning streak over Yokota's defending Far East champion Devin Day to four this season with a pin at 135 pounds. "We needed those points there," Wilson said.
Before the three-way, Wilson said he'd told his wrestlers that they would have their hands full and many bouts would be very close.
"Everything fell our way today," Wilson said.
He called Saturday the capper on a "joyous" two months of learning the sport from his veteran wrestlers and a staff of assistants that includes Rear Adm. Kevin M. Donegan, Battle Force 7th Fleet and Carrier Strike Group 5 commanding officer.
Next for the Red Devils are the Kanto Plain finals Feb. 6 at St. Mary's and the Far East meet Feb. 8-11 at Camp Humphreys, South Korea.
"It feels great to be Kanto champions, and we're looking forward to these next two tournaments," Wilson said.
Saturday proved to be a rough day for defending Far East champions in other locales.
Reigning two-time Far East champion Harry Bloom of Kadena lost twice to Japanese wrestlers in the 4th Okinawan-American Friendship Tournament at Kadena High School, including the 158-pound final.
Despite the defeats, Panthers coach Steve Schrock was pleased to host a meet that he called "so valuable to us, a coach's dream for what you want to make your team."
"Even if we don't win a weight class, I just want us to have the battles," Schrock said, adding that the event shows his wrestlers that there's always somebody out there better who can make his wrestlers better. "For us, this is just what the doctor ordered."
Kinnick 108-pounder Marcus Boehler was the only reigning Far East champion who came out of Saturday unscathed, winning each of his bouts in the Zama three-way.
Reigning heavyweight champion Michael Gilliam of Osan American did not take the mat Saturday, which was an off day for the DODEA Korea league.