D-II football
Rota ends Ansbach's reign
---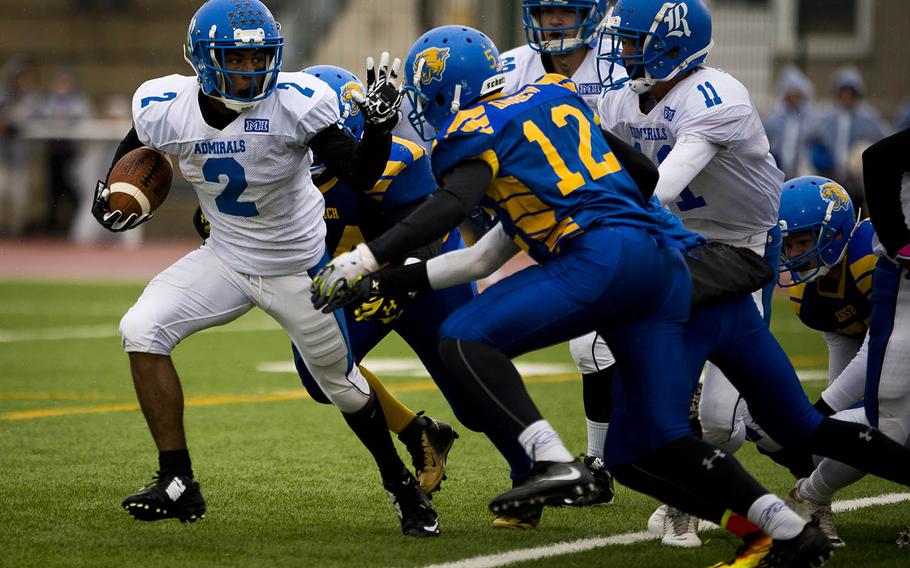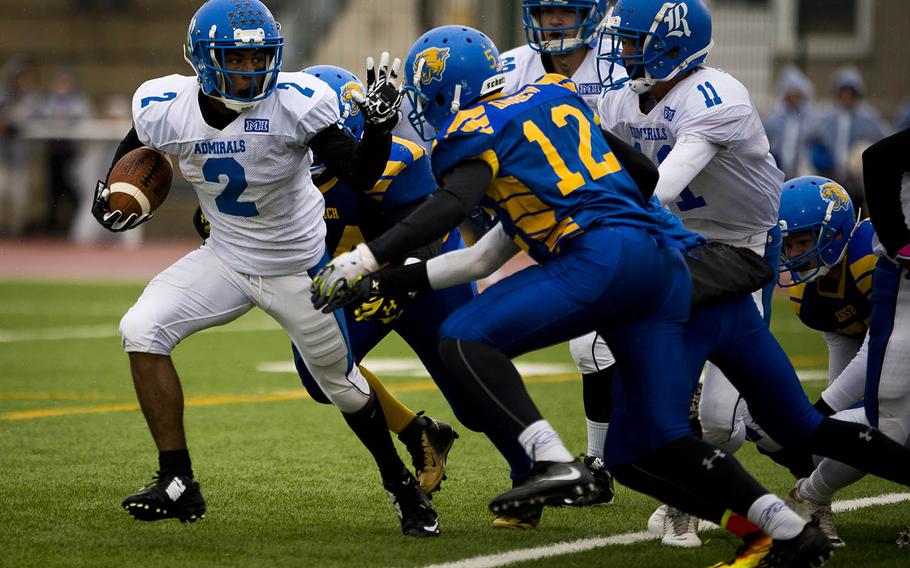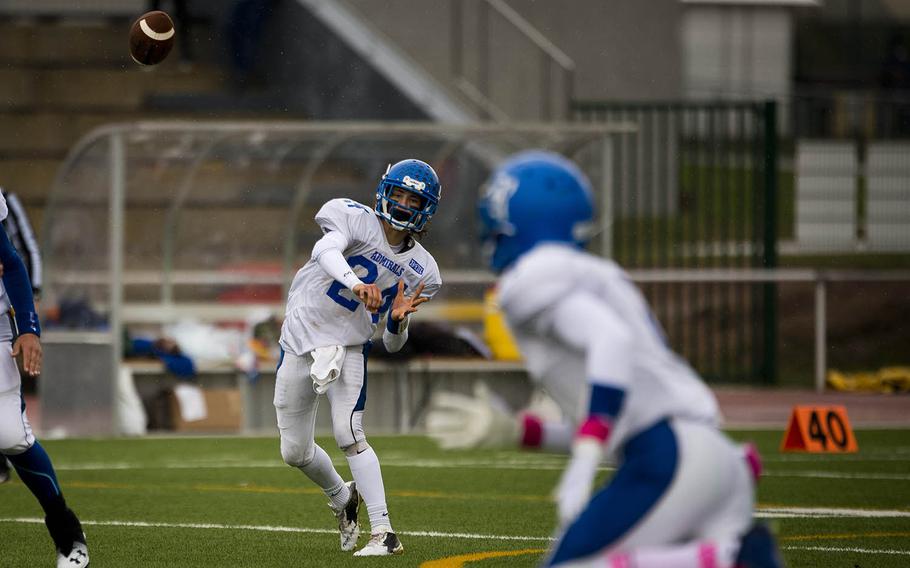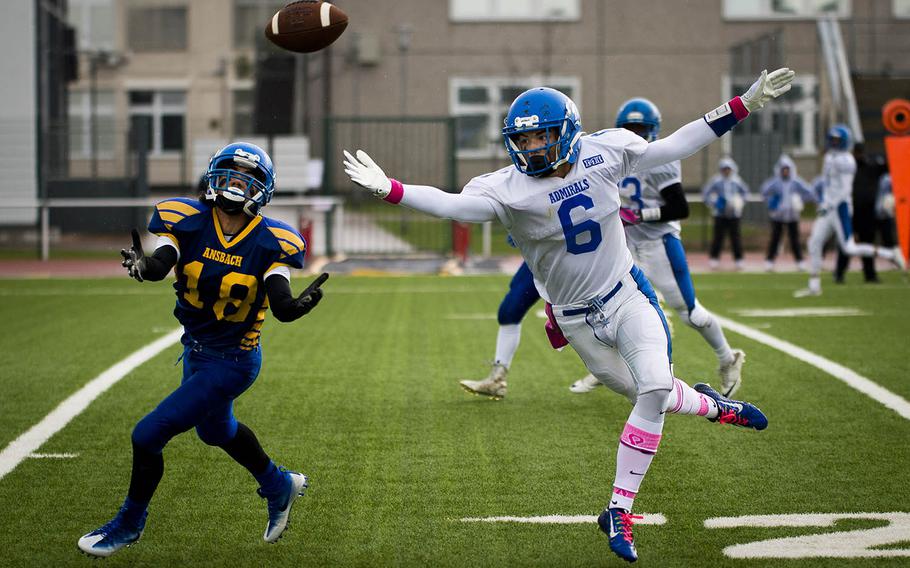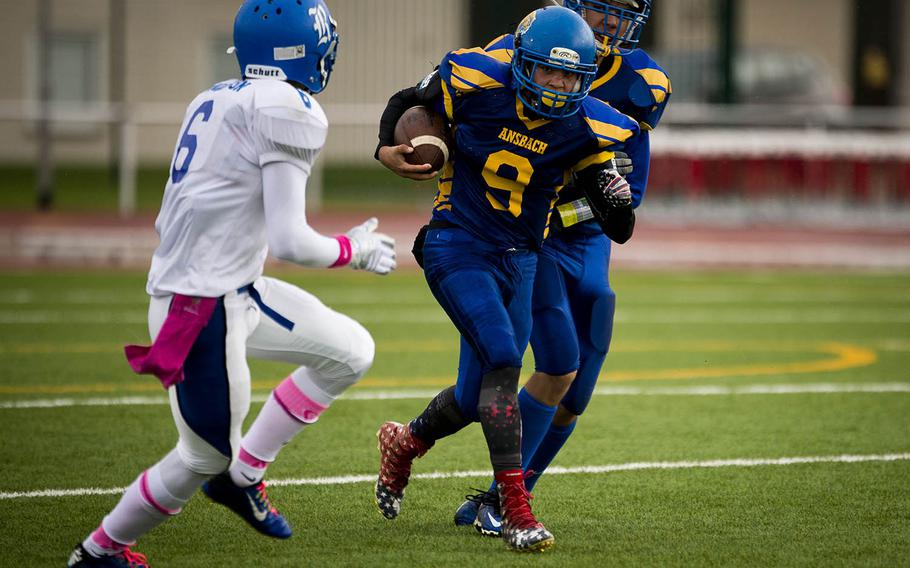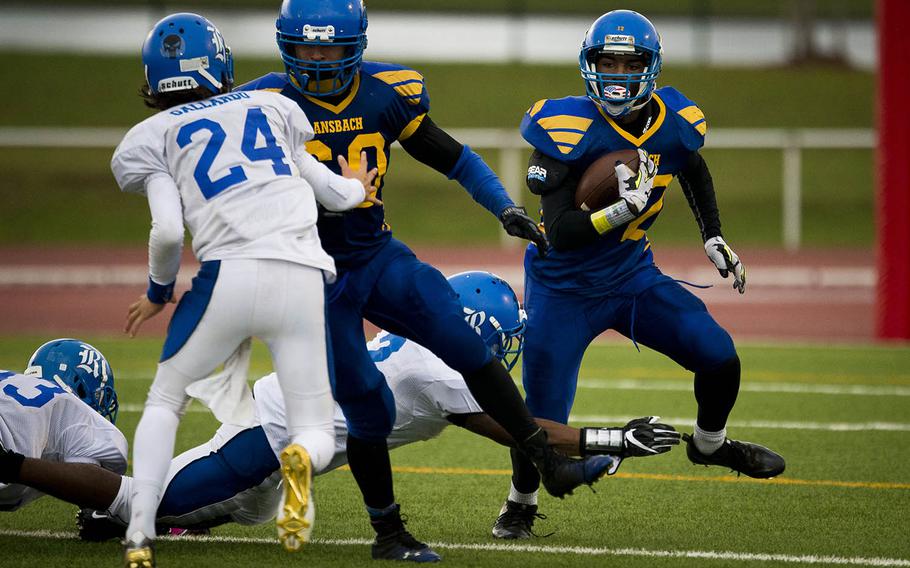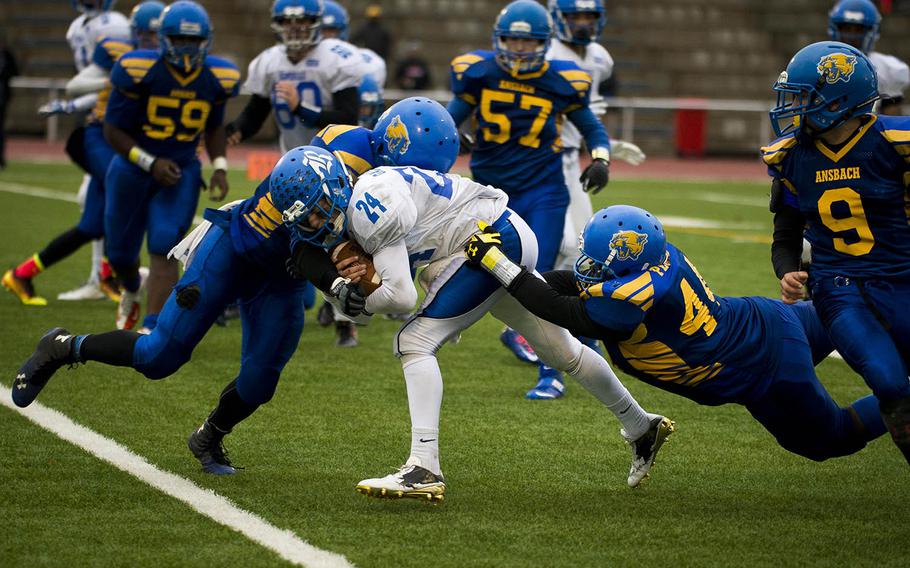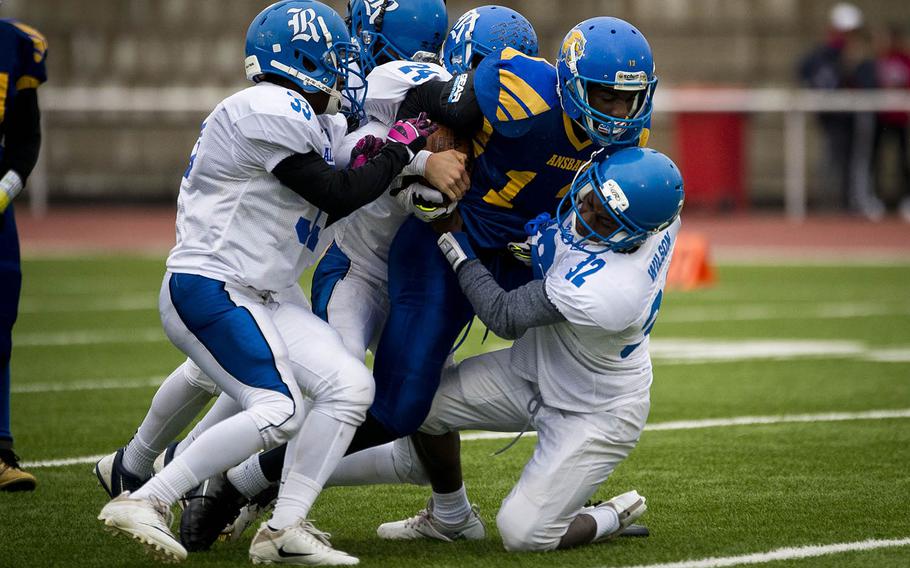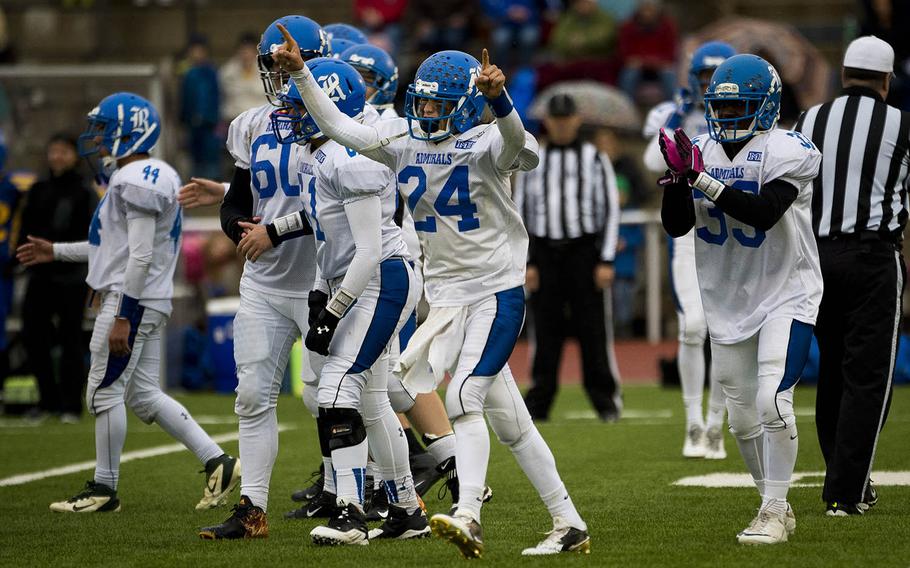 KAISERSLAUTERN, Germany -- The Ansbach Cougars' title reign ended slowly, and then all at once.
The Rota Admirals emphatically claimed the DODEA-Europe Division II football championship Saturday at Kaiserslautern High School with a 28-7 win over Ansbach, ending the Cougars' two-year title streak, avenging their loss to Ansbach in last year's championship game and completing their own years-long rise from doormat to dominance.
"We feel great. Last year was so tough, traveling all the way here 36 hours on a bus to lose to Ansbach," Rota quarterback Sam Gallardo said. "This year was kind of payback"
The Admirals threatened to turn the anticipated clash of undefeated finalists into a blowout with two early touchdowns. De'Ontae Bradley delivered a 65-yard score on the game's first play from scrimmage, and Gallardo tossed a short touchdown pass to Jake Anderson for a 14-0 Rota lead just under nine minutes into the game.
Senior running back Bradley, a valuable midseason addition to an already formidable Rota offense, quickly learned what was at stake for the Admirals when he arrived from Virginia Beach this fall. On Saturday, he wasted no time helping his new teammates exact revenge for last year's loss.
"I saw an opening and I just hit it, full speed. I didn't stop at all," Bradley said of his game-opening touchdown run. "I knew they weren't going to catch me. I was gone."
But Ansbach's vaunted defense firmed up after those early oversights, subduing Rota's explosive offense for a long stretch of the afternoon. Ansbach stayed close in the second quarter as it turned away repeated Rota forays into its territory. Then the Cougars made a game of it.
Rota came away empty in a late second-quarter drive, allowing Ansbach a few seconds for a final play. A big but insufficient Cougar gain appeared to end the half, but a late hit penalty on the Admirals awarded the Cougars one last untimed down at the 6-yard line. The defending champs seized the opportunity on a sliding touchdown pass from Hiromi Iglesias to Giancarlo Solito and entered halftime down by a manageable 14-7 margin.
But Ansbach fumbled away opportunities to tie the score in the third quarter, even as its defense continued to snuff out Rota possessions. Still the Cougars hung within striking distance, particularly as Rota's attempt at an extra three-point cushion sailed wide late in the third, and they lurked at that same 14-7 deficit entering the fourth quarter.
Rather than an Ansbach comeback and a dramatic finish, however, Rota provided a decisive bookend to its early outburst.
With about four minutes to play, a squad of Admiral tacklers forced a backfield fumble and Andy Beyer-Lucena corralled the loose ball at the 10-yard line. Then, in a similar play to his opening game-changer, Bradley took the first snap of the series and ran 10 yards nearly untouched for the long-deferred insurance score. Gallardo tacked on a 7-yard run less than a minute later to confirm the transfer of Division II power.
The game brought an end to Ansbach's title reign and an overall winning streak dating back to a loss in the 2013 European semfinals. The school's population has plummeted in recent years, leaving Cougar coaches and veteran players to recruit every available body on campus and turn them into competent players in an attempt to extend their DODEA-Europe lifespan.
First-year coach Stephen Choate, who replaced legendary coach Marcus George in the summer, said "everyone rallied" to produce another stirring, successful season of Cougar football. Just as it was uncertain that Ansbach would be able to field a team this fall, its fate for 2017 now remains undetermined.
"These guys have battled. They have battled," Choate said. "We had a good core, and they have really brought along some guys."
Rota, meanwhile, made good on its promise as the rising Division II power most likely to eventually supplant the increasingly vulnerable Cougars. The Admirals went winless in 2013, graduated to respectability in 2014 and played the victim to Ansbach's second straight championship in 2015. The step the program took Saturday was the only forward step left for it to take.
"Last year we knew we were winners and we knew we were an elite team, an elite program," Rota coach Ken Walter said. "This is just kind of putting the stamp on it. We wanted to come out and make a statement."
Twitter: @broomestripes
---
---
---
---