Roberts' four TDs power Heidelberg past K-town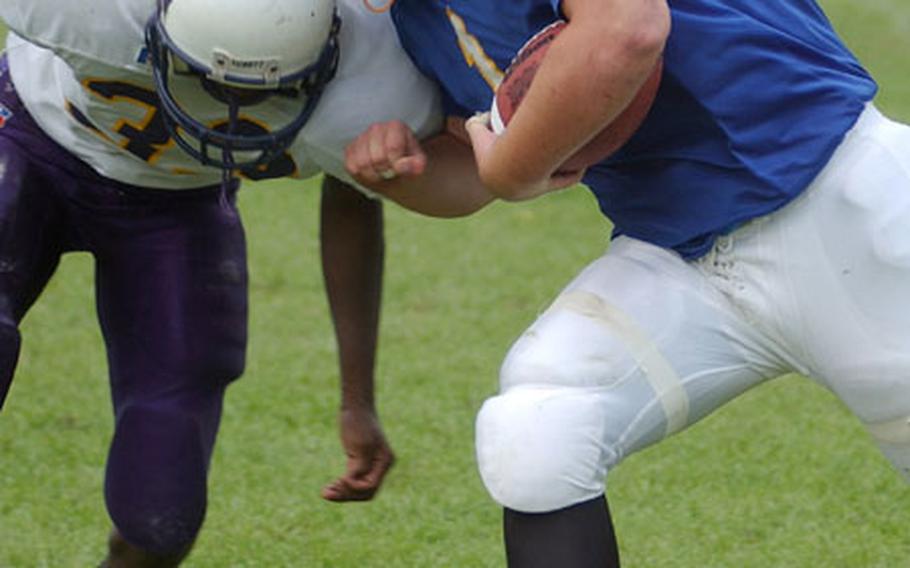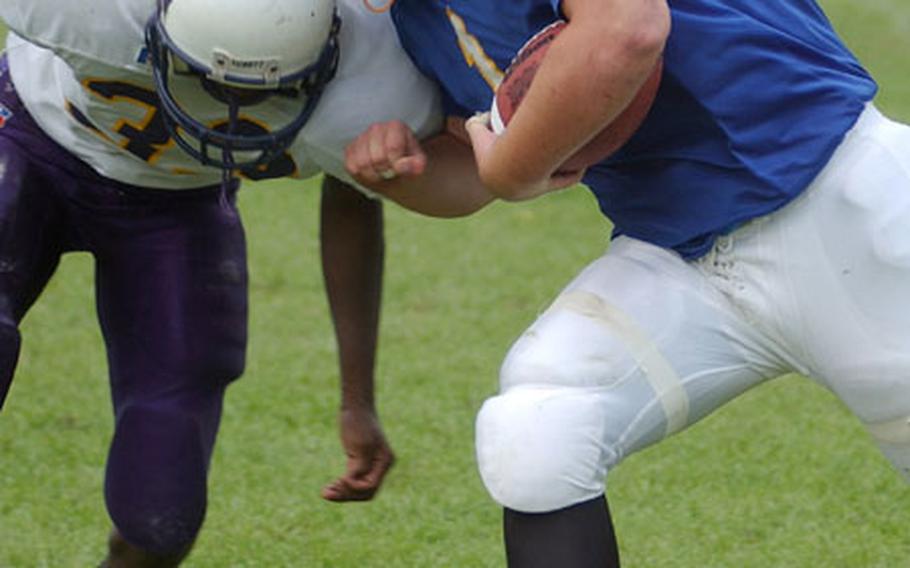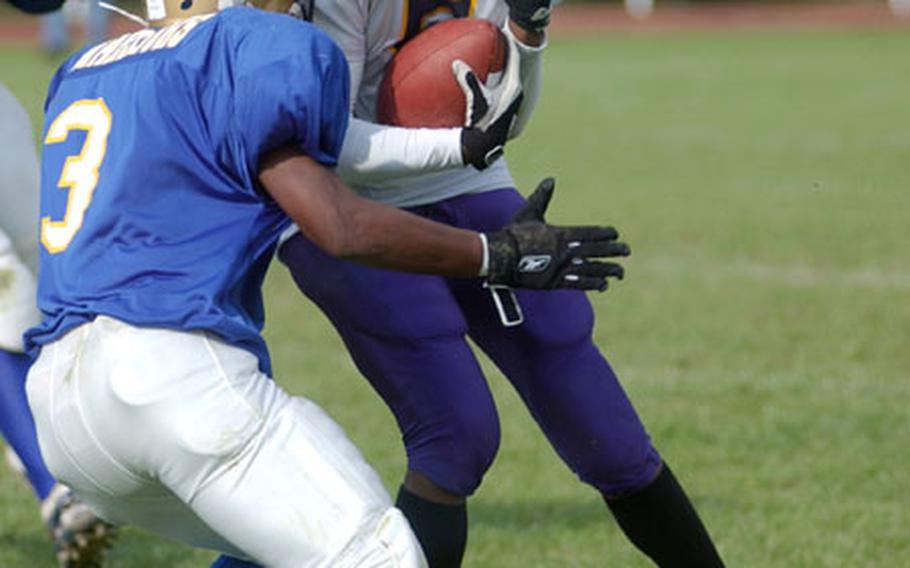 HEIDELBERG, Germany — The Heidelberg Lions used a powerful ground game, most of it on Chris Roberts' 34 carries for 253 yards, to claim a 36-12 Division I high school football victory Saturday over the Kaisersalutern Red Raiders.
Roberts scored four touchdowns as the Lions (3-1) put together drives of 70, 80, 49, 63 and 71 yards to remain tied with Lakenheath and Wiesbaden atop Division I with a 2-1 league record.
Quarterback T.J. Price, who carried eight times for 58 yards and completed two of five passes for 22 yards, scored the other Heidelberg touchdown on a 4-yard run.
The Lions rushed 54 times for 361 yards.
K-town (1-3), which fell to 1-2 in the conference, scored two first-half touchdowns which cut Heidelberg's halftime edge to 22-12, but the Red Raiders could do little in the second half against a Heidelberg defense which held them to 140 yards rushing and 86 passing.
Corey Payton led the K-town ground game with 96 yards on 18 carries, and quarterback Danny Morris threw a 26-yard touchdown pass to Julian Smalls.
Heidelberg closes out the regular season with road games at Würzburg and Ramstein.
Wiesbaden 27, Würzburg 0
WIESBADEN, Germany — Running back Edmund Woods carried 30 times for 210 yards and two touchdowns as the Warriors shut out the Wolves.
Woods scored on runs of 1 and 56 yards, Daniel Villareal added a 12-yard scoring run, and quarterback Steven Jewell hit Paul Fry with an 18-yard scoring pass for Wiesbaden (3-1; 2-2 Div. I).
Mike Barber made nine tackles and the Wiesbaden defense held Würzburg to 160 yards of offense and dropped the three-time defending European Division I champion to 1-3 overall and 1-2 in the division.
Barber also had a sack and a fumble recovery. Mike Floyd had seven tackles for Wiesbaden, which got five tackles and an interception from Jerry Kelly.
Wiesbaden plays at Lakenheath Saturday and closes out the regular season at K-town.
Lakenheath 7, Ramstein 0
RAMSTEIN, Germany — Quarterback Justin King ran for a 25-yard touchdown midway through the first quarter, and the Lancers' defense made it stand up.
Nick Dybdahl made 14 tackles and McKay McLaren eight for Lakenheath (2-2; 2-1 in Div. I).
Ramstein (2-2; 1-2) held Lakenheath to 120 yards rushing, 62 by Isaac Kittle.
The Royals rushed for just 162 yards behind freshman QB Kyle Blair, who came in when starter Matt Irwin went down with an injury in the first quarter.
---
---
---