Football AOY
Ricafrente's drive, talent led Perry to title
---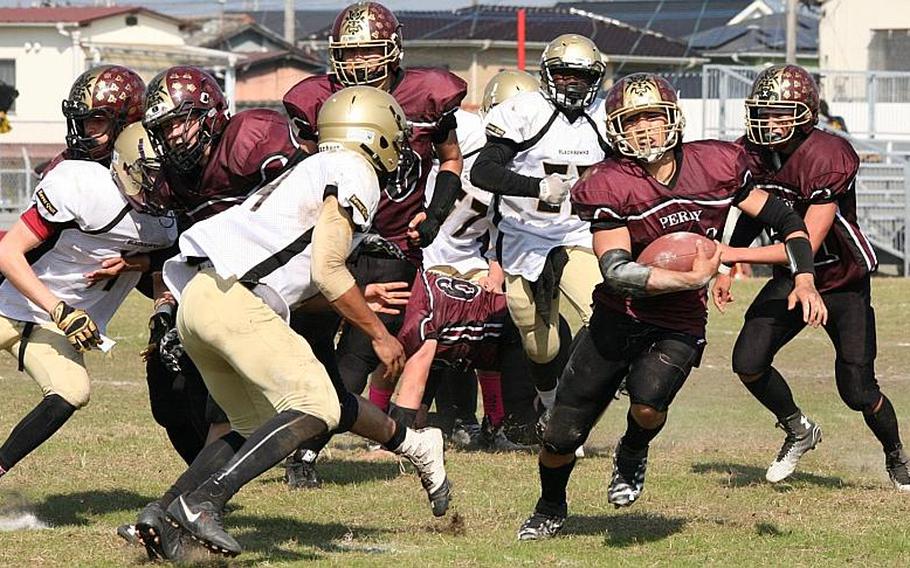 From the moment of Matthew C. Perry's first football practice on a searing August day, a fire burned brightly in Caeleb Ricafrente's belly.
The senior running back was on a mission: Get his Samurai back to the Far East Division II title game. He had missed the last part of his first season with a broken foot. He missed Perry's trip to the D-II final two years ago with a fractured elbow. He missed Perry's visit to Daegu last season while at a JROTC activity.
Ricafrente would not be denied this time.
"It really bothered him," coach Frank Macias said. "He knew going into this year we had the pieces like, wow, we could really have a good season. If all the pieces came together the way I thought they would, I knew we had a chance."
Call it mission complete. The Samurai went 7-1 this season and led the Pacific in scoring offense (40.5 points per game), Ricafrente led the ground-pounding Samurai in rushing (875 yards, 118 carries) and the Pacific in total touchdowns with 27.
Perry won the D-II final in front of a joyous home crowd on Nov. 5, 44-6 over Humphreys, with Ricafrente scoring three times.
For all that, Ricafrente has been named Stars and Stripes' Pacific high school football Athlete of the Year.
"Amazing. Senior year, going out with a bang," Ricafrente said. "The pinnacle of my high school career. Four years. It was a great feeling. This season was the time to show what M.C. Perry football is about."
At season's outset, it didn't seem as if it was possible; Perry only had 14 players at its first practice on that sultry Aug. 8 and had to push back its scheduled season opener at Nile C. Kinnick by three weeks, to Sept. 24; it turned out to be Perry's lone defeat, 48-18.
But it was that game, Macias and Ricafrente said, that showed the Samurai had the timber for a deep D-II title run – the team's last drive, which didn't result in points but showed the team's heart.
"We came up to play the D-I school, and we played our hearts out," Ricafrente. "Hard-nosed football."
"There was a fire in their eyes," Macias said. "Despite everything, they weren't going to quit."
From then on, the Samurai did not punt and threw just one pass, a two-point conversion try, in a 38-7 win at Zama. Perry ran the ball 337 times to just 11 pass attempts the entire season.
Through it all, Ricafrente was the team's inspirational leader, Macias said. As much as he stars on the field, he's a scholar in the classroom, taking three Advanced Placement courses – something he's done every year of high school – and is currently ranked No. 1 in his class.
Ricafrente unfailingly credits his line for his success. "We don't have the biggest line, but they know their assignments, they rely on me and I rely on them to score," he said.
"We have this jewel and we use an offense that suits him," Macias said of the Samurai's double-wing attack installed in Week 3 of the 2015 season. "That's where Caeleb thrives. You don't find running backs like that often."
Twitter: @ornauer_stripes
---
---
---
---