Returning Far East wrestling champs are upping the ante in 2005
---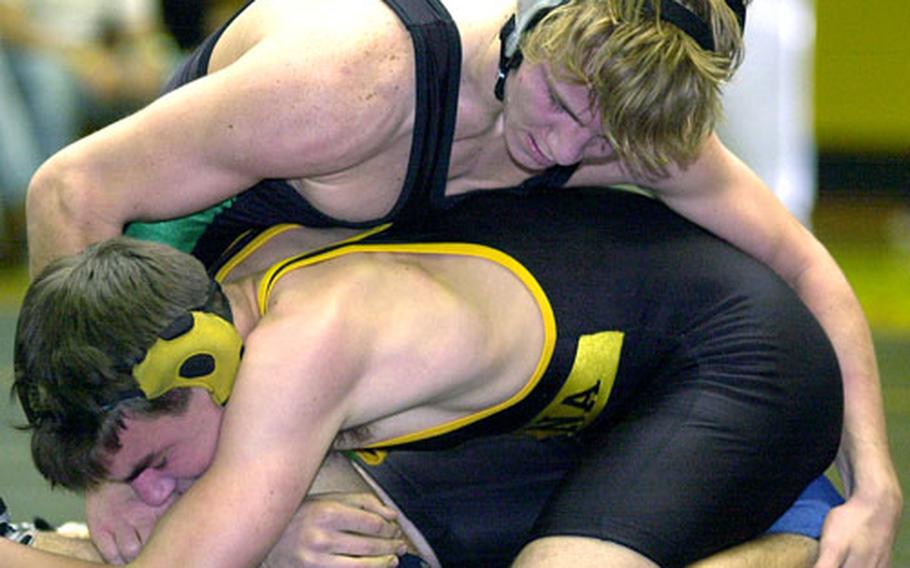 Not often do two defending Far East wrestling champions return to compete in the tournament at the same weight, but that's the case — in two classes — this week at Yokota Air Base, Japan, in what some coaches call a "wide-open" Far East High School Wrestling Tournament.
"It should be really exciting," said Brian Kitts, tournament director and coach of the host Yokota Panthers. "Three action-packed, fun-filled days."
Thursday and Friday, wrestlers from 12 Department of Defense Dependents Schools-Pacific and one Domestic Defense Elementary and Secondary School from Guam will battle Thursday in the individual freestyle tournament. On Saturday the Far East dual-meet team champion will be crowned.
Highlighting those first two days will be the 168 and 215-pound classes, where four of the five returning champions will be competing.
Joey Wood of Nile C. Kinnick, last year's 158-pound champion, could be in line to try to knock the 2004 168-pound champion, Devon Copeland, off his gold-medal podium.Scott Tunis, who won the 180-pound gold and led Seoul American to its first Far East title of any kind since the tournament's inception in 1976, could end up battling defending heavyweight champion David Burnett of Zama American in the 215-pound class."That's going to be a great final," Kitts said of the potential final bout at 168 pounds.
Wood and Copeland didn't get to face each other in the major preparatory invitational, the Nile C. Kinnick "Beast of the Far East" at Yokosuka Naval Base. Both lost to Ryland Geiger of Brent International Manilla.
Tunis and Burnett did square off; Tunis captured gold and Outstanding Wrestler honors.
"There should be a difference" this time, said Zama coach Ian Harlow. "They've wrestled each other and they know each other's styles."
Wood, Copeland, Burnett and Tunis are outstanding wrestlers and are seniors, with a lot of pride on the line, Harlow said.
"Anything can happen."
Another weight class looming as important is 148, where transfer Steve Courtney of Kubasaki and Josh Dowers of Seoul American could battle for top honors.
Any of those classes "could decide who wins the team title," said Kinnick coach Robby Rhinehart.
For the first time, Matthew C. Perry of Japan will bring one grappler to Yokota: Adam Krievs, who wrestled most of the season for Kinnick, having transferred there in the fall when Perry's football team folded. Krievs moved back to Perry this month. "He's one of those wild cards" who can grab valuable team points from a favored squad, Kitts said.
All will be crucial in both individual freestyle and dual-meet tournaments, coaches said, in what may be a race to the finish, in part due to international schools' absence. DODDS-Pacific's Far East Activities Council, citing billeting and facilities concerns, ruled in September that Far East wrestling, tennis and cross country meets now will exclude international schools.
That means St. Mary's International, which won all four of its in-season tournaments and swept its five Kanto dual meets this season, will not attend — which throws the chase for team honors "wide open," Rhinehart said.
"I'm going to miss not having the international schools," Kitts said. "But without them, now you don't know what's going to happen."
Kitts cited Seoul American, Yokota, Kinnick and Okinawa's Kadena Panthers as "being in the hunt. If St. Mary's was here, there would be no doubt about it. They'd be a lock to win both team titles. But now, you have four legitimate title threats."
"The top four I see being within 10 points of each other," Rhinehart said.
In the individual freestyle tournament, points are awarded to the top six finishers on a 12-8-5-3-2-1 points basis. Making a difference in this tournament, Rhinehart said, are the teams that can earn placements in every weight.
"Those schools with wrestlers not in the finals, they can step up and win a few thirds, fourths, even fifths and sixths. That's where some tournaments are won," he said.
Expect a fight to the finish, Kitts said: "I can't wait for it to start. It's going to be a blast."
2005 Far East Wrestling Tournament
When: Feb. 17-19.
Where: Yokota High School, Yokota Air Base, Japan.
Format: Individual freestyle tournament, first two days. Wrestlers drawn into two or three pools per weight class on first day, designed to seed wrestlers in double-elimination with consolation bracket on second day. Dual-meet tournament on third day, single-elimination with consolation.
Schedule of events: Opening ceremony, 8:30 a.m. Thursday, Capps Gym, Yokota High School. Pool wrestling begins immediately after opening ceremony. Double-elimination bracket wrestling, 9 a.m. Friday, Capps Gym. Individual freestyle tournament closing ceremony immediately after final bouts Friday afternoon or evening. Dual-meet tournament, 9:30 a.m. Saturday, Capps Gym and Yokota Middle School. Closing ceremony immediately after championship meet Saturday afternoon or evening.
Participants: Seoul American Falcons, Yongsan Garrison; Osan American Cougars, Osan Air Base; Taegu American Warriors, Camp George, South Korea. Guam High Panthers, Nimitz Hill, Guam. Robert D. Edgren Eagles, Misawa Air Base; E.J. King Cobras, Sasebo Naval Base; Nile C. Kinnick Red Devils, Yokosuka Naval Base; Zama American Trojans, Camp Zama; Yokota Panthers, Yokota Air Base; Matthrew C. Perry Samurai, Iwakuni Marine Corps Air Station, Japan. Kubasaki Dragons, Camp Foster; Kadena Panthers, Kadena Air Base, Okinawa.
2004 champions: St. Mary's International, Tokyo (individual freestyle); Seoul American (dual meet).
Returning champions: Brenden Stanford, Kadena, 135 pounds (101-pound champion in 2002); Joey Wood, Kinnick, 168 pounds (158-pound champion in 2004); Devon Copeland, Kadena, 168 pounds (168-pound champion in 2004); Scott Tunis, Seoul American, 215 pounds (180-pound champion in 2004); David Burnett, Zama American, 215 pounds (heavyweight champion in 2004).
---
---
---
---