Reserve units in Philadelphia, New England show true colors in build-up to Super Bowl
---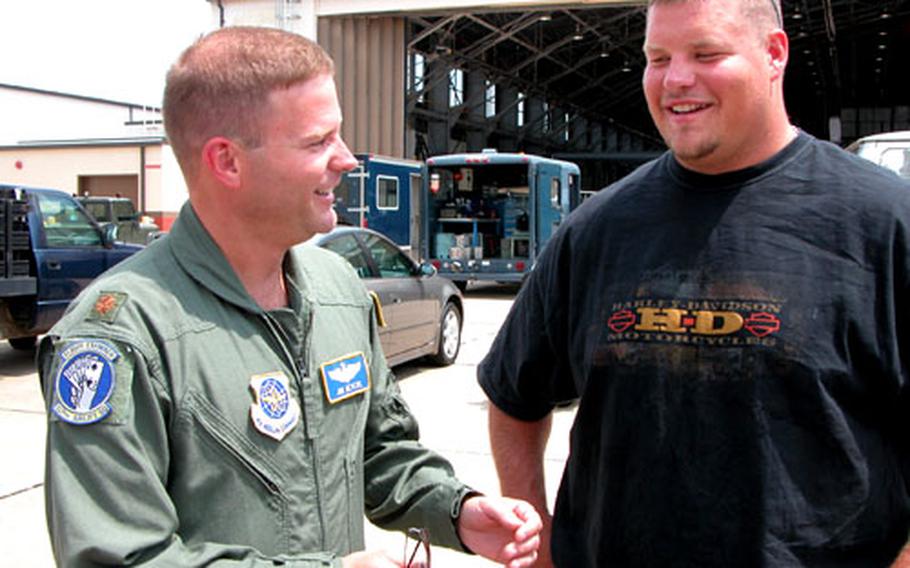 WASHINGTON — Members of the Air Force Reserve's 913th Airlift Wing have sworn to defend all of America, but this weekend they are rooting against those New England states.
One look at the suburban Philadelphia unit's C-130E aircraft shows why: Emblazoned on each plane just beneath Old Glory sits the Philadelphia Eagles logo, showing that Eagles' green is second in their hearts only to the red, white and blue.
Of course, some true patriots from Westover Air Reserve Base near Springfield, Mass., would never support that color scheme. The planes of the 439th Airlift Wing there have only red, white and blue additions on them, both in the flag and in their beloved New England Patriots logo.
While the two units share a common bond, there was no agreement on how a successful mission in the Super Bowl would end.
Several members of Willow Grove Air Reserve Station's 913th watched regular-season Eagles victories during early morning support shifts in Kuwait, while about 15 of the Westover wing's 42nd Aerial Port Squadron who deployed to Afghanistan last week are rooting for a second straight world championship from the other side of the globe.
"The thing I'll really miss is watching the game at home, because I'd usually be the one having a big party," Staff Sgt. Dan Reeve, a Massachusetts native and lifelong Patriots fan, said Thursday. "But they promised us we would be able to watch the game on our Monday morning shifts.
"I've brought a big Patriots flag, and we'll make do and cheer them on from here."
Reeve said his unit shipped out just hours after the Patriots AFC championship game win over the Steelers, so he didn't have time to call and ridicule his Pittsburgh friends before leaving the country.
But he and the other members of the 42nd do have fellow reservist Tech. Sgt. Kathy Busch, a loyal Steelers fan, to ridicule.
"They have been riding me since the day we got here," Busch said, laughing. "I'm a die-hard Steelers fan, but I do love the Patriots, too, so I'll be rooting for them.
"But even if I do, they'll still give me grief."
Master Sgts. William Benedetti and George Ruminer of the 913th said they put up with a fair amount of ridicule, too. When they deployed to Kuwait, it was with other reservists and active duty units from all over the country.
"There were plenty of people who hated the Eagles as much as we loved them," Benedetti said. "But when we got together to watch a game, we had some guys who could give an E-A-G-L-E-S cheer that just about cleared the room."
Both men primarily worked early morning shifts; Benedetti said he usually caught the first quarter of the Sunday contest before he left for work, and Ruminer said he usually finished up in time for the second half.
"I used to be a Giants fan before I started with (the 913th)," Ruminer said. "But I showed up to one training day with a New York shirt on, and they worked on me all day. Eventually, they converted me into an Eagles fan."
This year, Super Bowl Sunday is a training day for the 913th, and officers have already promised to let everyone go well before kickoff. Both Benedetti and Ruminer said they'll enjoy a game with their families, something they couldn't do during the regular season.
The deployed members of the 42nd Aerial Squadron won't see their families again for four months, but another New England win will help ease some of that homesick feeling.
---
---
---
---