Red Devils rush for 492 yards in 47-6 JFL rout of Eagles
---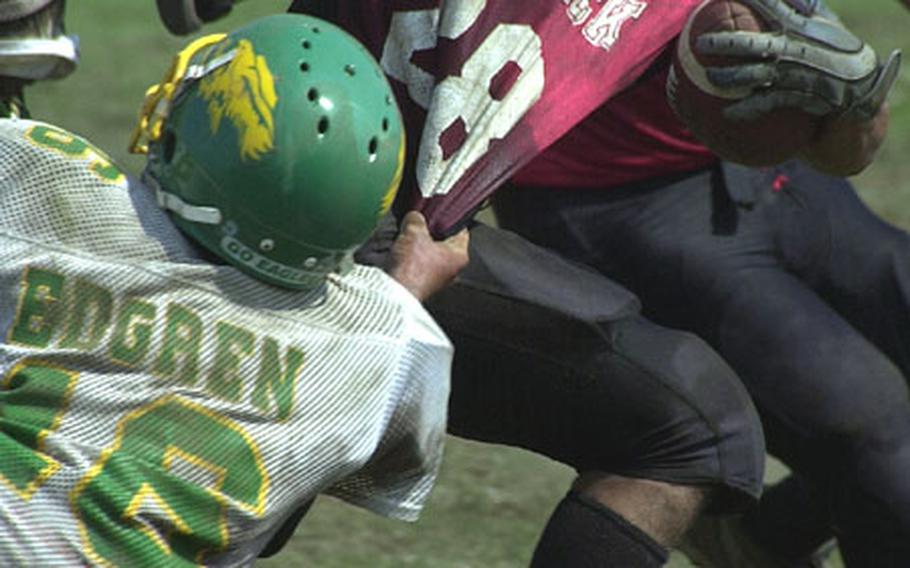 YOKOSUKA NAVAL BASE, Japan — Nile C. Kinnick's running game shredded Robert D. Edgren's young defense for 492 yards and seven touchdowns Saturday in a 47-6 Japan Football League season-opening romp.
Senior tailback Richie Korth did much of the damage, carrying 20 times for 213 yards, including touchdown runs of 12 and 22 yards. Junior quarterback Leonard Lynce and sophomore tailback Jarvis Williams added a pair of scores each and senior fullback Brenden Lynce one.
"Execution and team speed," said Kinnick offensive coordinator Jimmy Davis, a former Red Devil.
"We ran hard, and we opened up some holes," added 10th-year head coach Robert Stovall.
The nearly 500 yards were the most gained by Kinnick since the Red Devils' 9-0 championship season in 1996.
Though the yards came against an Eagles team rebuilding under Jim Burgeson, its fifth coach in five seasons, the Red Devils feel they can be just as successful against four-time defending JFL champion Yokota and longtime rival Zama American, which also figures to be in the title mix this fall.
"We're going to focus on what we're doing, do it right and improve on some problems we see," said Stovall, whose team entertains Zama on Friday.
"If we clean up some of our mistakes, we can compete with anybody in the league," defensive coordinator Matt Martinez said. "They want to win. They believe that they can."
Kinnick left little doubt about its ability to run.
Brenden Lynce, who came to Kinnick from Virginia last December with his brother, Leonard, had 91 yards on 10 carries. Leonard Lynce's two TDs came on bootleg runs of 29 and 17 yards; he finished with 45 yards on five attempts.
Williams, Korth's backup, rushed for 97 yards on 10 carries. He scored on runs of 25 and 6 yards.
Even third-string tailback Mervin Ibanez, playing Kinnick's final series, gained 46 yards on two carries, including a 37-yard burst.
Leonard Lynce recovered a fumble and Richard Graham recorded Kinnick's only sack.
Bright spots for Edgren, 1-8 since finishing the 2001 season at 5-2, were quarterback Bryan Krueger, who sneaked for a fourth-quarter TD and gained 41 yards on eight carries; and Kyle Deutsh, with a team-high 54 yards on six tries. Dustin West recovered a last-second fumble.
---
---
---
---