Records go swirling down the drain at European Forces swim championships
---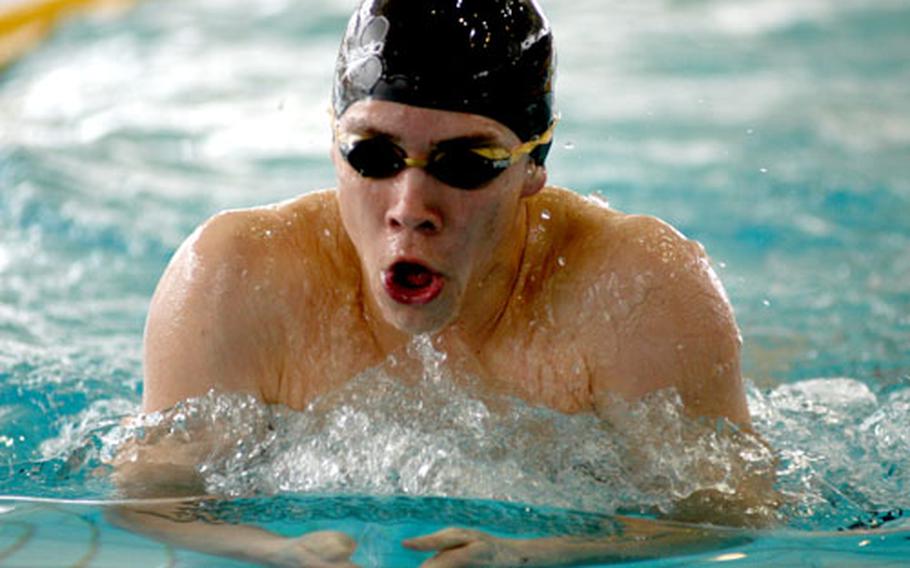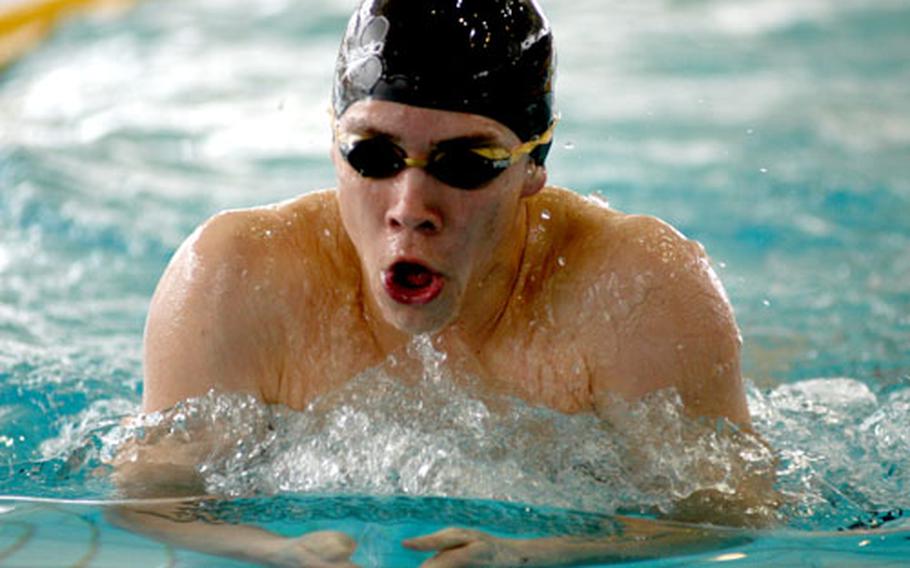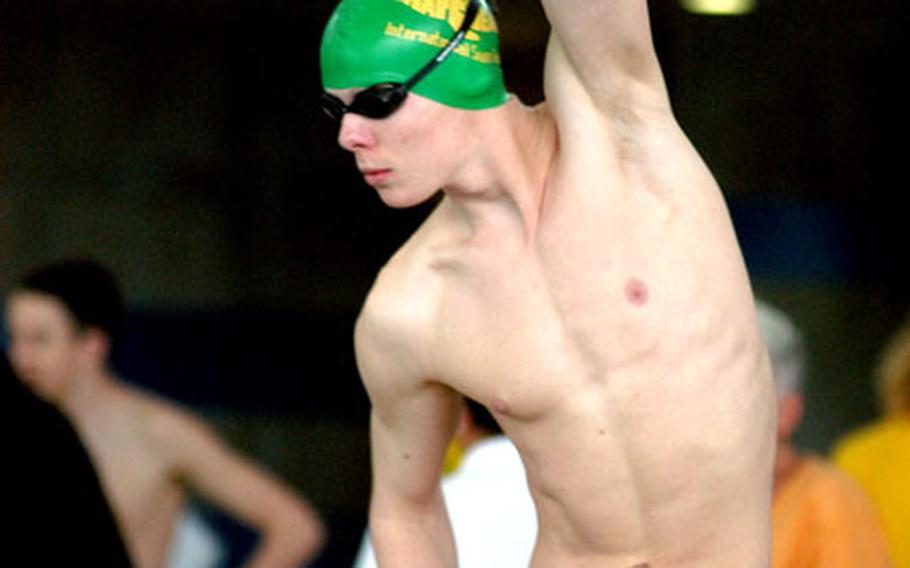 MUNICH, Germany — The top swimmers at the European Forces Swim League championship broke 15 league records during the two-day event that ended Sunday.
The finale, which had 562 swimmers, included four new middle-distance events this year to let competitors branch out in what had become "a sprinter's league," said meet director Tom Lang.
Swimmers didn't discriminate between short and long races when it came to breaking league records, where multiple-threat racers dominated several age groups.
One of those pace setters was Lakenheath 15-year-old Konrad Korth, who desperately wanted to complete the 100-meter butterfly in less than a minute.
"My dad made a bet with me," Korth said. "If I get a 59, I get a car."
Though Korth's time of 1 minute, 4.59 seconds was a record-setter, his father had played it safe in the wager. Still, it was Korth's fourth gold-medal performance at the meet. The others came in the 100-meter freestyle, the 200-meter individual medley, where he set a record with a time of 2:23.81, and the 400-meter freestyle, where he smashed his own mark by 4 seconds with a time of 4:21.99.
Korth's younger brother, 9-year-old Kilian Korth, won two individual golds and a silver on Sunday.
Also adding a little extra competition to their races were Brussels Octopus swimmer Felix Carritt-Kurzahn, 14, and his friendly rival Christian Northe, 14, from the Berlin Bear-A-Cudas.
The pair agreed to stay even for the first half of the 200 individual medley then open the throttle.
Northe, who on Saturday set an EFSL short-course record in the 13-14 boys 400-meter freestyle, edged his friend by a little more than two seconds with a record-breaking time of 2:27.74. But Carritt-Kurzahn got him back later in the 200 freestyle, where he won in 2:10.11, about three seconds ahead of Northe.
For many at the meet, however, it was enough to swim against their own best times and personal goals.
For 12-year-old Sandra Wood from the Würzburg Waves, a dominating swimmer seeded first in five individual events at the championship, the big goal for the day was to set the record in the girls 50 freestyle.
Wood touched the wall just five one-hundredths of a second over the mark.
Also making a sweep of her events Sunday was 16-year-old Frankie Houck from the Wiesbaden Wahoos, who took first place in the 200-meter individual medley, the 100 butterfly and the 50 freestyle, where she became the league's new record holder with a time of 28.54.
Continuing the trend of multiple-threat girls at the championship meet was 14-year-old Haley Horkey from the Berlin Bear-a-cudas, who won the 100-meter freestyle and set records in the 200 freestyle (2:27.73) and the 50 freestyle (30.84).
---
---
---
---