Ready to make a big leap
by
Rusty Bryan
May 13, 2010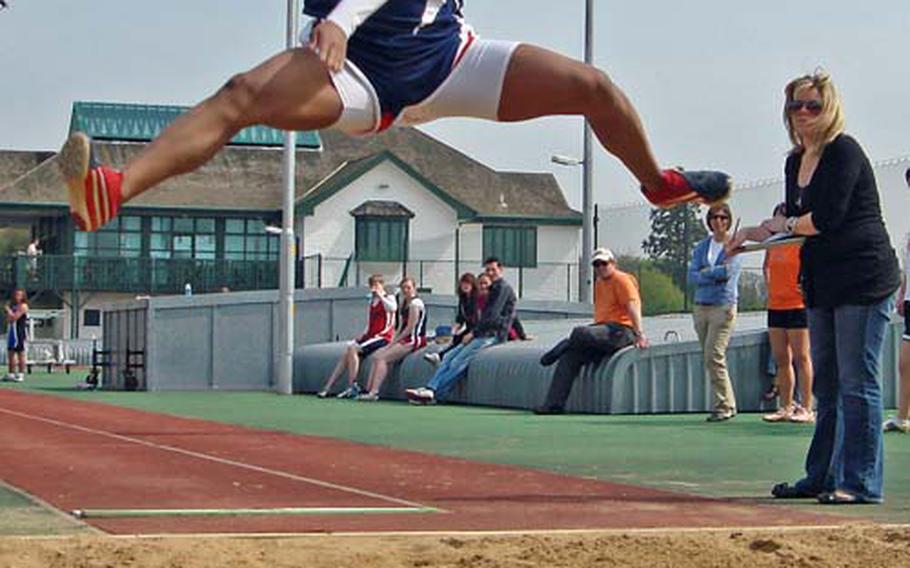 For Lakenheath sprinter-jumper Jasmin Walker, the task at hand is adjusting to climate change.
"The cold weather affects me," Walker said of transferring from the warmth of Georgia to chilly England in February. "I could not jump as well."
Perhaps not as well as her personal best of 19 feet, 7 inches, recorded last year in an AAU meet in Georgia, but very well indeed by DODDS-Europe standards.
On April 24, in Lakenheath's second meet of the season, Walker, a 17-year-old junior, cleared 17-7 in the long jump, a distance that stands as the best this season — by 11 inches. That personal best of hers, some two feet farther through the warm Georgia air, was well past the DODDS-Europe record of 19-2 ½ set by Nena Gage of Karlsruhe in 1984.
"That's my goal," Walker said by telephone Tuesday of the long-jump mark.
Walker's no stranger to such as distance. She broke her school record in Georgia — 19 feet — before going seven inches farther in the AAUs.
"I had the crowd cheering me on," Walker said of that AAU jump. "It was a meet record."
The long jump's not the only event that bears Walker's marks over here. She's already posted the season's best triple jump — 36-3 ½ on May 1 at Brussels — and the season's best 100 meters — a hand-timed 12.32 seconds adjusted to its fully automatic equivalent 12.56 on April 3 at Wiesbaden in her first meet in a Lakenheath uniform.
"The first time she came out she ran a 12.5," said Lakenheath coach Brion Davis. "She has run a 12.2."
Neither mark is all that close to the DODDS-Europe records of 38-6 in the triple, cleared in 1980 by Pat Boston of Mannheim and in 2006 by Lynndsey Hyter of Kaiserslautern, and 11.80 in the 100, clocked by Brenda Givens of Frankfurt and Sondra Thomas of Nuremberg, both in 1975.
But don't sell Walker short.
"I just started triple-jumping last year," Walker said about the awkward, technically difficult event that only the most athletic performers can make look graceful. "It's really hard."
Davis thinks Walker is a quick-enough study and a talented-enough athlete to get the hang of it soon.
"She ran the 200 for the first time last week, and was just a second off the qualifying mark (27.30)," Davis said. "She didn't even know the strategy of running the turn."
And Walker's talent level?
"She's pretty awesome," Davis said. "In California, I coached a girl who runs the 400 now at Oregon, an All-American. Jasmin's the closest I've had who fits into that category."
Walker said she plans to also play volleyball and basketball in her senior season here — "I like to compete," she said — but indicated track is her favorite sport by far.
On May 28 and 29, in the European track and field championships, Walker will get her chance to compete, and in the process set her sights on the DODDS-Europe record book by entering the 100, 4x100 relay, long jump and triple jump.
Standing between her and the books, according to Davis, is that climate change.
"Her biggest obstacle is dealing with the weather, getting her warm-ups right," he said.
Walker, however, indicated she's on her way to getting things right just in time for Europeans. "I'm excited," she said, and ready to take a run at breaking some records.