Ramstein women take U.S. Forces Europe hoops title
by
Rusty Bryan
April 2, 2007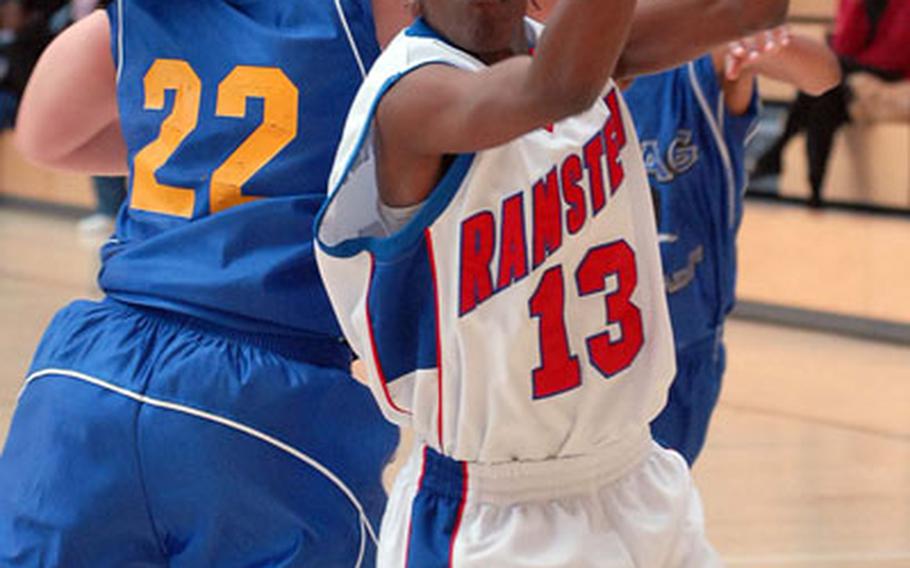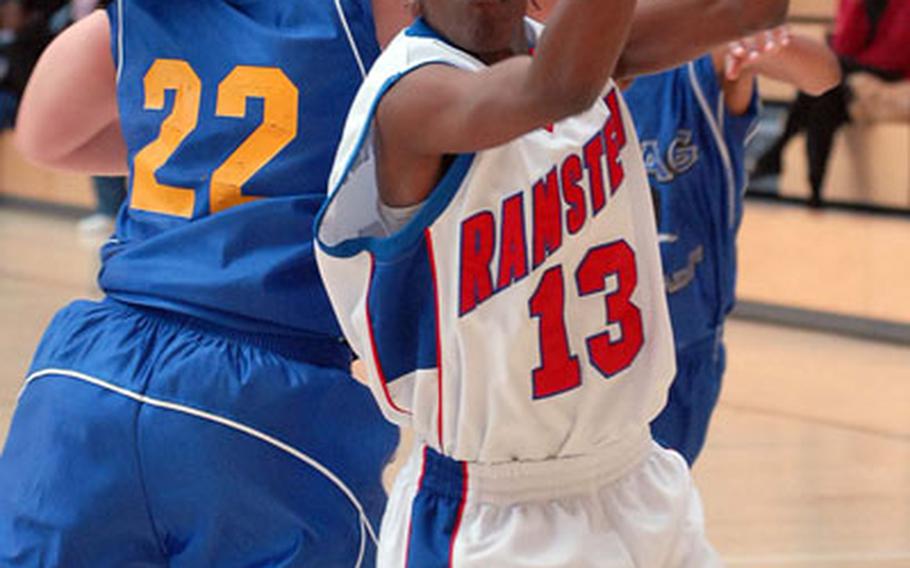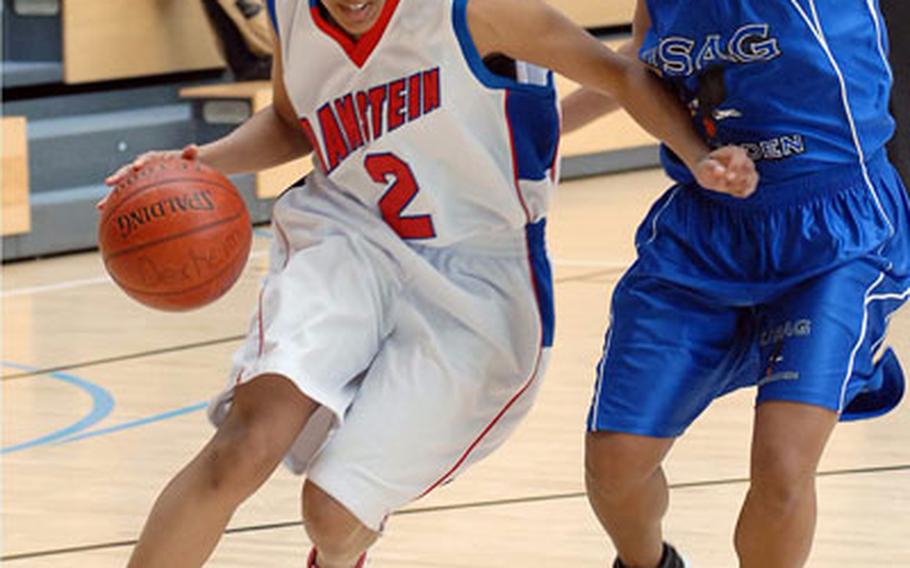 WIESBADEN ARMY AIRFIELD, Germany — The Ramstein Lady Rams put first things first in Sunday's 60-45 triumph over the Wiesbaden Lady Eagles in the championship game of the U.S. Forces Europe basketball tournament.
"We came out as we always do and focused on defense," Ramstein's Ashonte Williams said after the USAFE champion nailed down its first U.S. Forces Europe title. "If we play good defense, the offense takes care of itself."
Ramstein played defense at a higher level than just good, jumping on top of Army-Europe runner-up Wiesbaden 22-8 after 11 minutes. Wiesbaden missed its first 17 field goal attempts on its way to a 14-for-63 afternoon (22 percent). A third of Wiesbaden's scoring came from the foul line.
"I felt we had a comfortable lead all day," Williams said. "It's more relaxing to play that way, but sometimes you can get too comfortable and let things get away. They made a couple of runs at us, but we were able to settle down and keep control."
The runs were never a serious threat. The last time the Lady Eagles got within single digits was when they trailed 14-6 with 11:25 to play in the first period.
Wiesbaden scoring aces Tania Spann and Atesha Potter combined for only two points in the opening 20 minutes, and their teammate Dana Osborne managed just four in the first half. Osborne led Wiesbaden with 12 points, and Potter and Spann each scored 10, but most of those came long after the outcome had been decided.
Williams scored a game-high 18 points and teammate Arleta Ivey added 14. Not even the loss of inside presence Nessa Burnett to a leg injury with 14 minutes left could slow Ramstein.
Ramstein's title-game waltz was the second time the teams had met in this three-day, four-team event which pits the USAFE champion and runner-up against their Army-Europe counterparts. Ramstein downed Wiesbaden 40-32 in Saturday's winners-bracket final.
In the 20-minute games which preceded Sunday's decisive contests, Wiesbaden stopped Heidelberg 36-24 on Saturday and 34-29 in Sunday morning's losers-bracket final.
U.S. Forces Europe championshipsWomen's championshipRamstein 60, Wiesbaden 45 Halftime-Ramstein Lady Rams 29, Wiesbaden Lady Eagles 17Scoring-Wiesbaden: Dana Osborne 12, Atesha Potter 10, Tania Spann 10, Elizabeth Conner 5, Ireka Elmore 4, Jennifer Ramey 2, Crystal Smith 2; Ramstein: Ashonte Williams 18, Arleta Ivey 14, Nessa Burnett 6, Lakeisha Tucker 6, Cheryl Burnley 5, Crystal Lee 5, Anikka LeCuyer 4, Shaunte Johnson 2