Ramstein takes two against D-II Bitburg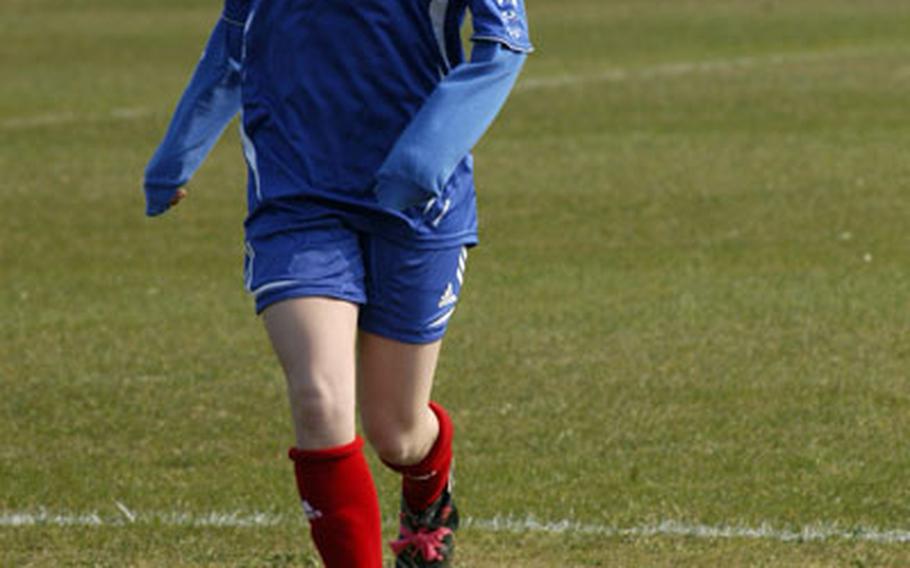 Four-time defending European Big Schools champion Ramstein thumped defending European Division II champion Bitburg 8-1 and 12-2 in a season-opening softball doubleheader for both teams.
Kristan Burns picked up the victory for visiting Ramstein in the opener; Lindsey Jones won the nightcap.
Both pitchers were backed by a stiff Ramstein defense that allowed no unearned runs. By contrast, Ramstein scored four unearned runs in the opener and nine in the second game.
Deb Diaz paced Ramstein in the opener by going 2-for-4 at the plate. Burns went 2-for-3 in the second game; her teammate Kaitlyn Martin was 3-for-3.
Bitburg's Chelsea Boyer homered in the second game.
In other Saturday doubleheaders:
Heidelberg 13-8, Wiesbaden 3-13: At Heidelberg, Heidelberg's Briann Joyner and Wiesbaden's Elisha Nieves traded four-hit victories. Heidelberg's Courtney Buchwald and Courtney Milton each had three hits and three RBIs in the opener; their teammate Mylynn Dumlao went 2-for-3. Nieves and Monique Hall each homered for Wiesbaden in the loss, which counted in the conference race. In the non-conference second game, Katie Foxworth drove in two runs, and Nieves went 2-for-3 for Wiesbaden. The teams are scheduled to play a Wednesday afternoon doubleheader in Darmstadt, with the first of those games counting in the conference standings, according to Heidelberg coach Alan Simoncic.
Kaiserslautern 20-18, Mannheim 5-3: At Kaiserslautern, Amy Trostle homered and pitched a no-hitter as the Division I Lady Raiders completed a sweep of their Division II guests in a three-inning, run-rule victory. Trostle struck out six and walked only one Lady Bison batter. Emily Badstibler and Tina Mamer also homered for Kaiserslautern in the second game. In the opener, also ended after three innings by the 15-run rule, Kat Jastrub allowed four hits in picking up the victory. She struck out three and walked four.
Lakenheath 8-9, Patch 7-4: At Stuttgart, Rebecca Groff picked up both victories as the visiting Lancers marred Patch's Division I softball debut. Groff struck out four in the opener and five in the nightcap on a cold, windy day in outdueling patch All-Europe pitcher Kasy'e Lalau twice. Groff tripled, drove in two runs and stole two bases in the second game. Xena Edison and Lisa McBride also drove in Lakenheath runs in the second game, Edison with a triple and McBride with a double. Lalau struck out eight batters in the opener and four in the second game. She stole five bases in the first game, and hit a home run and two doubles in the nightcap.