Ramstein, Spangdahlem claim hoops titles
by
Rusty Bryan
March 29, 2010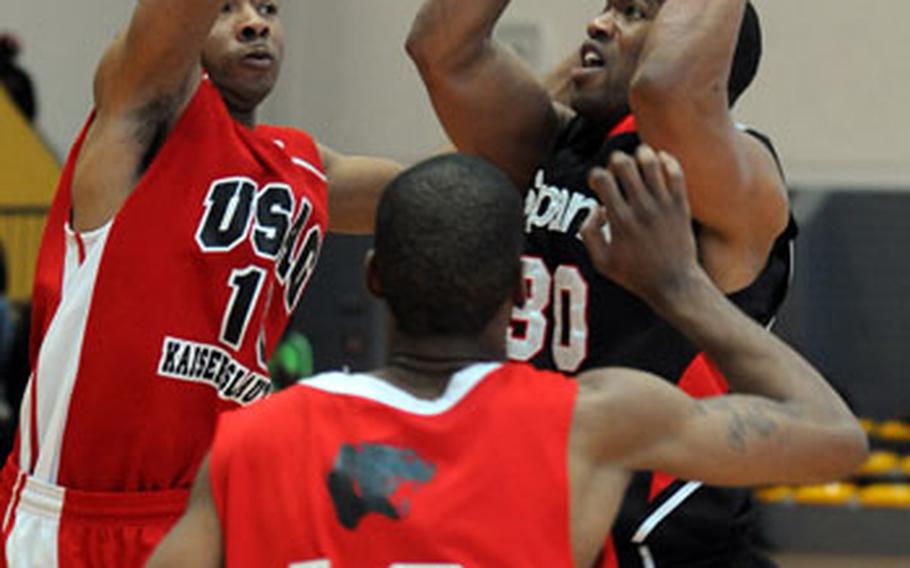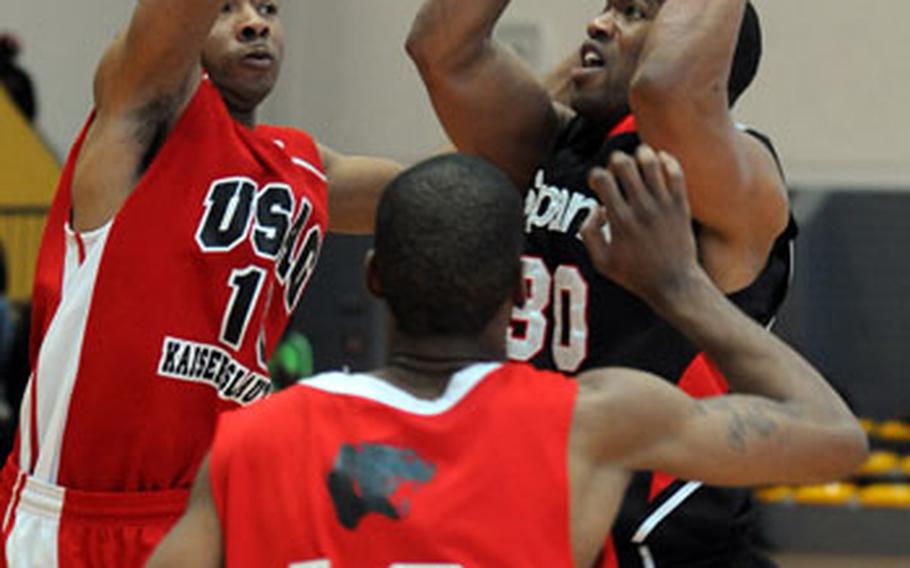 RAMSTEIN AIR BASE, Germany — For the men and women of the U.S. Air Forces in Europe, the ceiling was unlimited on their own floor in Sunday's championship games of the four-day U.S. Forces-Europe basketball tournaments.
Ramstein's women downed Heidelberg 60-55 and Spangdahlem's men rallied for a 61-50 victory over the Kaiserslautern Panthers.
Ramstein women 60, Heidelberg 55: Ramstein which fell behind 17-9 in the game's first 10 minutes by turning the ball over 11 times and scoring just four field goals during the span, got as close as 48-46 with 8:12 to play before righting the ship.
"We went back to the basic fundamentals of basketball," game-high scorer Cynthia Jackson of Ramstein said about her team's decisive 12-2 run over the next 4:22 that put the game away. "Blocking out, focusing on our shots and playing defense."
Jackson scored 24 points and teammate Salonika Owens, appearing in her final game for the Lady Rams, added 14, but Ramstein coach Bobby Seaberry said his team's defensive effort was the key for his young team, formed just a week ago.
"We put a box-and-one on their shooter (Amelia Tillman), and when her shot wouldn't fall, I told our players if we limited them to one shot a possession we'd win the game."
Tillman managed just two points in the first half, both on free throws, but went 5-for-8 from the floor after intermission to tie teammate Neirasha Tucker for team scoring honors with 12 points each. Veteran Tania Spann added 11 points and Takeisha Watkins 10 for the Lady Gener-
als, but it wasn't enough to negate a Ramstein team that grew rapidly in confidence as the game went on.
"We're a young team," said Seaberry, whose team played Thursday and Friday pool-play games short-handed when some of his players were refused release from duty to play. "But we finally came together as a team yesterday. We hit some big shots down the stretch."
None of them was bigger than the veteran Jackson's 5-for-5 effort from the floor during the final 20 minutes. Jackson welcomed the final buzzer.
"I'm 42 years old," she said about playing in this pool-play, all-comers event the services staged for the first time this year. "My bones ache after playing all these games."
Spangdahlem men 61, Kaiserslautern 50: If the women's game was won with sound fundamentals, the men went one better. Spangdahlem went 11-for-18 from the free-throw line over the game's final 10 minutes to erase a 45-36 deficit.
"We missed a whole bunch of free throws earlier in the tournament," said Spangdahlem scoring leader Mike Johnson, who sank five of his six tries in the final 10 minutes and finished with 14 points. "Luckily, we hit them today and yesterday."
"Yesterday" was huge for the Sabers, who after finishing pool play 3-2 found themselves required to defeat Aviano and Grafenwöhr in playoff games before claiming a 77-66 victory over Mannheim in Saturday night's semifinals.
Spangdahlem, which handed Kaiserslautern its lone pool-play defeat, looked headed to defeat Sunday when Kaiserslautern's Lavar Tucker stole the ball twice in succession and turned them into layups. He followed those with a three-pointer, which put the Panthers up 45-36 with less than 12 minutes to go in a game that had been tied six times.
However, the Sabers, who got 12 points from Kevin Trebesh, answered with an 11-1 run, taking the lead for good, 47-46, on a Phillip Rush bucket with 5:15 to go.
"Defense and execution" was the way Johnson summed up his team's play over the final 5:15.
Johnson said he likes the concentrated USFE format used for the first time this year. It replaced the final-four format of past years, in which the top two teams from separate Army and Air Force tournaments came together to decide the USFE crowns.
"It feels great to win the first one ever," he said of the all-comers format. "I love it when everyone comes together and gets to play everyone else."