D-I girls
Ramstein's dominant title run continues
by
Matt Millham
November 2, 2013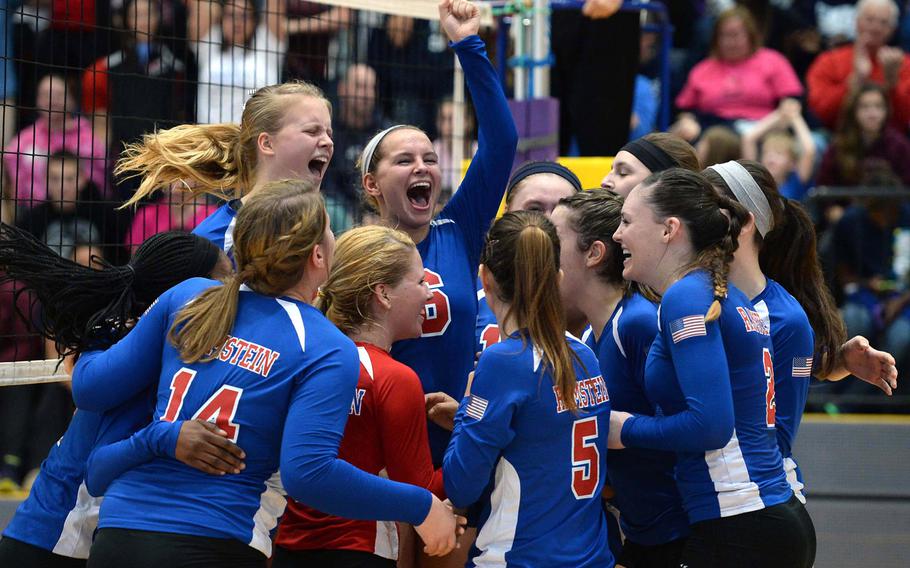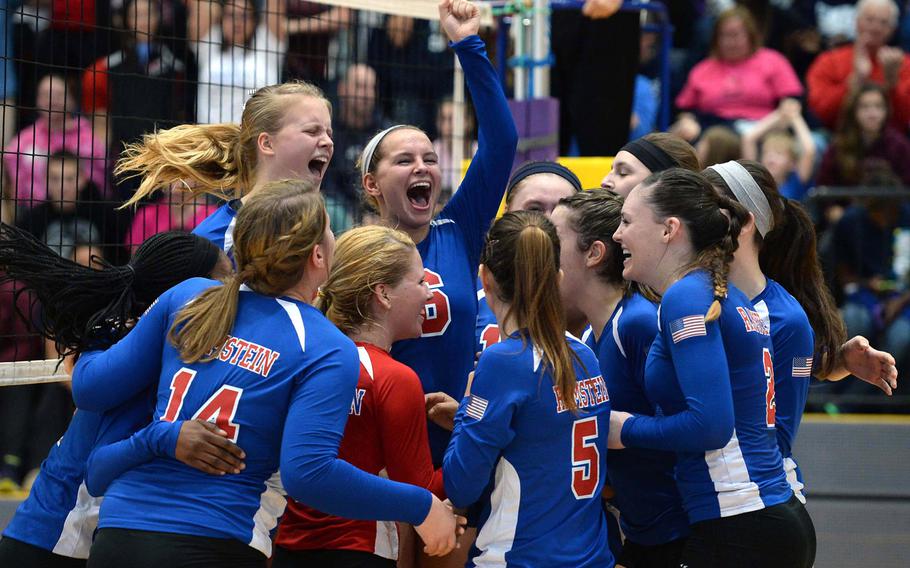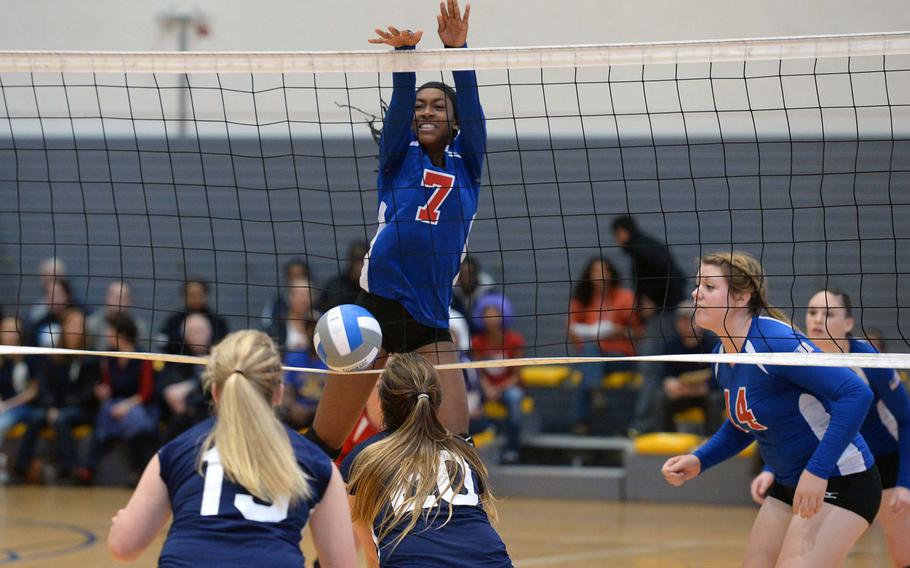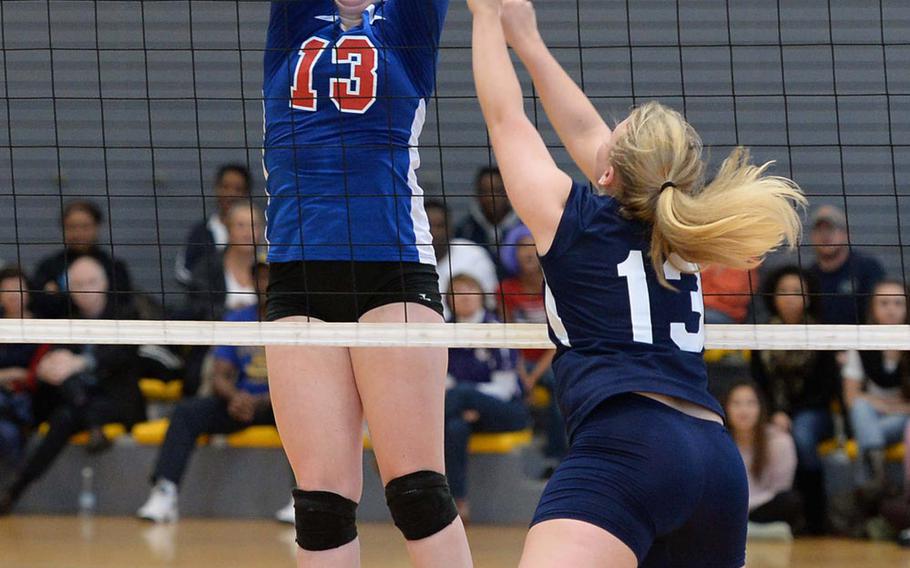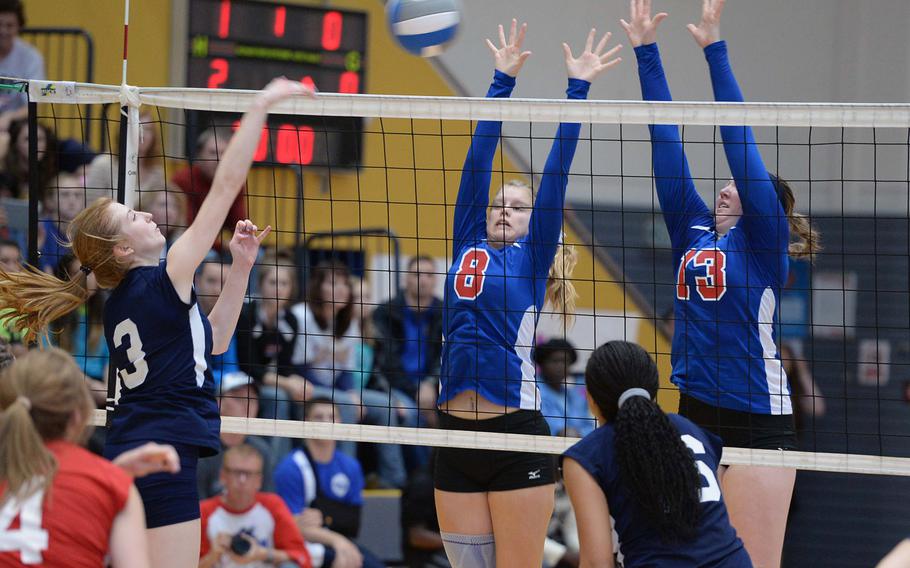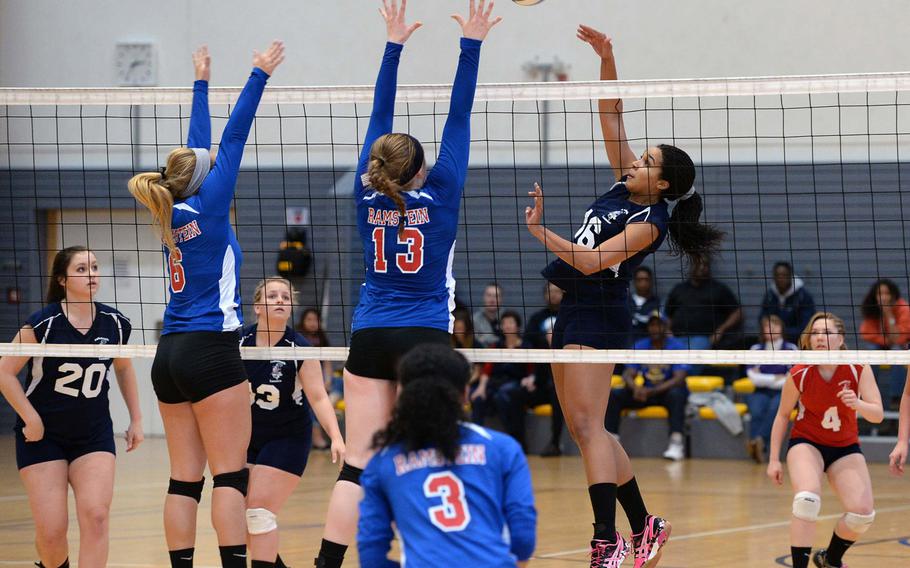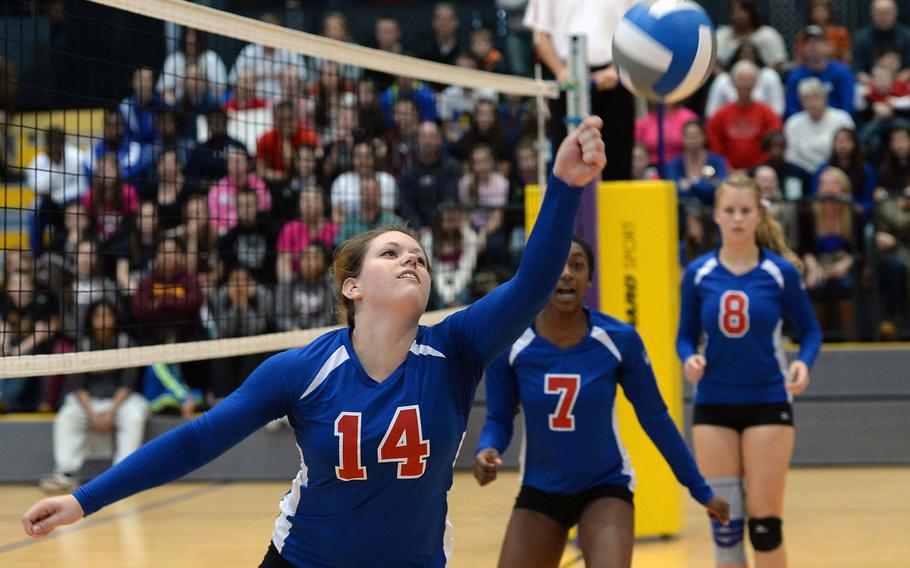 RAMSTEIN AIR BASE, Germany — For the third year in a row – and the eighth time in nine years – Ramstein captured the Division I volleyball championship Saturday, extending its dynasty with a decisive win over Lakenheath.
The Royals dropped the Lancers 25-18, 25-20, 25-19, ending the tournament on a high note after falling to top-seeded Patch a day earlier in three sets.
"We played our hearts out every game," said Ramstein senior Sarah Schiller, Most Valuable Player of the Division I tournament. "We played some really great competition. In the end we played our hearts out and came out on top, so we're really happy about that."
Ramstein beat Lakenheath handily in round-robin play Thursday, handing the scrappy Lancers their only loss of the tournament heading into the championship match.
But the Lancers came into the final looking like they had something to prove, even though they'd already bested their third-ranked seeding just to make it here after beating Patch in two sets Thursday.
The Lancers blasted to an early 6-2 lead over Ramstein before Schiller, the Royal's backbone and assist machine, led her team on a six-point run to put the Royals on top.
Lakenheath came back to tie the game at 15, but after trading a handful of defensive points, Ramstein pulled ahead with massive kills from sophomore Chera Jensen and steady serves from fellow second year Desiree Palacios.
Jensen said the only thing going through her head during the three-set match was just to "kill the ball every time."
"Not much goes through my head, I guess, when I play," she joked.
Jensen had 12 kills through the match and seven blocks to earn a spot on the all-tournament team.
Lakenheath stumbled early in the second set, rotating through four servers without an offensive point. Meanwhile, Ramstein senior Shannon Guffey served four unanswered points that helped put the Royals up 14-7.
Ramstein extended its lead to 23-13 before the Lancers' rallied to reduce the gap to six.
Down 24-18, Lakenheath sophomore Brenna Hughes blasted a serve that Ramstein mishandled, then served up an ace to reduce the gap to four points. Her third effort sailed just out of bounds to give Ramstein the set.
Ramstein shrugged off the near comeback in the next game, tearing off streaks of four and five points off the serves of seniors Maeden Doan and Schiller. Up 11-2, it looked as if Ramstein would waltz to a third straight title as its front line smothered nearly every shot the Lancers tried to blast through.
Then junior Shannon Cox served up a seven-point Lancers' scoring spree that seemed to come out of nowhere, putting Lakenheath on top 18-17.
"I thought that by that point that we would have definitely been able to take them to four" sets, Lakenheath junior Jade Julien said.
But Lakenheath's offense fizzled after the rally, and Ramstein's Schiller wrestled back control of the game, serving up another five-point tear to clinch the match.
"We gave everything we had today, and it showed," Schiller said as her team joined the second- and third-place finishers on the floor of Ramstein's South Side Fitness Center for the awards ceremony. "They're a great team. They nearly beat us when we played them during the season. But then during the tournament play we came out and put everything out on the floor and we crushed them."
Hughes said she was sad over the loss, but "we played a great game and Ramstein deserved it this year. They were the better team this year, and I accept that."
"Hopefully next year we can take first."
"It's definitely amazing to be part of this unit of just awesomeness," Ramstein's Jensen said. "They're so good, and I'm definitely honored to be part of this school and get to play with these girls." Patch defeated Wiesbaden 25-20, 25-20 for third.
Twitter: @mattmillham