Baseball preview
Ramstein, Rota remain heavy favorites
by
Gregory Broome
March 23, 2017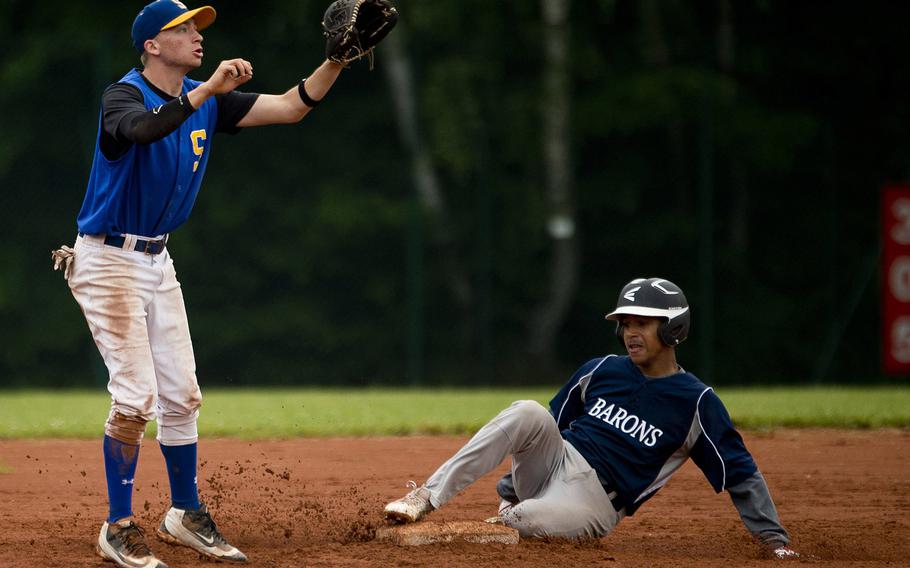 Multi-year reigning champions Ramstein and Rota remain the teams to beat as DODEA-Europe heads into the 2017 baseball season.
A four-team Italian meet featuring Aviano, Vicenza, Sigonella and Naples and Division I battles between Kaiserslautern and Vilseck and Wiesbaden and Stuttgart headline this weekend's opening slate. The schedule then goes largely quiet until after spring break, with action resuming in earnest on April 15.
The European tournament is set for May 25-27 in the Kaiserslautern Military Community.
Division I The Kaiserslautern Raiders are eager for their rematch, particularly because they didn't get a full match in the first place.
Kaiserslautern was denied a proper shot at ending rival Ramstein's dynasty last spring in a disjointed title game marred by frequent weather delays and just barely snuck over the five-inning threshold of a regulation game. Ramstein's 3-0 lead at the time held up as the official final score and extended the Royals' reign to four years.
That was a devastating end to a Raider playoff run that started with two straight losses but picked up quickly with a pool-play win, an unlikely berth in the elimination round and a stunning 12-2 rout of the favored Wiesbaden Warriors in the semifinals.
Kaiserslautern will need more of that kind of resiliency if it is to earn another shot at the Royals, much less supplant them as champions. The Raiders return just six players from last year's runners-up, leaving senior pitcher and all-around standout James Knight and co-captain Devon Gerber to lead a largely inexperienced group that will lean on pitching and defense to keep it in games.
For their part, the Royals don't appear any less formidable than they were last year, or at any other point in their growing title reign. This year's squad features eight returning varsity players, including senior stars Reed Marshall and Kyle Glenn. The loss of ace pitcher and 2016 Stars and Stripes baseball Athlete of the Year Jonny Oswald hurts the Royals on the mound, but Ramstein has generally proven adept at cycling new contributors into its rotation and lineup.
Returning semifinalists Wiesbaden and Stuttgart are lined up alongside Kaiserslautern hoping to end Ramstein's escalating dominance.
Wiesbaden returns most of its key players from a team that rivalled Ramstein all season and appeared headed for a championship date with the Royals before its semifinal flameout. Sophomores Gunner Yingling, Finn Swafford and R Wilton now boast a year of valuable varsity experience for a program that might have been a year away from reaching a championship level of play.
Until recently, Stuttgart was the Royals' equal, and the teams met annually in the title game to settle that season's entry in the rivalry. But the Panthers are now four years removed from their last European title and two years removed from their last appearance in the title game. Ramstein's 15-0 drubbing of Stuttgart in last spring's semifinal bluntly defined the gap the Panthers must clear to reclaim its former glory.
Vilseck, which reached the 2015 title game, is undertaking a rebuild with just one returning varsity starter.
Division I has produced two fresh finalists over the last two seasons to diversify the title picture, and this year's field might produce yet another dark horse. The Naples Wildcats and SHAPE Spartans are two prime candidates.
Naples boasts an experienced roster featuring 11 returning varsity players and led by seniors Dradon Ingle, Carter Lassen and Tommy Menoni. Senior Shamus Phelan leads a quality SHAPE pitching staff.
Division II/III The Bitburg Barons this spring find themselves in the predicament that has faced so many DODEA-Europe championship hopefuls.
The Barons are looking to build on the accomplishments of last year, when they reached the European championship game despite a young and largely inexperienced roster. But they'll be doing so with a largely young and inexperienced roster.
Bitburg's 13-man roster includes nine new players, seven of whom are entirely new to the sport, leaving the Barons susceptible to the kind of rookie miscalculations that cost them in their 5-4, eight-inning loss to Rota in last year's title game. But Bitburg does have a solid foundation. Juniors Max Little, Tyriq Zvijer and Jermaine Cooks lend talent and stability to the squad's pitching rotation and batting order.
The Ansbach Cougars are targeting a similar leap after a third-place finish in 2016. The Cougars return five varsity players, including senior co-captains Yadiel Rodriguez and Hiromi Iglesias. The welcome carryover of much of last year's infield group should make Ansbach a formidable defensive unit from the start.
Still, the Barons, Cougars, 2016 semifinalist AFNORTH and hopefuls such as Hohenfels, Aviano and Sigonella are all chasing the two-time defending champion Rota Admirals, who will take on AFNORTH and Bitburg in what should be an informative set of games April 28-29.
Twitter: @broomestripes