Boys soccer preview
Ramstein, Rome and Brussels ruled regular season
by
Gregory Broome
May 17, 2018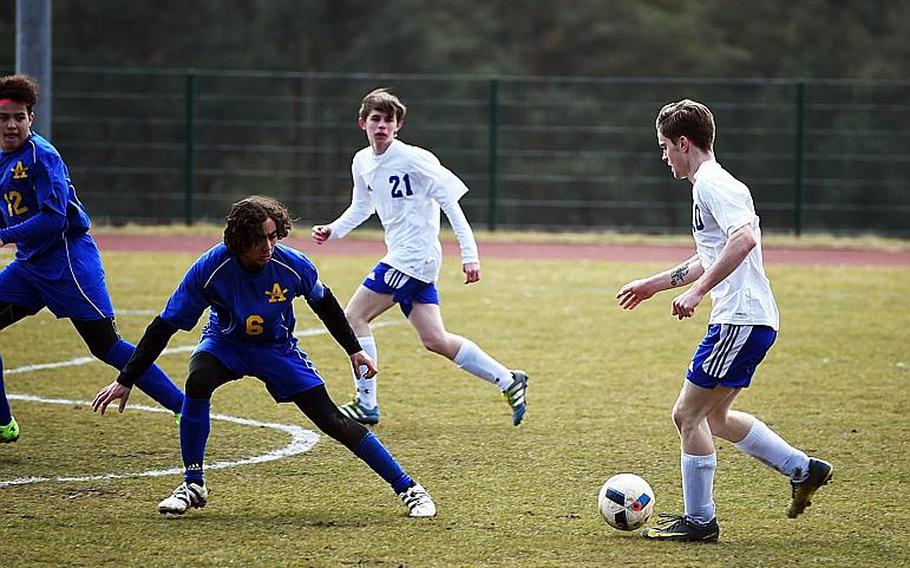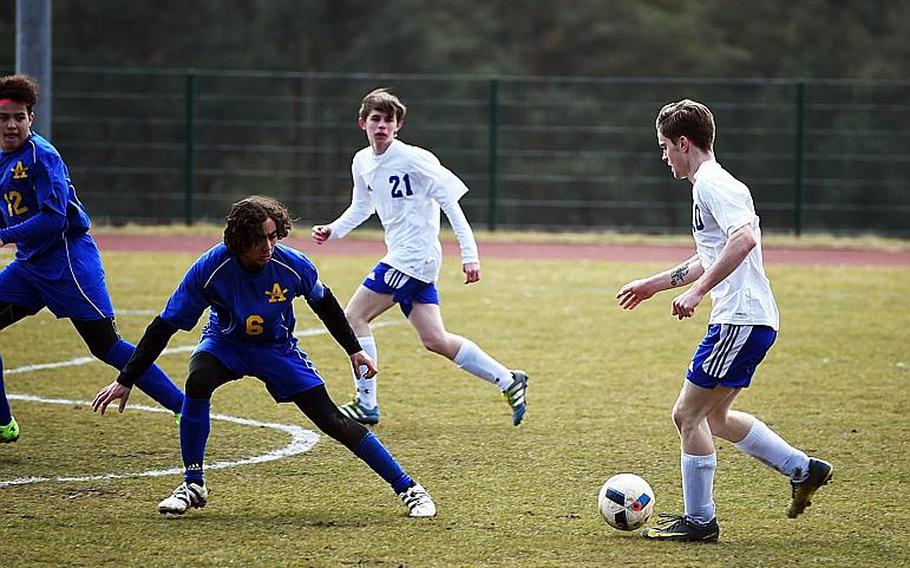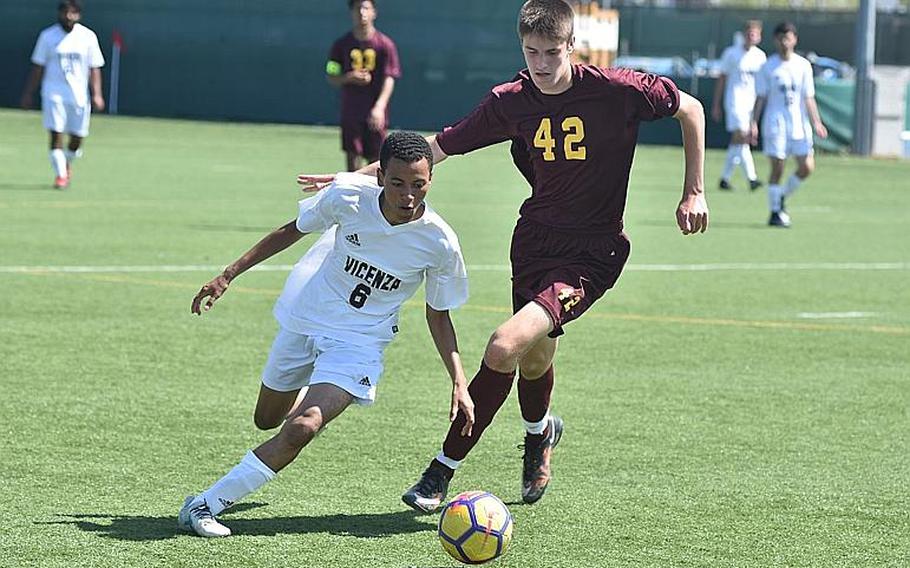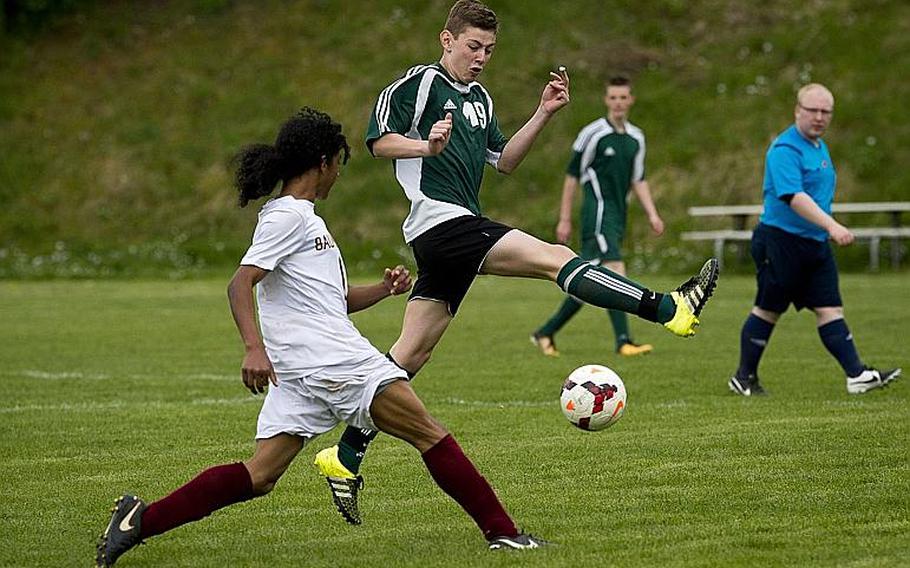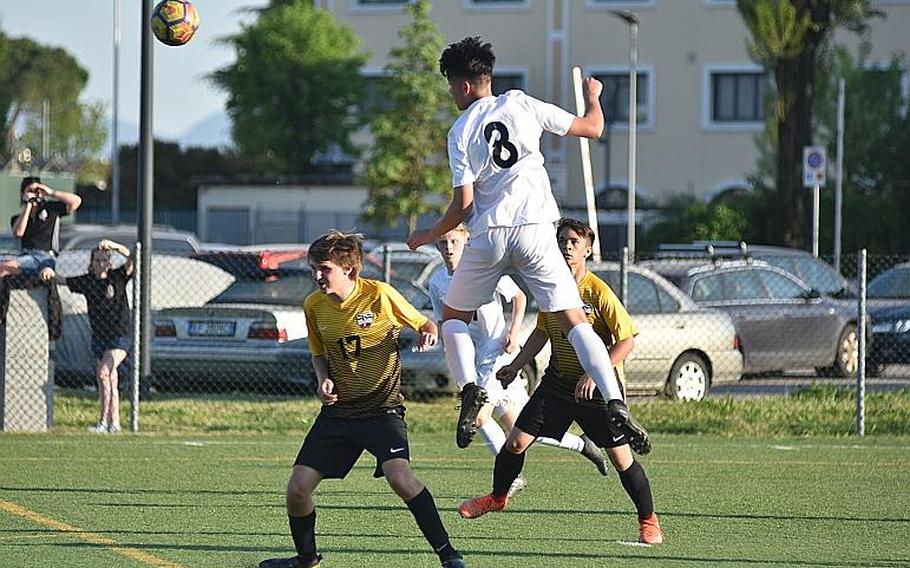 In general, there are two avenues to soccer success - scoring a lot of goals or preventing the other team from scoring.
But the best teams - the ones likely to enjoy the most success at the DODEA-Europe boys soccer championship tournaments, running Monday through Thursday at sites around the Kaiserslautern Military Community - are adept at doing both, combining a dynamic offense with a sturdy defense and giving themselves the best mathematical opportunities to win and advance.
Division I For years, the Ramstein Royals played a style with a low margin for error, focusing efforts on defense and ball control and trusting that circumstances would create a goal-scoring chance or two on the opposite end.
As reliable as that approach was, the Royals eagerly scrapped that style this spring in favor of a relentless offensive blitz made possible by an influx of new offensive talent. The results have proven the wisdom of that tactical shift.
Ramstein hasn't scored less than three goals in a match since spring break, when its new front line came fully online. That output includes 21 total goals in four wins over Division I opponents, capped by a 7-0 shutout of Lakenheath in its regular-season finale.
The Royals' defense has largely held up as their offense has flourished, holding opponents scoreless in five of the team's seven games. That suggests the kind of comprehensive competence that should produce a deep tournament run.
But Ramstein is not invulnerable.
The Stuttgart Panthers came the closest to solving Ramstein's two-way attack in a 4-3 loss on April 14. And the Panthers have proven their own two-way abilities this spring, combining offensive and defensive dominance in a 4-1 defeat of the defending champion Kaiserslautern Raiders on March 24 and a 3-0 shutout of the Naples Wildcats on April 20.
With that in mind, Stuttgart is at the fore of a strong set of contenders ready to give Ramstein trouble in the tournament. That group includes the Wiesbaden Warriors and SHAPE Spartans along with the Raiders and Wildcats.
Wiesbaden has coaxed all of the high-level Division I opponents it's played into gritty, low-scoring matchups that give either team a path to victory, a worthy approach in the tournament's condensed format. The Warriors beat Stuttgart 1-0 and lost to Ramstein 1-0 before spring break. A signature 1-0 victory over Kaiserslautern on May 4 was flipped to a demoralizing loss when DODEA-Europe ruled the game a 1-0 Raider win by forfeit due to an ineligible Warrior player.
SHAPE acquitted itself well in a 3-1 loss to the Royals on April 20 and hasn't lost before or since, including a 1-1 tie with Stuttgart on the final day of the regular season.
Lower-regarded teams such as Lakenheath, Vicenza and Vilseck will look to make a surprising run in the bracket, a mission that will be slightly more manageable in the absence of International School of Brussels. A reliable contender that won its most recent championship in 2016, ISB withdrew from DODEA-Europe soccer this school year.
Division II Another all-Rome championship match is the likeliest outcome of DODEA-Europe's middle-class bracket, again dominated by the ongoing dynasty of the Marymount Royals and their fierce crosstown rival, the American Overseas School of Rome Falcons.
The Roman powers have a history of pushing each other to the limit. Marymount escaped last year's European championship match with a 3-2 overtime victory, earning its second straight championship and sixth in the past seven seasons. AOSR struck back this spring, handing the Royals a 5-3 loss on March 24.
While the two dynamic Italian programs are likely headed for a championship-game rematch, it's far from guaranteed.
AFNORTH beat Spangdahlem 6-3 in its only Division II game of the spring and has the goal-scorers necessary to reach the bracket's later stages. Black Forest can pin its title hopes on a 3-3 tie with Marymount in late April. And Florence played both returning finalists tough, falling to Marymount 2-1 and AOSR 3-2.
Bahrain, the 2016 champion, again enters as a wild card without a DODEA-Europe regular-season schedule to recommend it. Low seeds Aviano and Rota, meanwhile, will take their own shots at upending the status quo.
Division III The defending champion Brussels Brigands have by far the most impressive resume of any team in the small-school bracket.
Brussels is 4-0 in its division and 7-1 overall, with its only loss a very respectable 2-1 defeat to solid Division I program SHAPE. The Brigands are elite on offense and defense, scoring 29 goals on the season while yielding just five.
But one score from this spring indicates that Brussels' road to a title isn't entirely cleared of obstacles. The Brigands edged the co-ed Ansbach Cougars 2-1 on April 21 in a tighter rematch of last year's 3-0 Brussels win in the European championship match.
Sigonella, which didn't play a divisional game and largely struggled against larger Italian opposition this spring, joins Alconbury, Hohenfels and Baumholder on the list of teams hoping to prevent a repeat of last year's title-game matchup.
Twitter: @broomestripes